The agricultural city of Modesto is located in San Joaquin Valley, California. It might seem like a quaint city for most, but it's a surprisingly varied location known for many things. The fact that it's surrounded by rich farmland and orchards gives the city a distinct flavor, and Modesto ranks highly as cities offering the best bang for the buck for those looking to visit! Here are some of the very best things to do in Modesto, California!
Top Rated
Sno-White Drive-In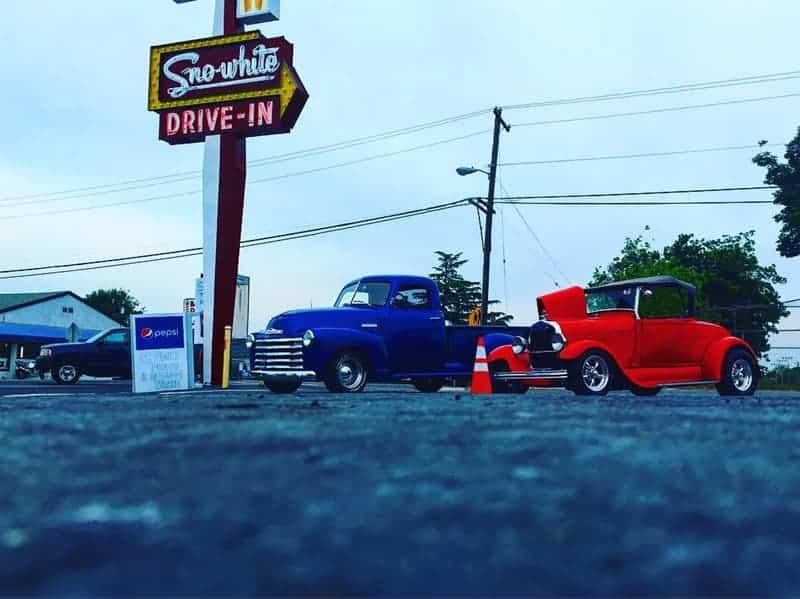 Most people visit Modesto due to its extensive car culture, which was shown prominently in the film American Graffiti. The director, George Lucas, was born in Modesto as well! One of the best places to enjoy the car culture of the city, the Sno-White Drive-In is one of the few attractions that still hold the original soul of the city.
After all, it's a drive-in from a bygone era! If you want a little blast from the past, you would do well to drive through Sno-White Drive-In — the burgers are fantastic.
Modesto Certified Farmers Market
While there are plenty of reasons to visit Modesto, you'd do well to give the Certified Farmers Market a visit. It's a big city event that features all manner of food stalls, making Downtown Modesto one of the best attractions of the city.
The best part about visiting the Certified Farmers Market is you could catch many other city events going on downtown. As far as tourist attractions go, the farmers market is one of the more underrated locations and events. It's undoubtedly one of the better places to visit in the city.
The McHenry Mansion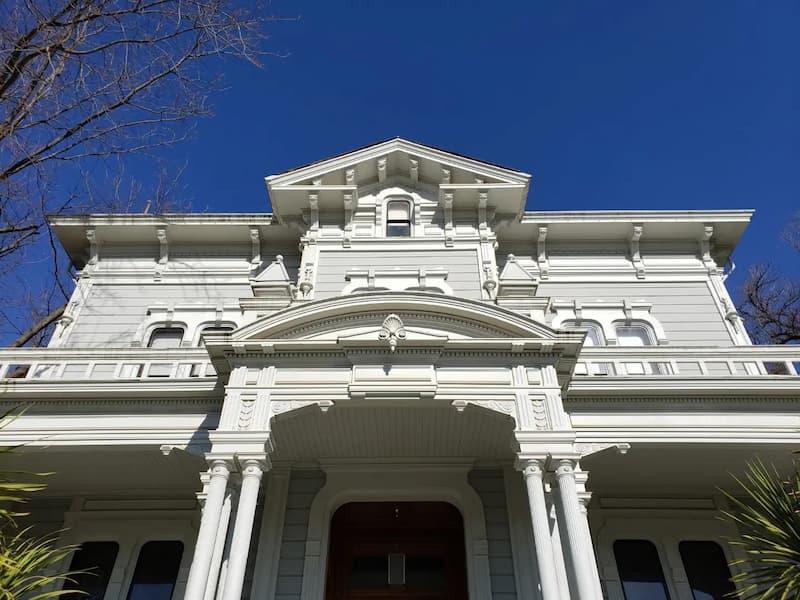 Interested in a bit of history? Even if you might not be the type to look into the history of a city, the McHenry Mansion is a curious location that attracts plenty of tourists every year. The mansion was built in 1883 for the McHenry family. The location offers a little glimpse into how the family lived, and acts as a little history lesson to boot.
Curious locations such as these are often what makes cities such as Modesto worth a visit. While there are more obvious attractions, locations such as the McHenry Mansion offer a different perspective.
Graceada Park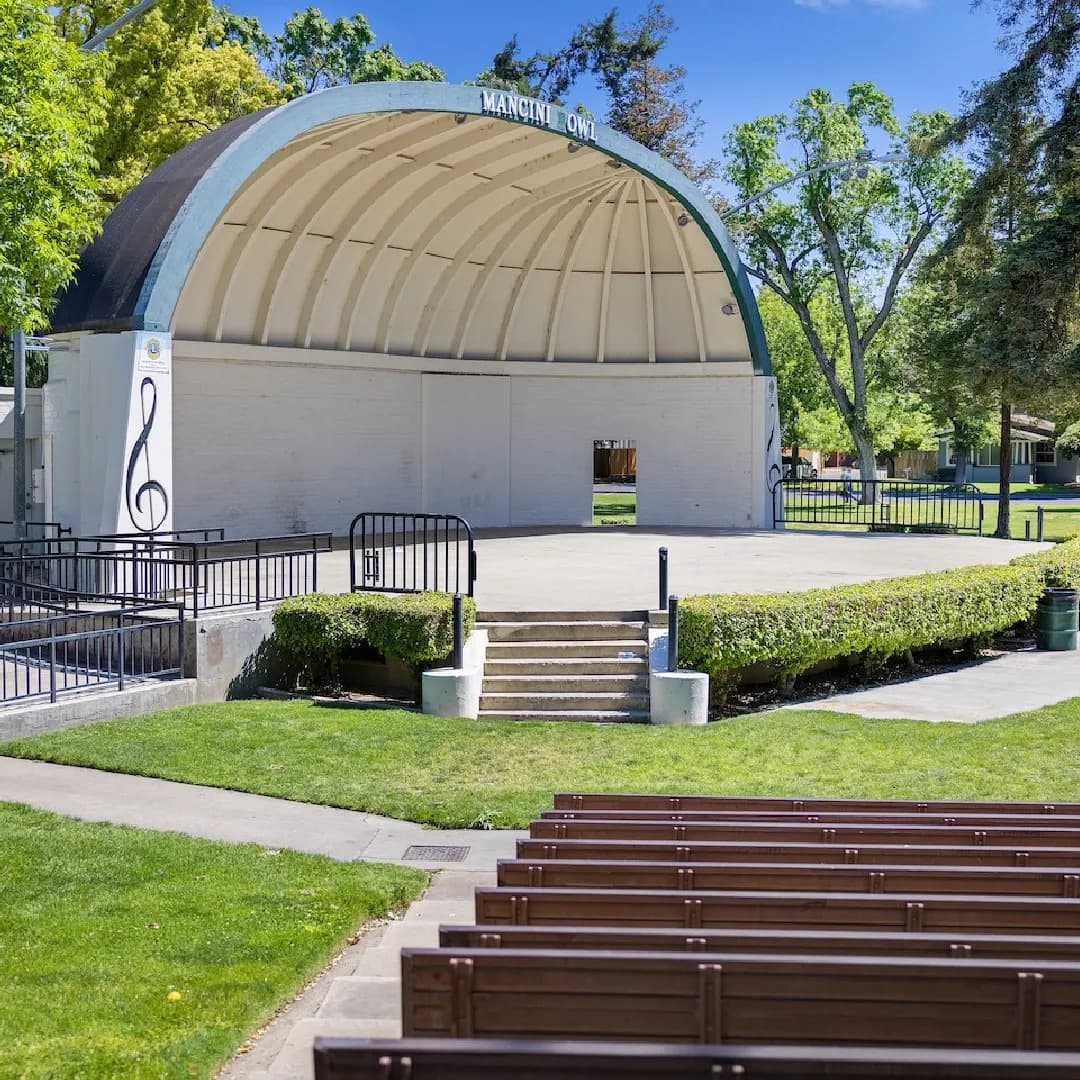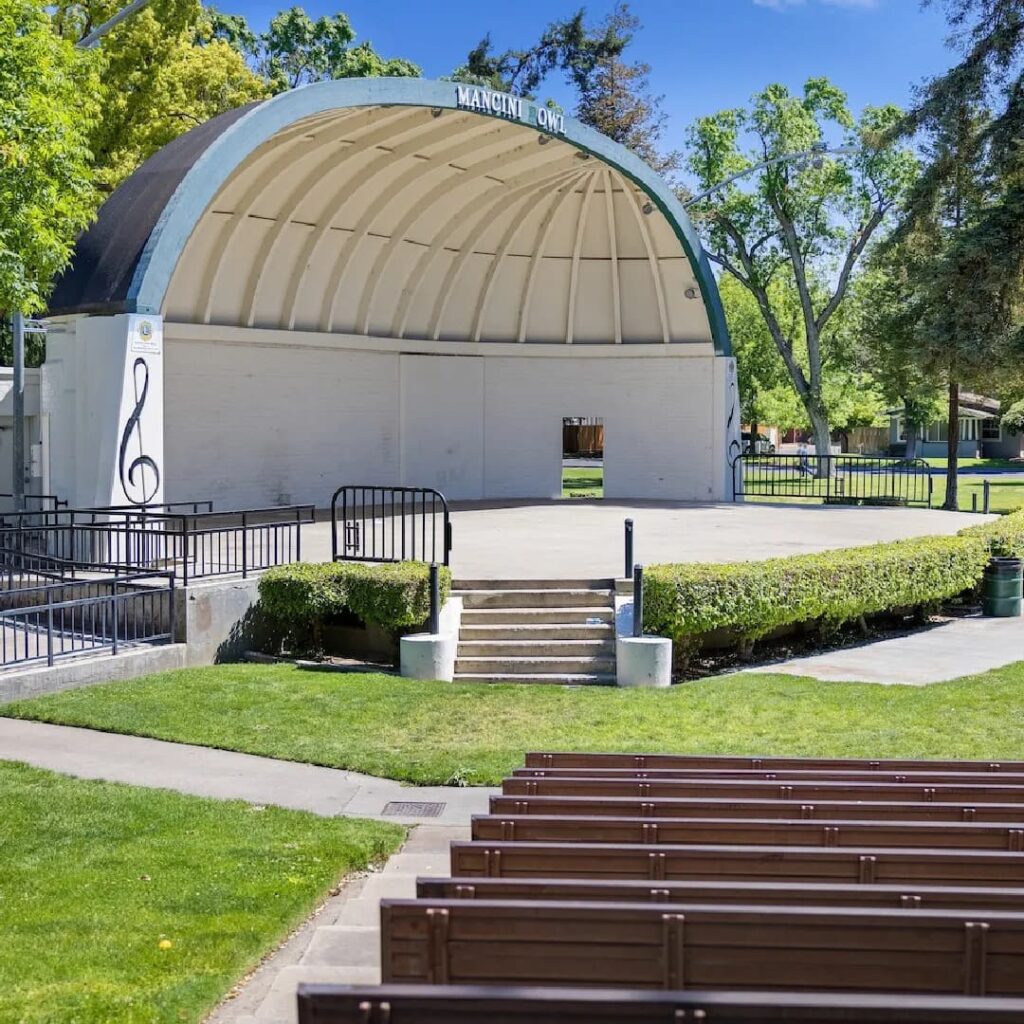 While Modesto undoubtedly has many great attractions, Graceada Park deserves its own spot as one of the best attractions the city has to offer. It was established in 1907 and, funny enough, the designer was the same person behind the famed Golden Gate Park in San Francisco.
Graceada Park has everything you could possibly want out of a city park, and there are even musical performances and movie nights. Conveniently, the park is located near the McHenry Mansion and museum, offering a great location to stretch your legs after visiting the mansion.
Holiday Inn Express & Suites Modesto-Salida
While it might not be considered one of the more obvious attractions, tourists undoubtedly need a place to stay, and the Holiday Inn Express & Suites Modesto-Salida has you covered. It's well-known for its complementary full breakfast, which includes the delicious cinnamon roll that made Holiday Inn Express famous.
It also has a fully-equipped fitness facility for anyone that wants to keep up with their workouts during their visit. It's particularly good as an overnight inn, with affordable prices all around.
Free Attractions
The McHenry Museum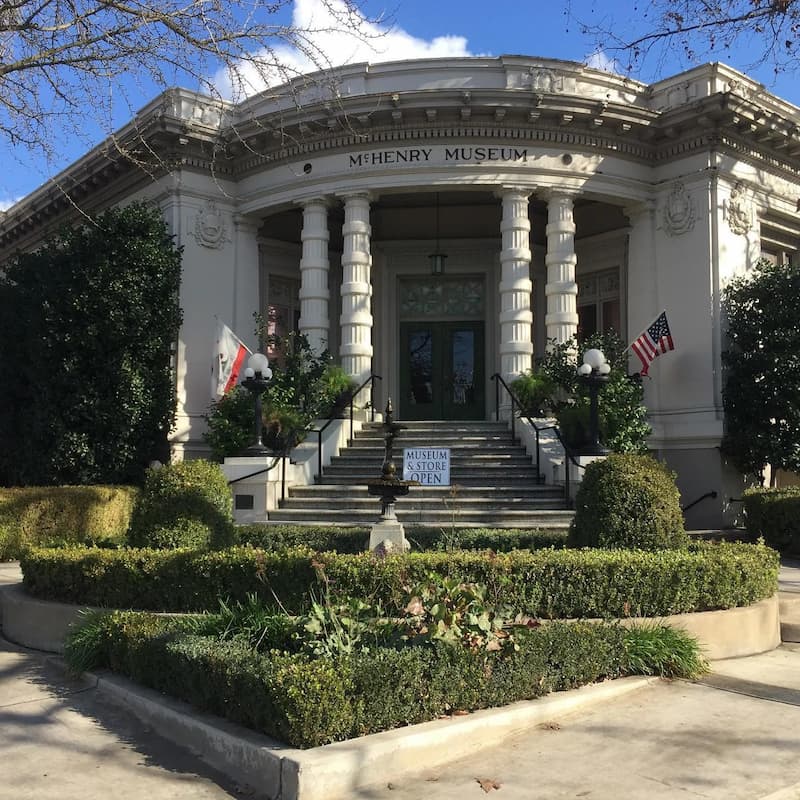 Located less than a block from the famed McHenry Mansion, the McHenry Museum contains all sorts of items detailing the history of the city. If you're looking for a free attraction that offers a fascinating look into the last 100 or so years of Modesto's history, there's no better place than the McHenry Museum.
If you're curious about the permanent exhibits, it includes an agricultural exhibit, mining equipment, and a blacksmith's shop. The McHenry Museum is a great pick for history buffs that want to brush up on the city's history.
Tuolumne River Trail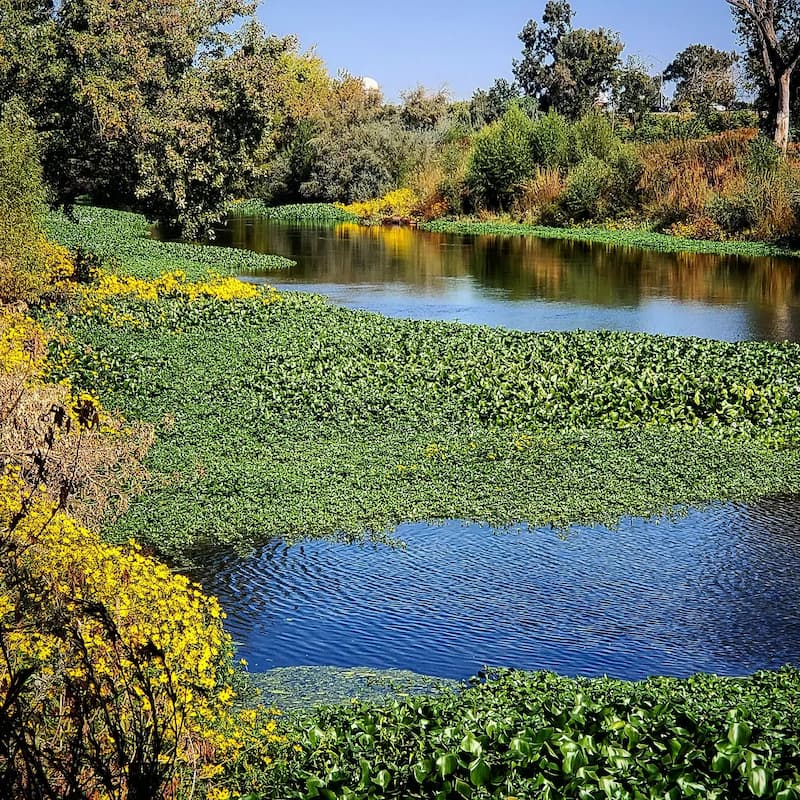 If you want to enjoy a free attraction in the city of Modesto, you can get more than you bargained for with the Tuolumne River Trail. It's a hiking and biking trail that stretches for 3.4 miles through dense woodlands and various breathtaking landscapes. I would place this as a part of the romantic date locations, but it's a little too much effort for a simple date.
Tuolumne River Trail is a great free attraction for those who want something truly substantial out of their visit.
Virginia Corridor Trailway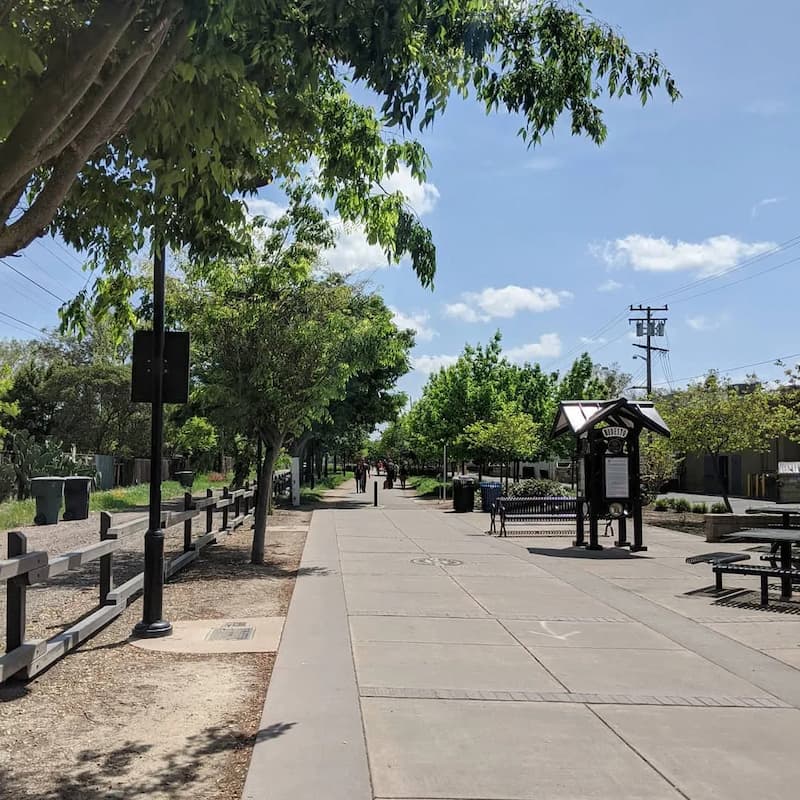 The point of visiting Modesto is sightseeing, as the city is surrounded by lush farmland. The Virginia Corridor Trailway is a convenient glimpse to the unique regional flavor of Modesto. The trail is dotted with lush gardens that make fantastic spots for picnics. There are all sorts of amenities scattered all over the Virginia Corridor Trailway, making it one of the ideal free attractions to visit.
It can help visitors feel that much more connected with Modesto, as the trailway offers a unique perspective.
Mistlin Gallery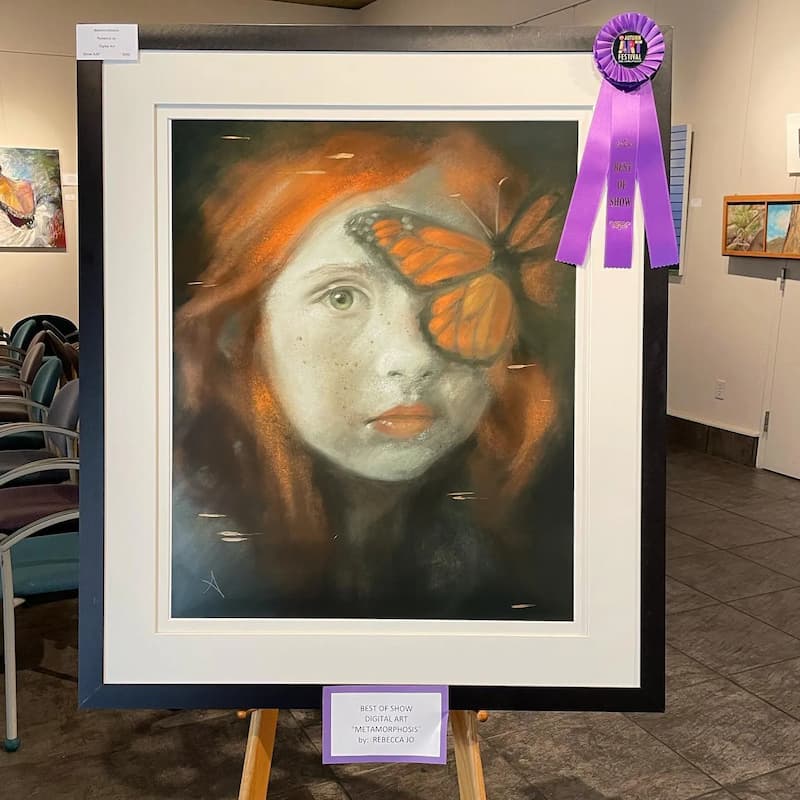 Interested in visiting one of the best art galleries in the city? You can't really go wrong with the Mistlin Gallery, as it makes for a great free attraction for any tourist. It's a place where regional artists can show off their works, and potentially sell them to interested buyers. The cool part about Mistlin Gallery is it has a combination of permanent and rotating exhibits.
Why not give it a shot? It won't cost you a thing, and you'll get a glimpse into the creative side of Modesto's artists.
Jacob Meyer Park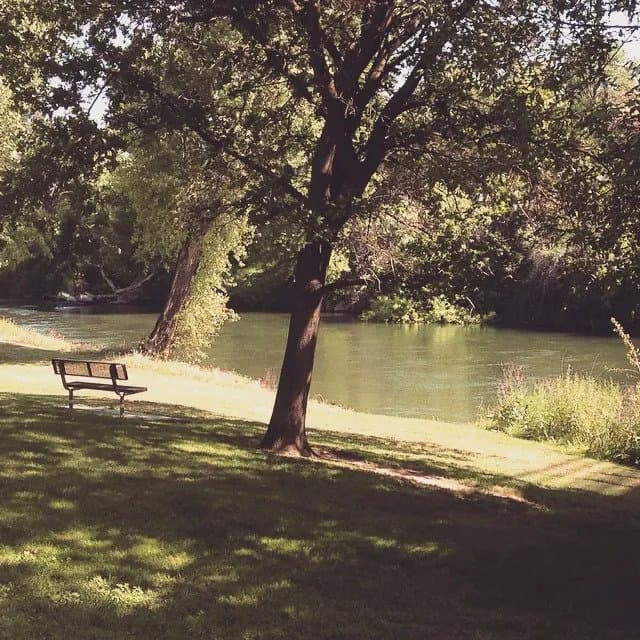 Interested in picnics? What about a relaxing walk through one of the most popular parks in the city? Jacob Meyer Park is undoubtedly one of those free attractions that are a must-visit, especially for tourists that want a little break from the hustle and bustle.
In fact, most of the locals love to use Jacob Meyer Park as a dog-walking route. It's a relaxing location that tourists and locals alike enjoy. California is known for its many parks, this is definitely one of them!
Romantic Date For Couples
The State Theater
If you're looking for an attraction that serves as the perfect spot for a romantic date, you can't go wrong with Modesto's State Theater. In general, theaters are one of the most common choices for couples looking to enjoy their day, and the State Theater is undoubtedly among the best attractions Modesto has to offer.
The cool part about the State Theater is how it isn't restricted only to the mainstream — there are plenty of indie releases and various other attractions for couples looking for a little getaway.
The Great Valley Museum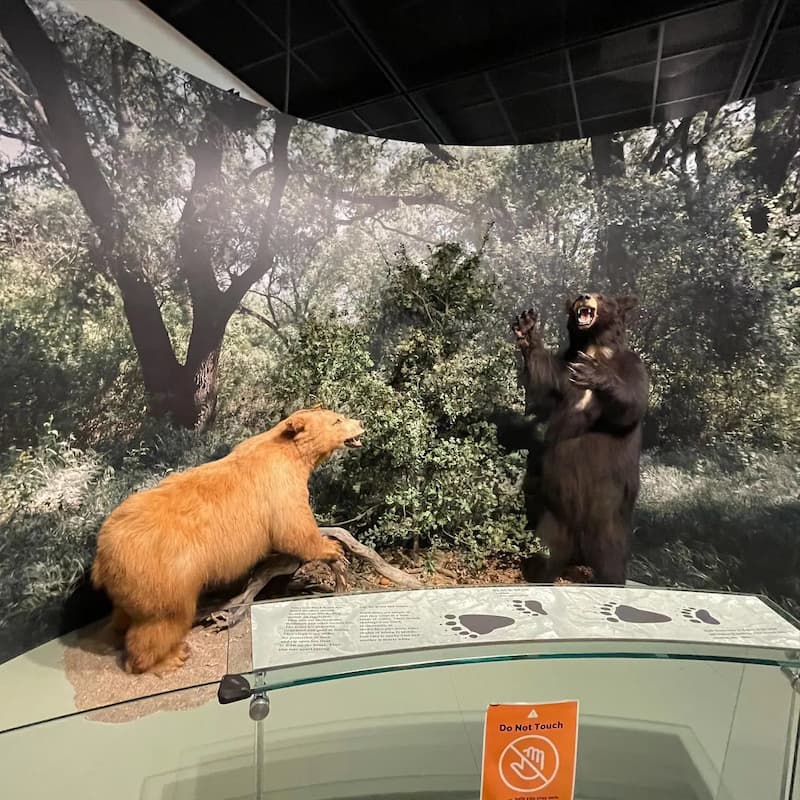 Aside from a theater, a museum is another common location for dates. If you happen to share a love of history with your significant other, you'll find plenty to enjoy in the Great Valley Museum. There are even modern exhibits that allow you to experience Modesto in an entirely different way.
For example, the Great Valley Museum has a top-quality star projector that can provide breathtaking displays. There are even full-dome planetarium films to help tie things together. If you want to impress your date, the Great Valley Museum is an excellent choice.
The Modesto Arch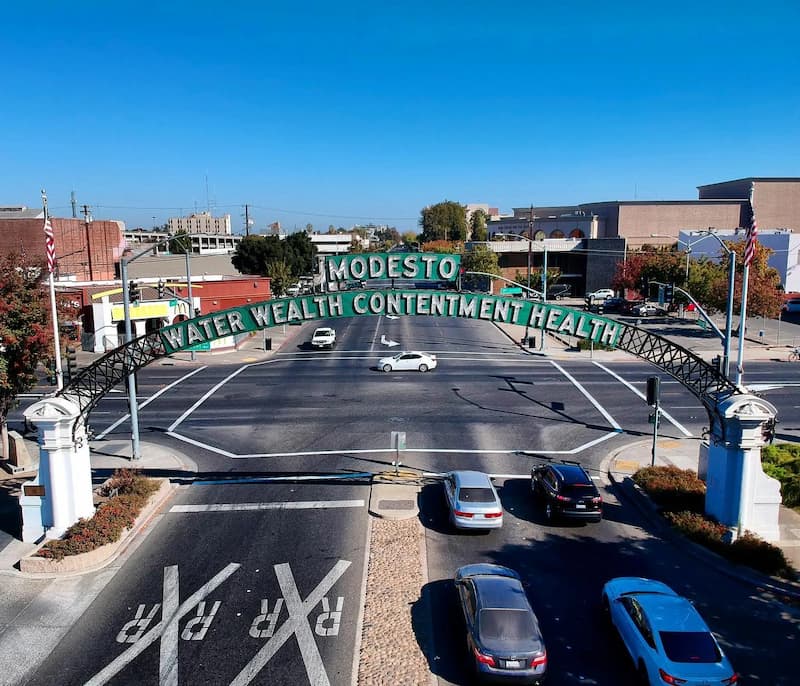 The Modesto Arch welcomes visitors from all walks of life to the city, and is undoubtedly an iconic location. For those who can appreciate the architecture of the city, the Modesto Arch isn't a bad place to start. It's also a particularly great location as part of a romantic date.
The city motto reads, "Water, Wealth, Contentment, Health," and it's also fully illuminated with hundreds of light bulbs. It's a popular spot for dates, especially with all of the restaurants nearby.
Escape Modesto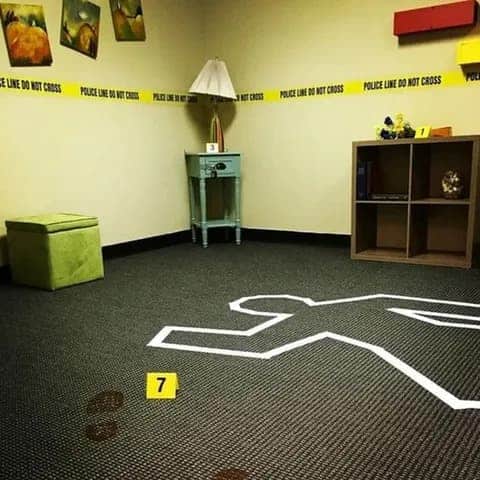 Who says a romantic date can't be fun? Well, in fairness, no one really says that, which is why it's a good idea to look for fun attractions as part of a date! If you want a fantastic and heart-racing way to spend a romantic date, you can't go wrong with Escape Modesto.
For those who aren't aware, Escape Modesto is an escape room, which is a fun little adventure game where you try to unveil a plot while simultaneously trying to escape the room. It's quite a bit of fun!
Dews Restaurant
What's a date without a bit of fine dining? If you're looking for a bit of elegance as a part of a fun date, Dews Restaurant offers all of that and more. The atmosphere is perfect, and the restaurant has been serving fine dining cuisine for the past 20 years.
You can bet that if you choose Dews Restaurant as part of your romantic date, they'll undoubtedly take care of you. It even has an extensive list of wines for those who want to enjoy the finer things in life.
Families & Kid Friendly Attractions
The Graffiti Summer Festival
While some might raise an eyebrow at the name, the Graffiti Summer Festival is a month-long celebration that's all about the car culture of Central Valley. While you'll have to time a visit, it's a fantastic festival that's friendly for the whole family.
Aside from the obvious car show competition, the event also has live music and line upon line of food vendors. It's a festival that attracts thousands upon thousands each year, making it a pretty good reason to visit Modesto!
Enslen Park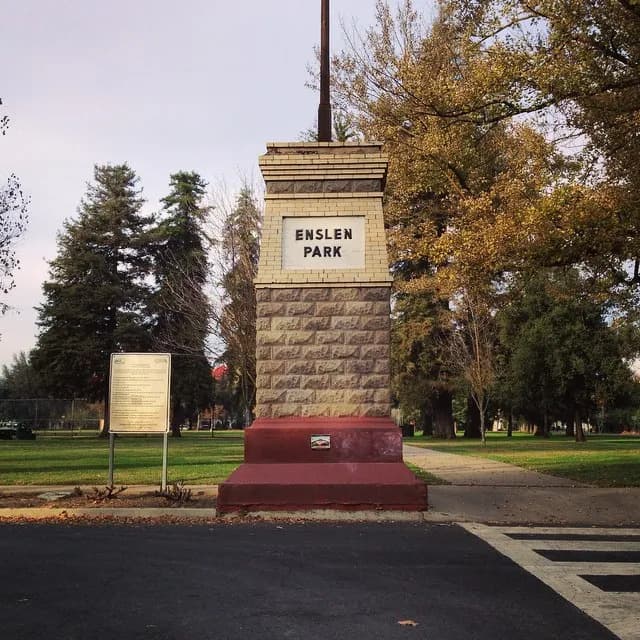 Nothing says family friendly like a park with a Boy Scout Club House! Enslen Park is just one of many parks that make for a great location for anyone who wants to bring the whole family. If you want a place that caters to kids as well as adults, Enslen Park has you covered.
It has playground equipment, alongside baseball and softball diamonds for those interested in a few friendly games. While some parks are best known for picnic spaces, Enslen Park is a family-friendly, sporty location.
George Lucas Plaza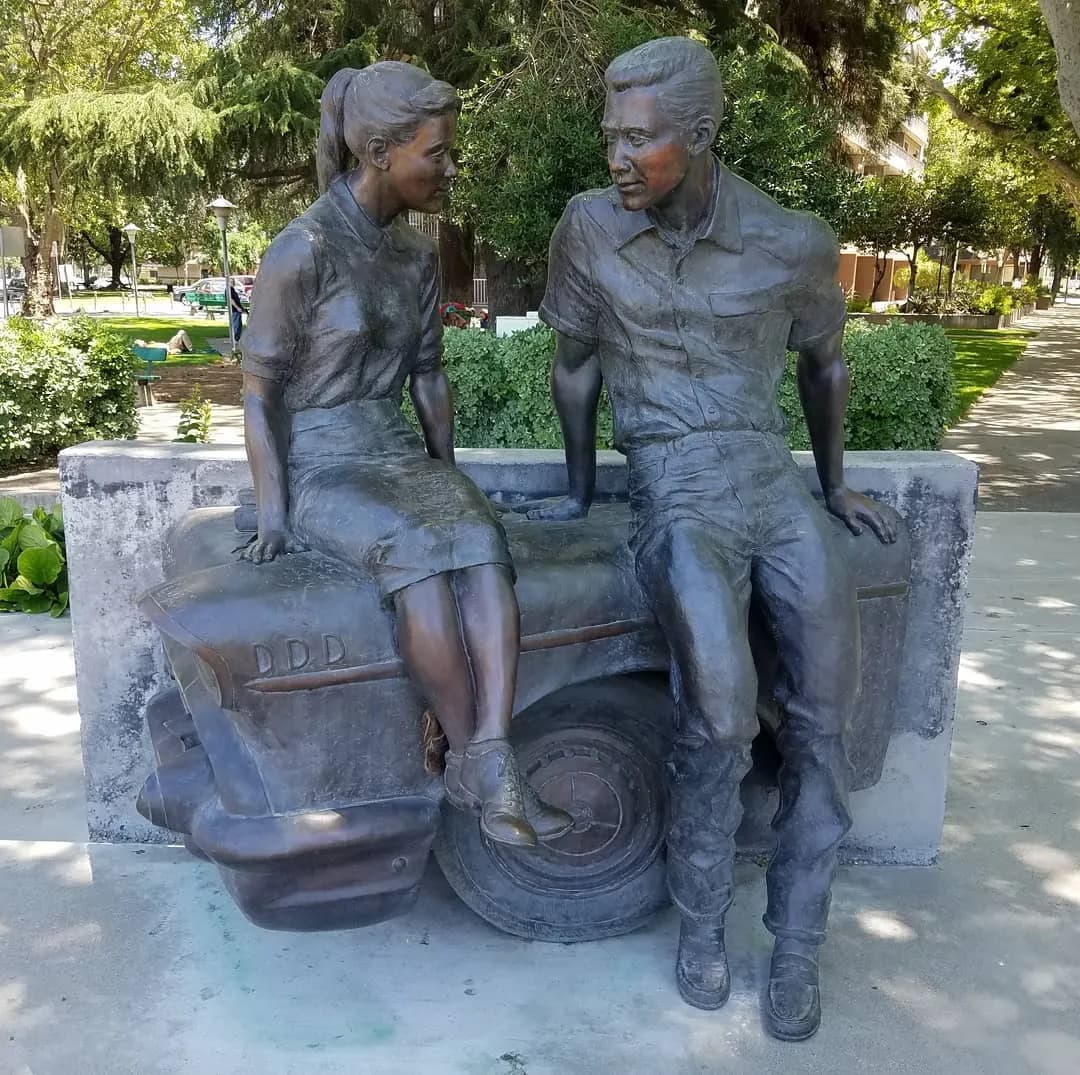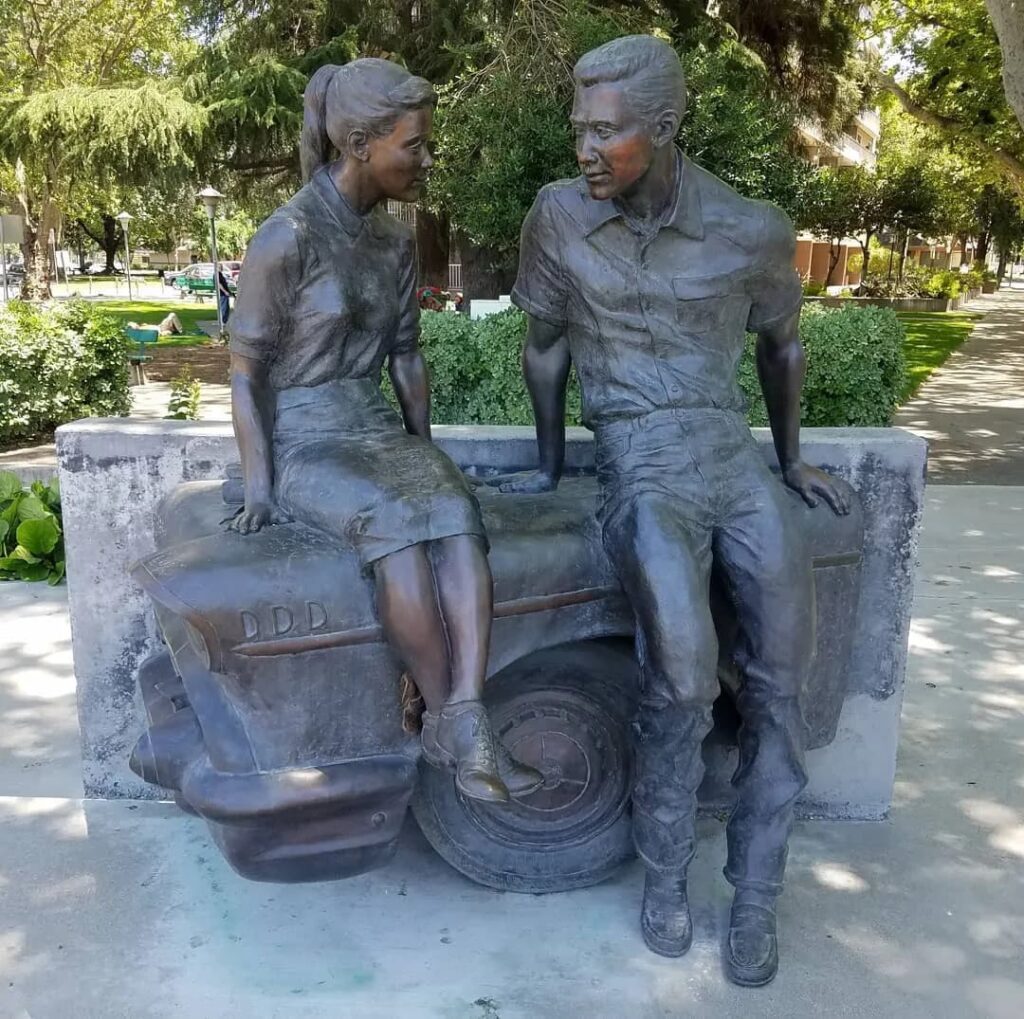 Just about anyone familiar with Modesto knows the city as the birthplace of renowned director George Lucas. It's the reason why the Graffiti Summer Festival exists — celebrating his film American Graffiti. It was George Lucas' love letter to his hometown and the 50s in general.
George Lucas Plaza is a relatively simple yet iconic place to visit, and it's a fun place to hang around and take pictures. As far as family friendly locations go, you can't really go wrong with George Lucas Plaza.
Boomers Modesto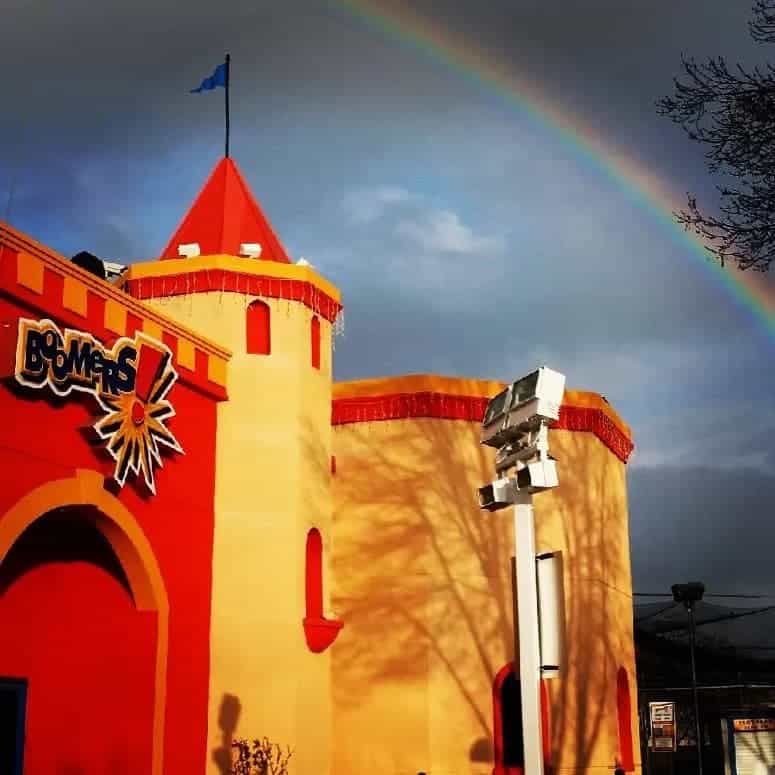 It's kind of funny that one of the best places to bring your kids is called Boomers Modesto, mainly due to the term Boomer referring to the baby boomer generation. Any family that visits Boomers Modesto can enjoy various arcade activities, as well as Go Karting and sports!
Boomers Modesto is also famous for its food, which offers simple American cuisine that just about anyone can enjoy. If you want to enjoy the day with your kids, Boomers Modesto also has Bumper Boats, which is just as fun as it sounds.
FUNWORKS!
Nothing spells fun quite like FUNWORKS! Yes, if we're going to mention the amusement center, it should be in all caps because that's pretty much the level of excitement you and your family can expect. It has miniature golf, an XD Theater, a splish-splashy pirate ride — it pretty much has everything a child could possibly want from an amusement center.
Similar to Boomers, the restaurants offer a fun and casual dining experience. If you're looking for pizza, burgers and ice cream, FUNWORKS! Modesto has you covered.