Nebraska is a state located in the Midwestern region of the US. It borders six different US states and doesn't have access to the ocean. Nebraska's capital is Lincoln, and the state has a population of fewer than two million people. This is less than a fourth of the population of NYC!
Nebraska is known for having planted millions of trees and its peculiar rock formations. This state is home to the largest US indoor rainforest and is the only one with a unicameral legislature. Nebraska is home to the biggest mammoth fossil in the world and Kool-Aid was invented here.
The largest US indoor rainforest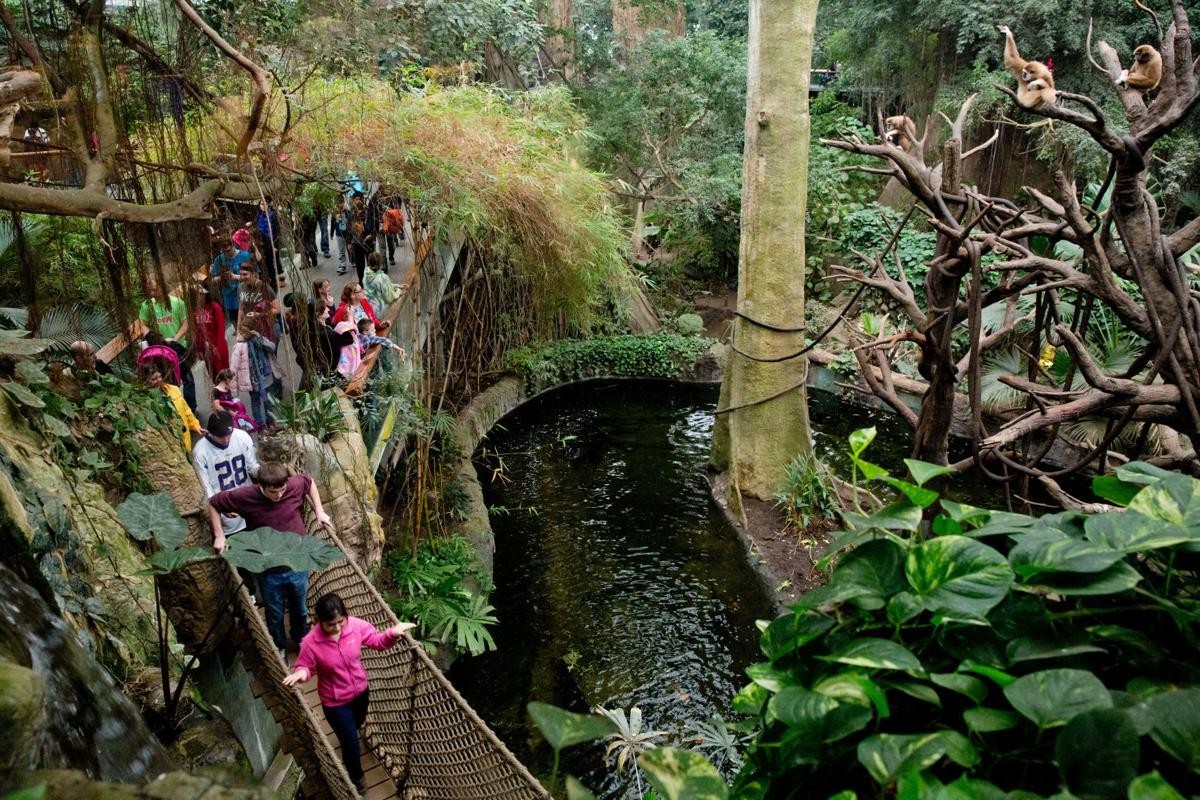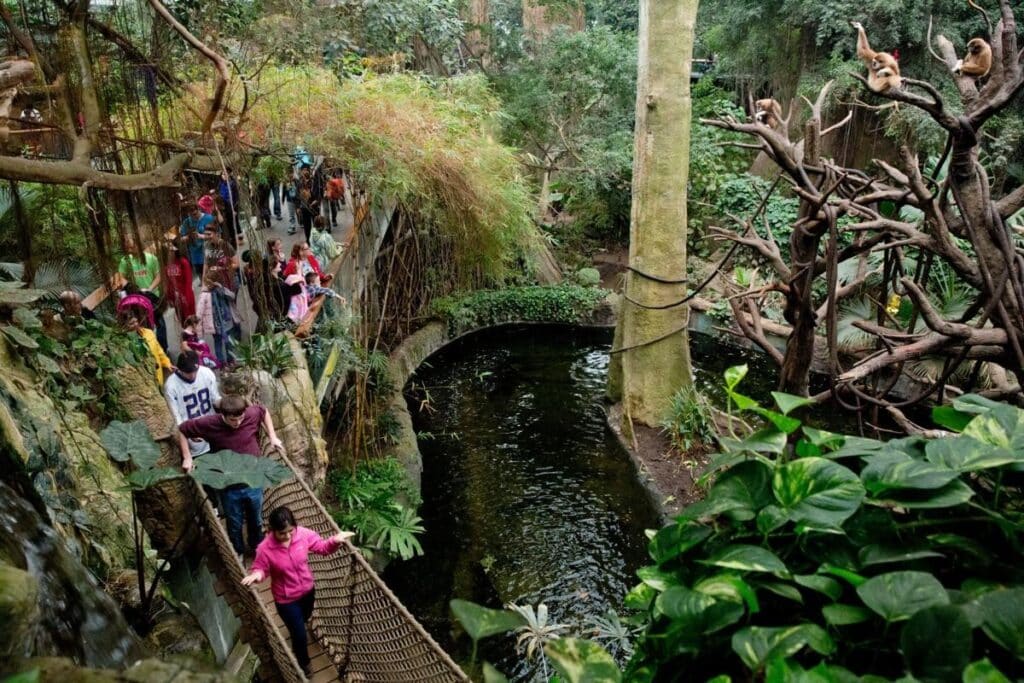 Lied Jungle is one of the largest indoor rainforests in the US. This rainforest is located inside Henry Doorly Zoo and opened in 1992. The building is 24 meters in height and extends for 1.5 acres. The average humidity of this site is around 70% to 85%!
Lied Jungle features a 15-meters waterfall and several mammals and birds. Some of the species that live here include blue monkeys, black howler, and pygmy hippopotamus.
The tree planter state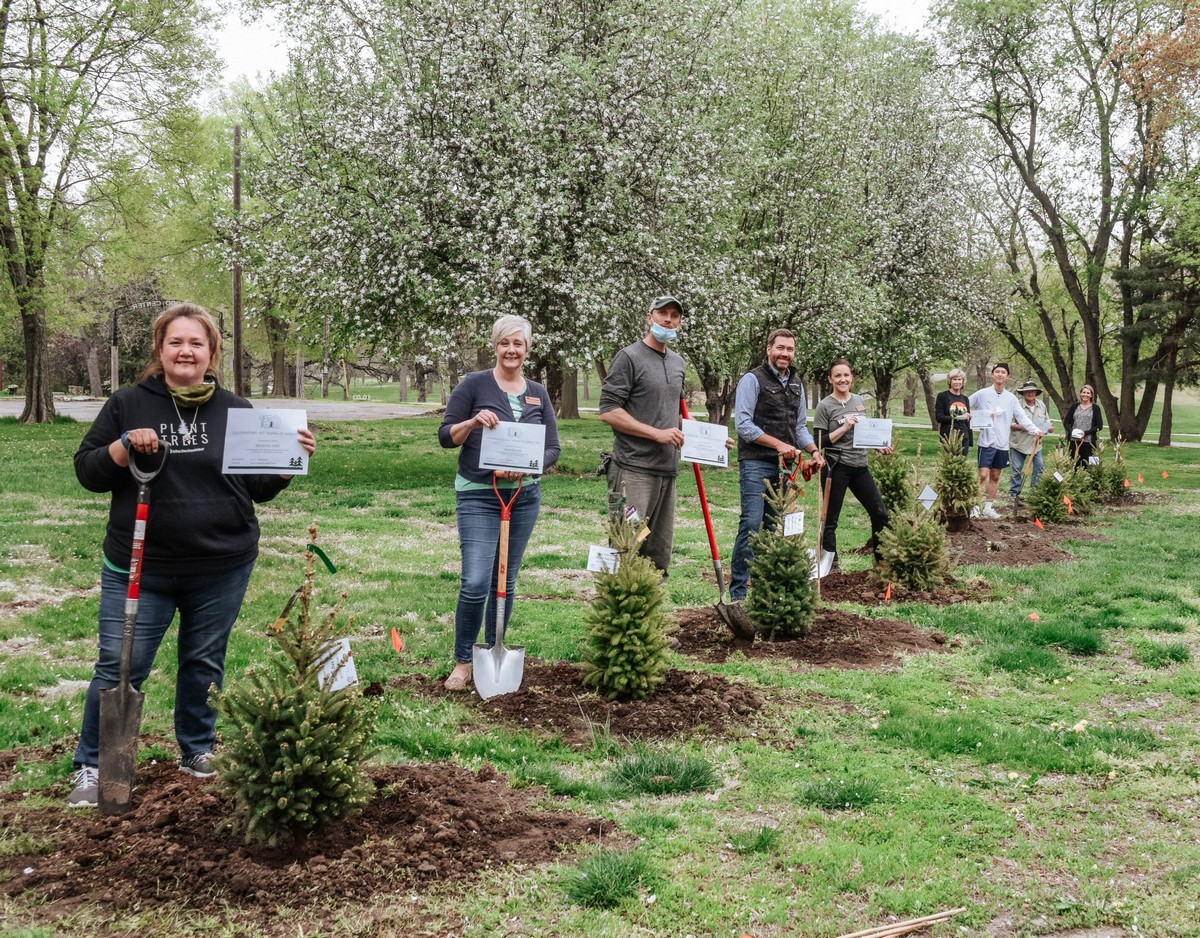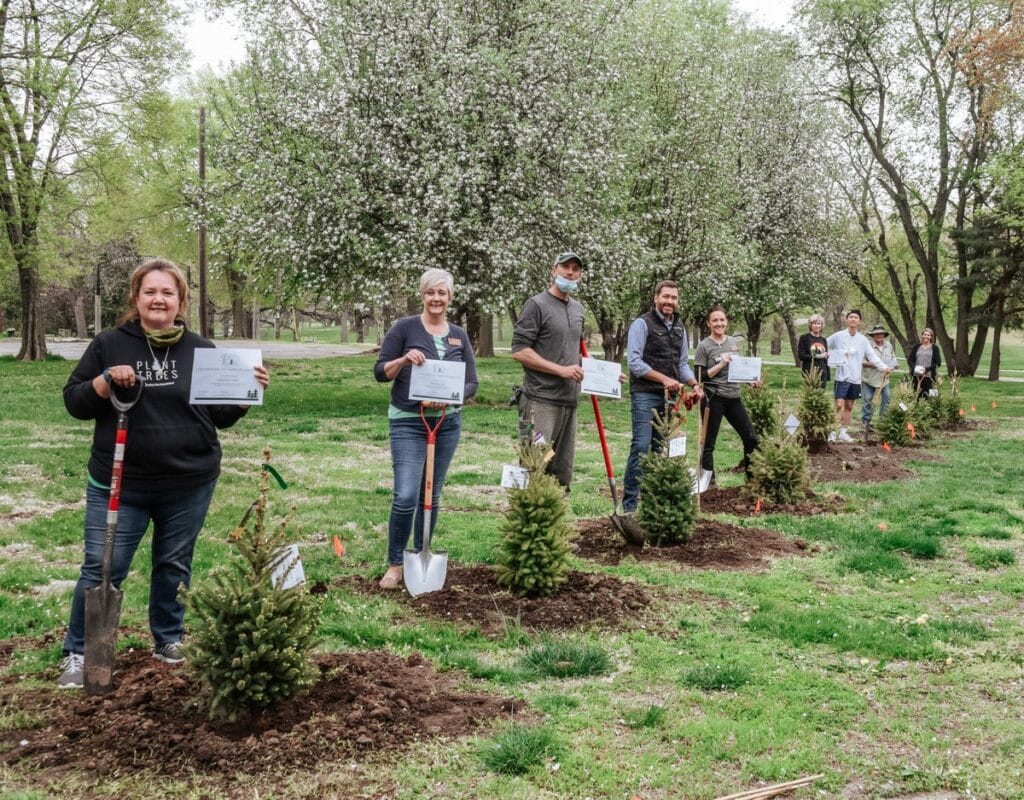 Nebraska is also known by the nickname of 'The Tree Planter State'.
When settlers first arrived here, they found a land where trees were very rare. They soon started to plant all sorts of trees. Today, Nebraska has more than 3 million acres of treed land.
This state is home to the largest hand-planted forest in the world. We are referring to the Nebraska National Forest, covering an area of 90,000 acres.
Arbor day, literally meaning tree day, was also founded in Nebraska City in 1972. This holiday celebrates the planting and caring of trees.
The only state with a unicameral legislature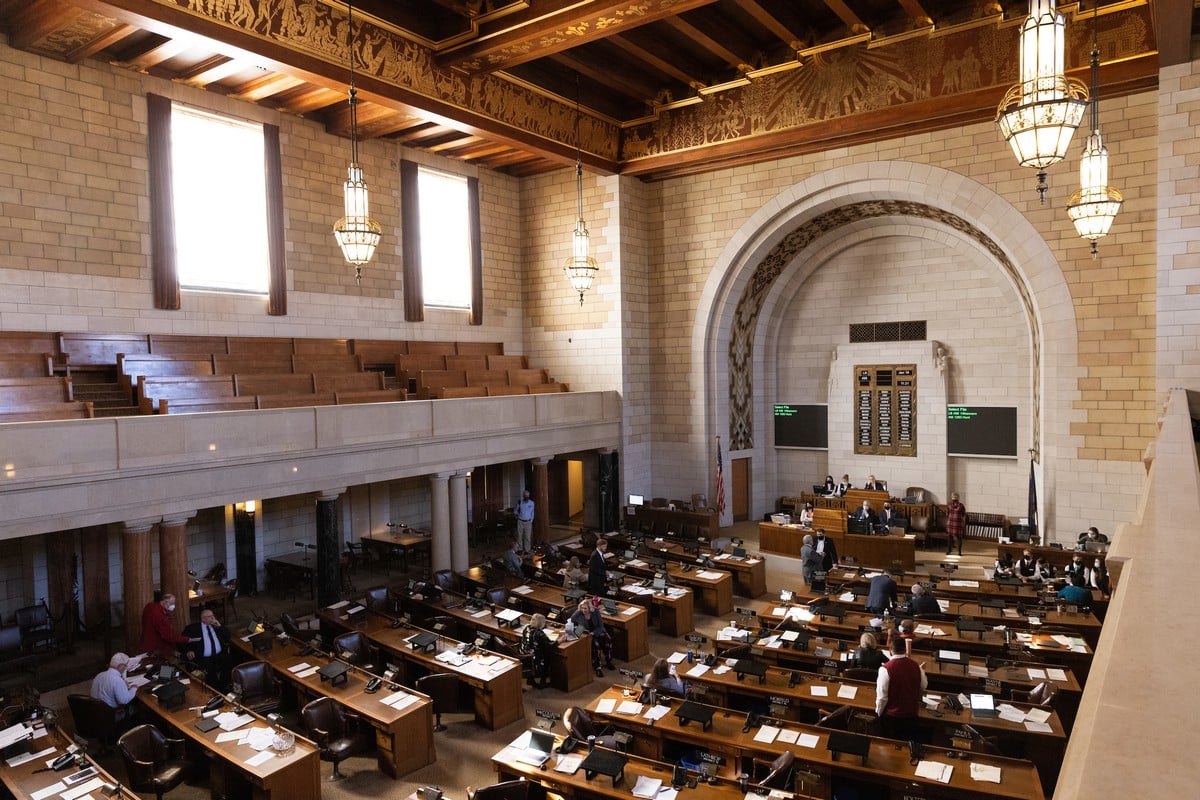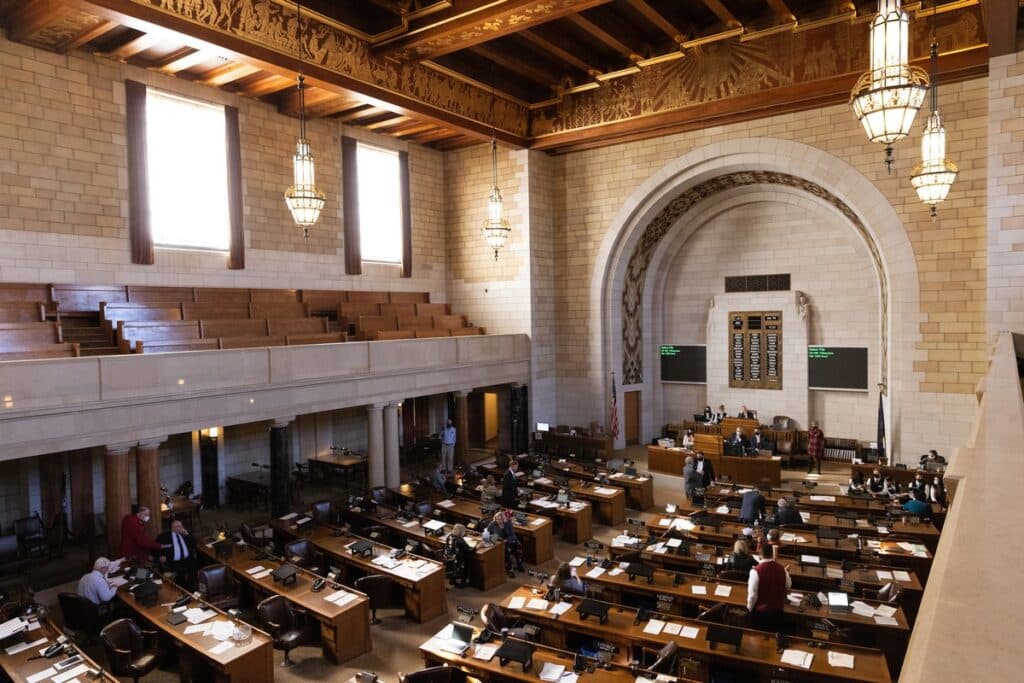 Nebraska is the only state in the US that doesn't have a bicameral legislature.
Unlike other states, Nebraska only has one house serving its citizens. This system is called unicameral.
Unicameral legislatures are chosen when there is no perceived need for multi-cameralism. In turn, multi-cameralism is often adopted when there is the need to give a voice to different sectors of society.
The first time two women run against each other for the governorship of a state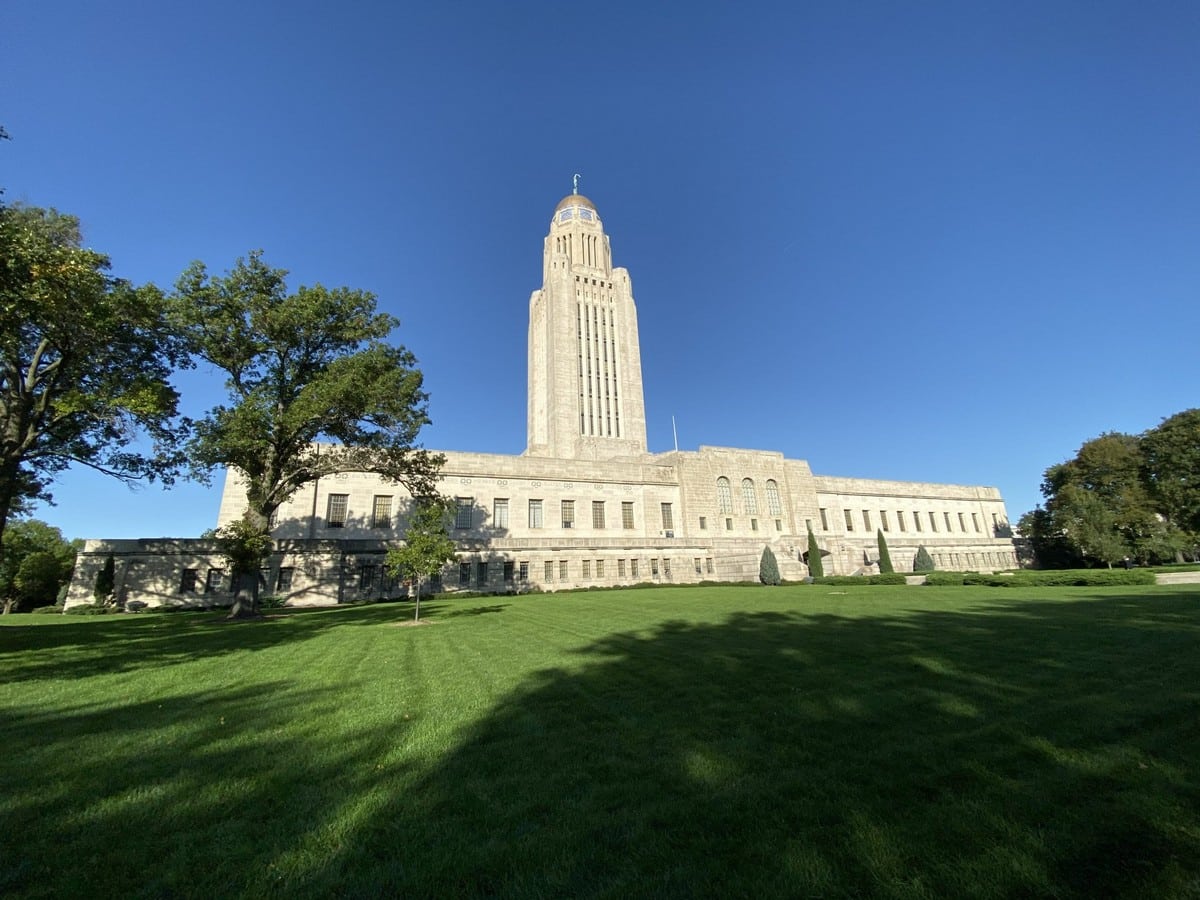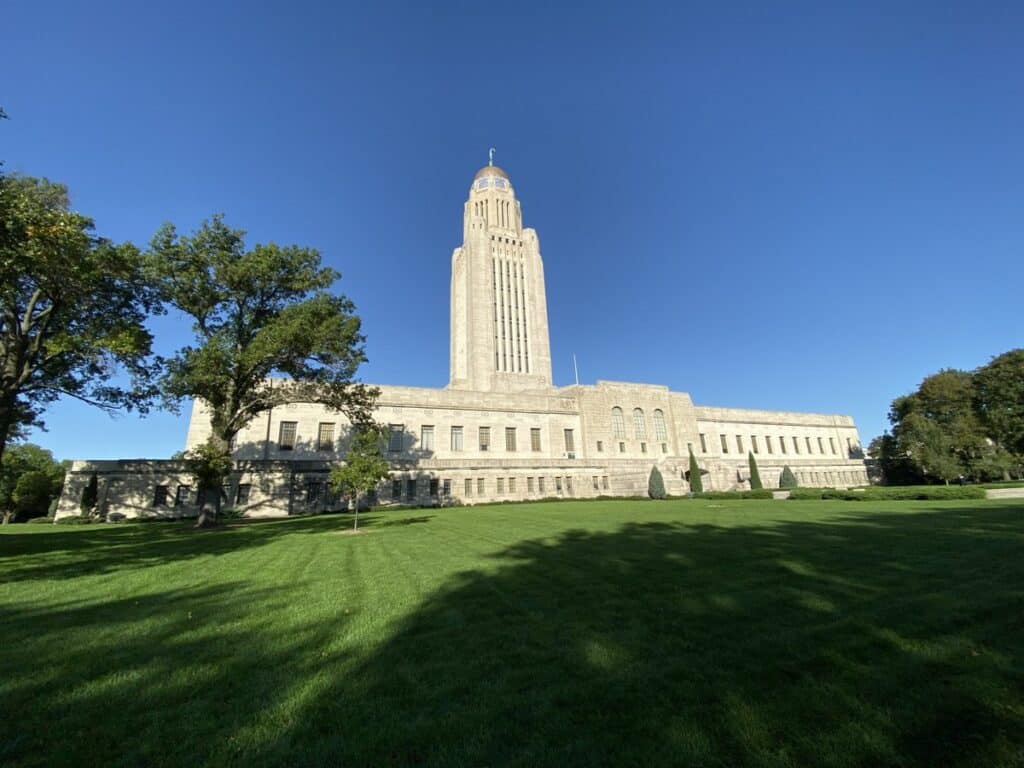 In 1987, Nebraska became the first state in which two women competed against each other for the governorship. This year, Kay Orr won the election with 52.9% of the votes against Helen Boosalis.
Kay stayed in power from 1987 to 1991. She was against tax increases and the equal rights amendment. Kay was also against abortion in all cases.
Lincoln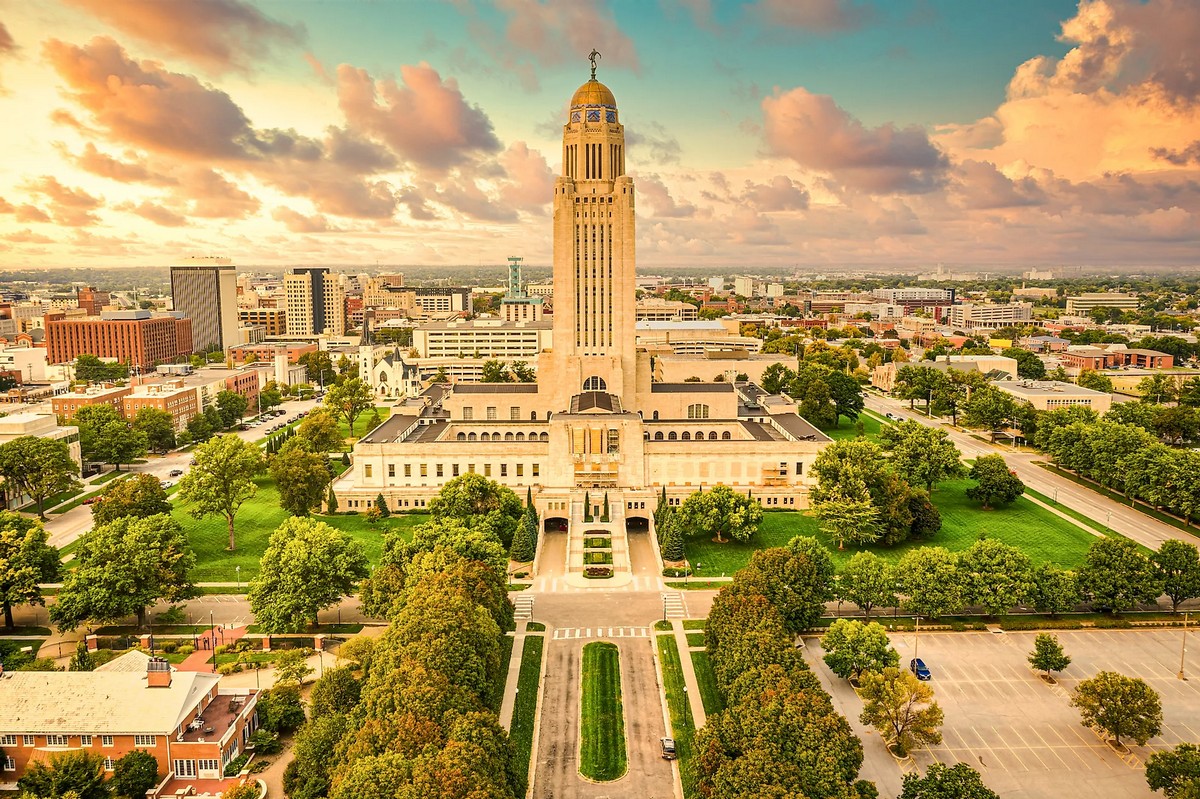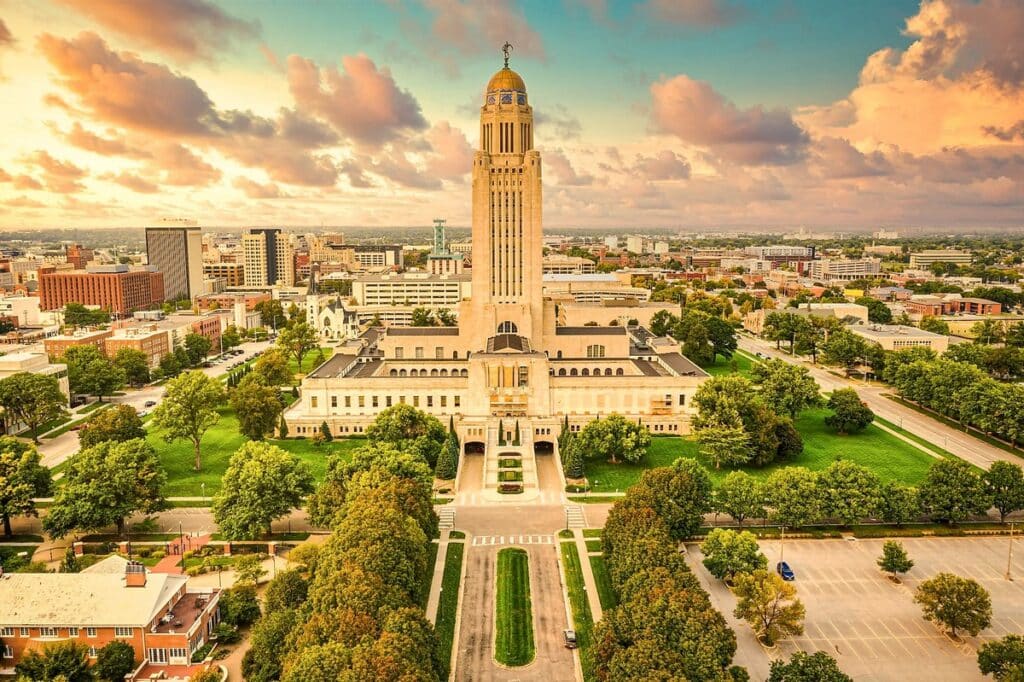 Lincoln is the second biggest city in Nebraska. It is located in the southeastern part of the state and is the capital of Nebraska.
Lincoln is home to the University of Nebraska, the biggest university in the state and the city's third-largest employer. This metropolis also features several museums. Some of these include the University of Nebraska State Museum and the Sheldon Museum of Art.
The Nebraska State Fair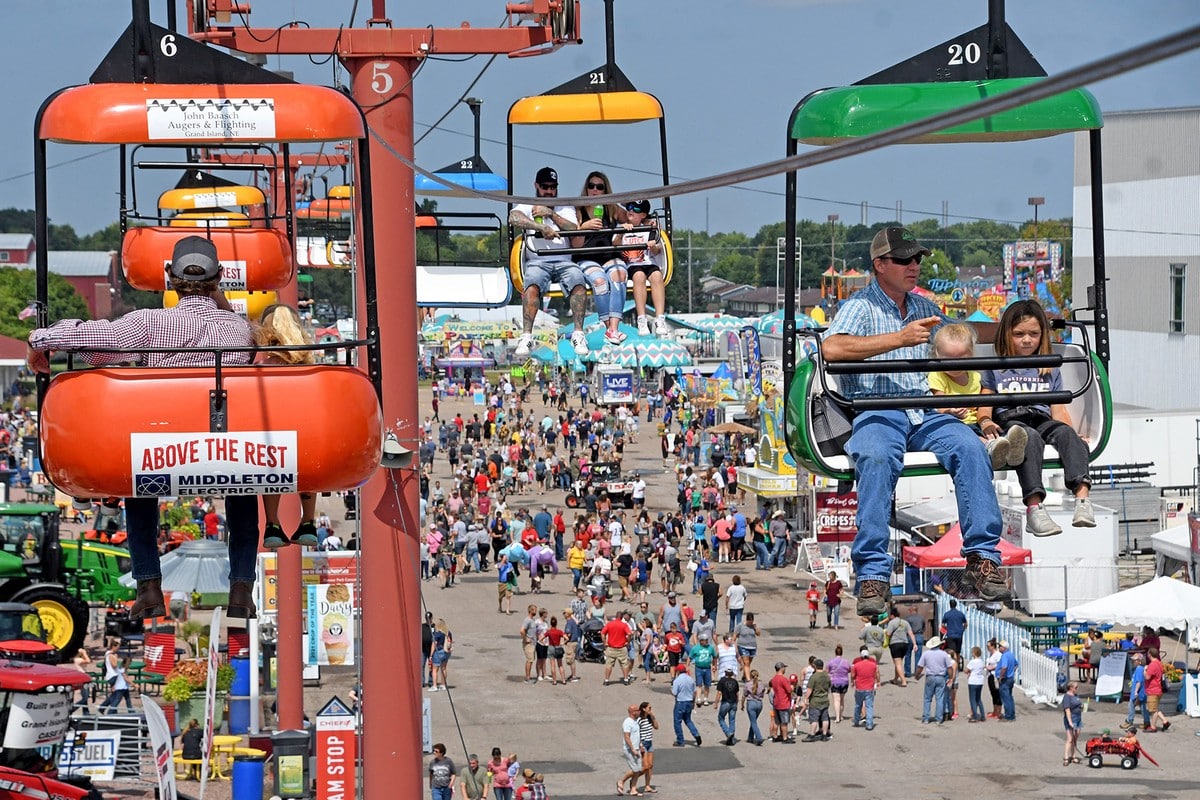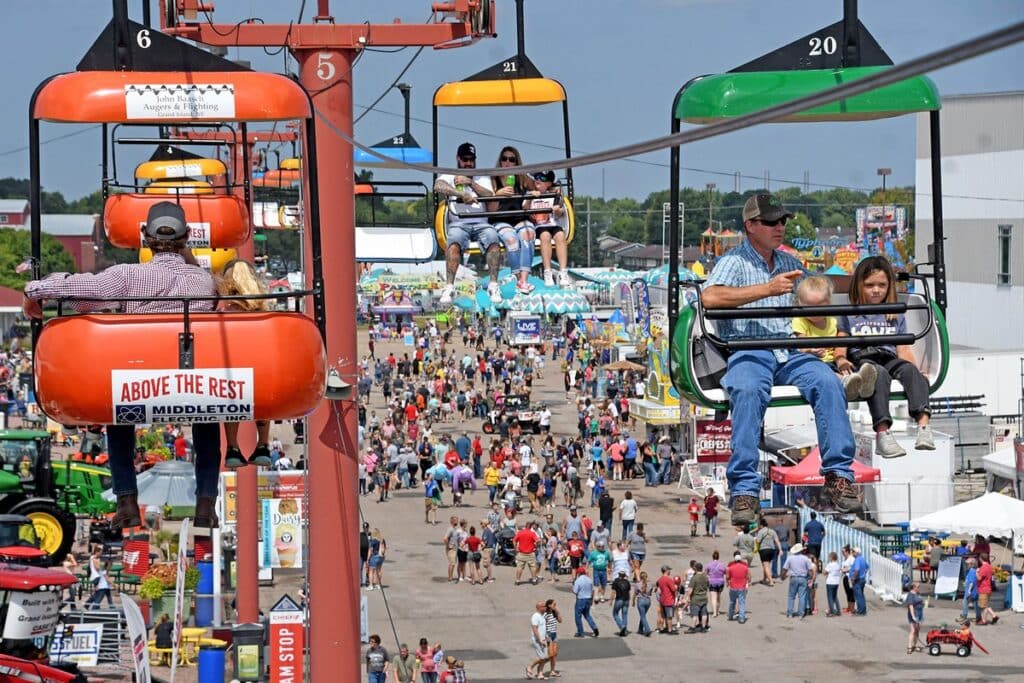 The Nebraska State Fair is the most popular festival in the state. This event has an attendance of roughly 283,000 visitors each year.
This fair is held every year in the city of Grand Island, located about 100 miles west of Lincoln. The Nebraska State Fair runs for approximately eleven days, and it usually ends on Labor Day.
The first Nebraska State Fair occurred in 1859 and was held in Nebraska City. At that time, this state was still a US territory. The second event took place in 1868 when Nebraska had officially become a US state.
The fair has been canceled during World War I, World War II, and the covid-19 pandemic.
Omaha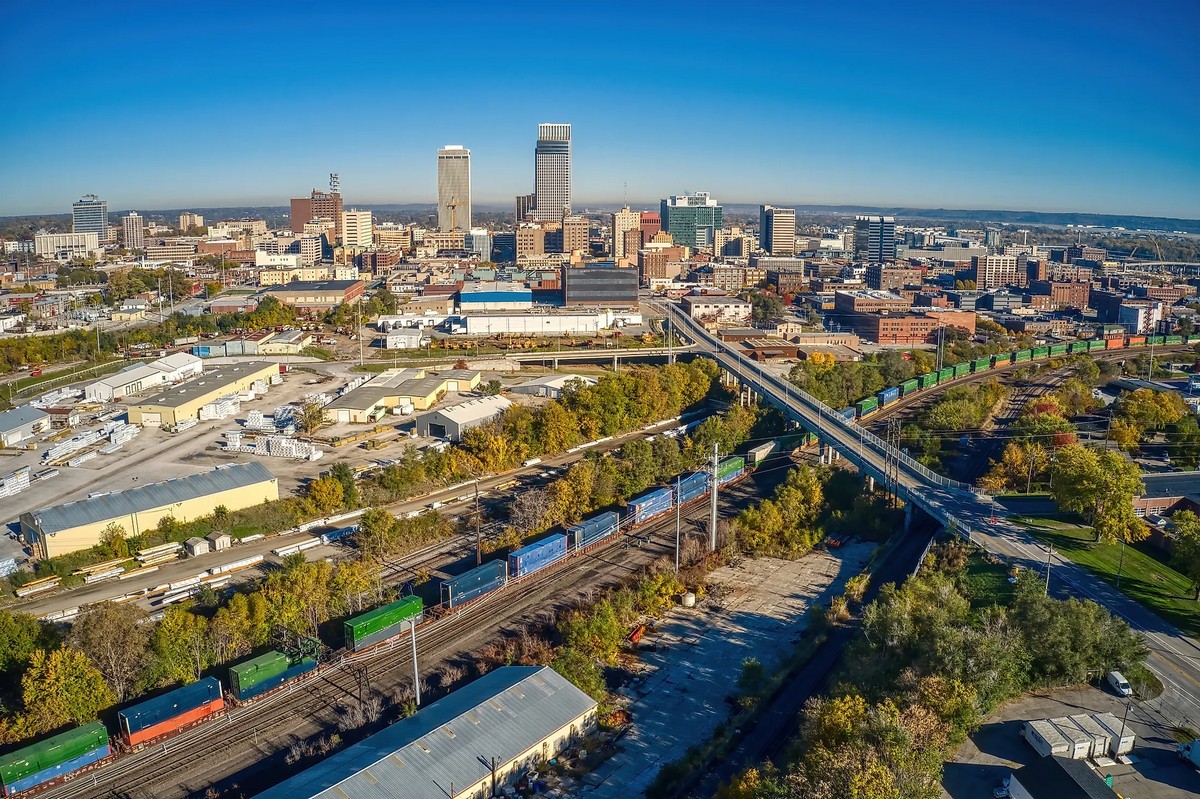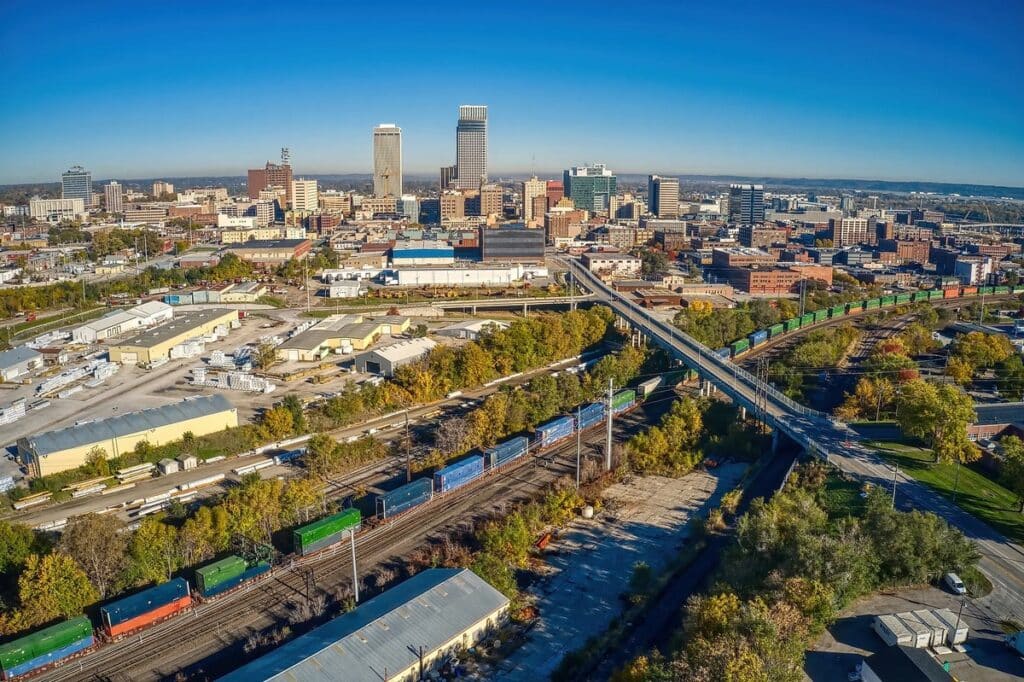 Omaha is the biggest city in Nebraska. This city is also known as the 'gateway to the West' and has a population of roughly 480,000 people.
Omaha is home to the annual College World Series Baseball and Henry Doorly Zoo. Warren Buffet, the ninth richest person in the world in 2021, was born here.
Omaha is also known for being the headquarters of four Fortune 1000 companies. These are the 1,000 largest companies in the US in terms of revenues.
Kool-Aid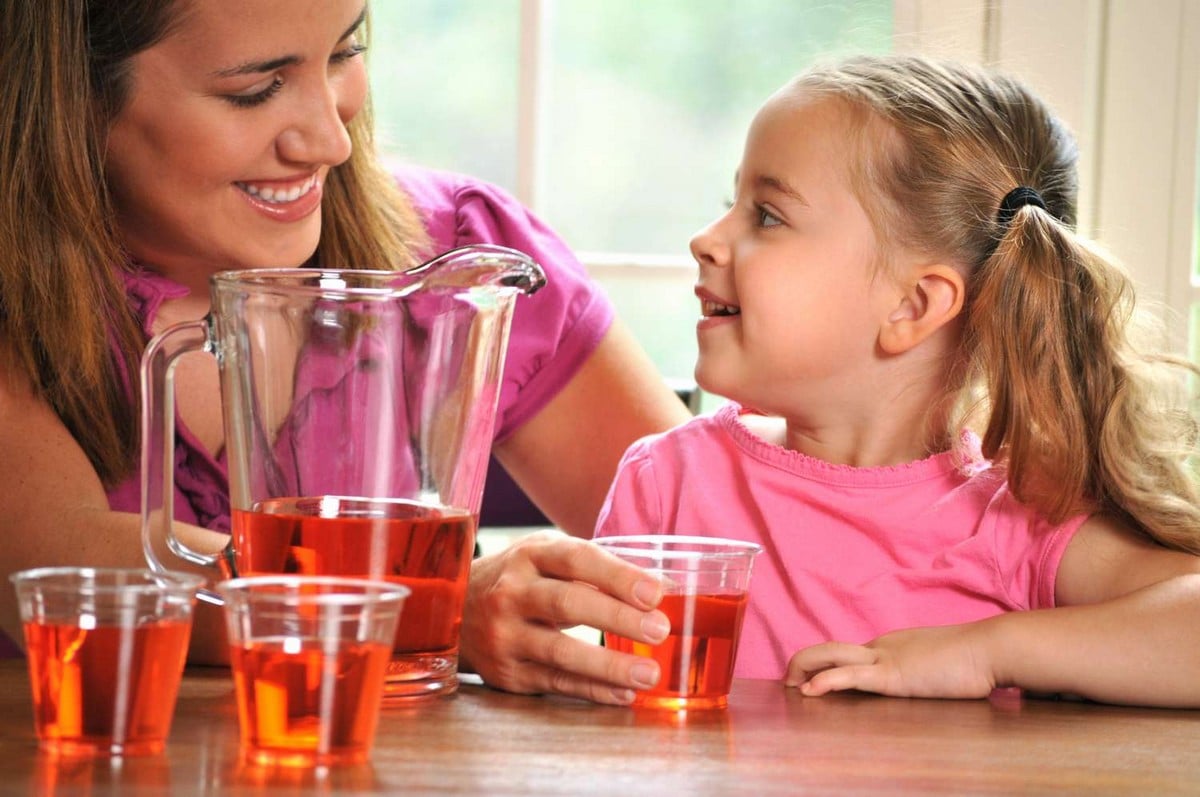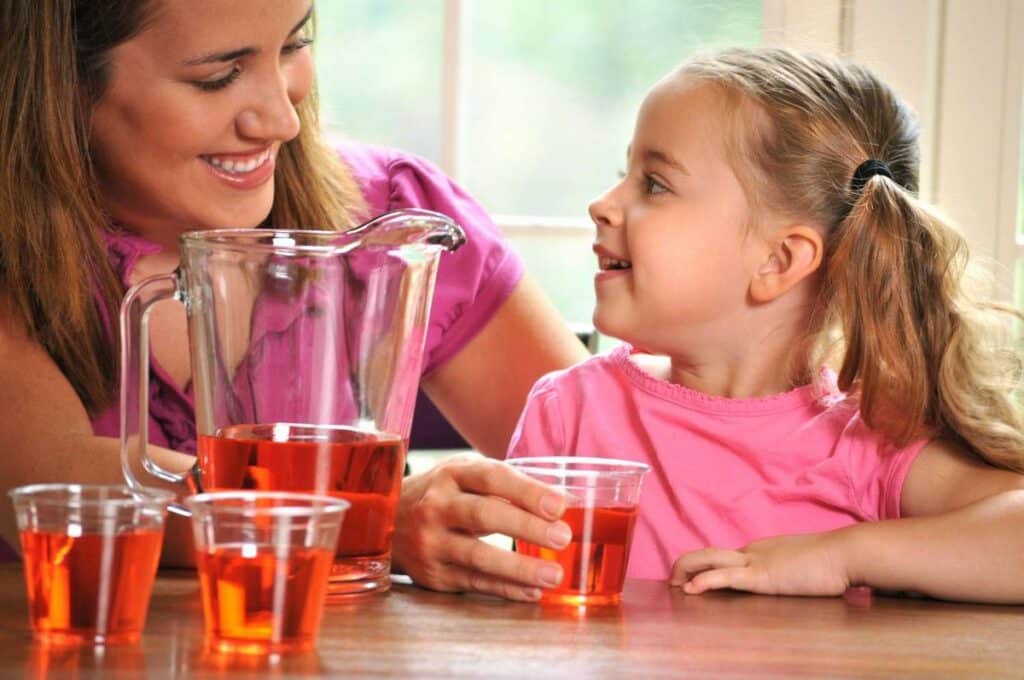 If you were born in the US chances are that you've already tried this flavored drink. But you probably didn't know that Kool-Aid was created in Nebraska.
In fact, Edwin Perkins invented this powder form in the city of Hastings in 1927. He started his business in his mother's kitchen, where he created a liquid concentrate known as Fruit Smack. Throughout time, he managed to find a way to eliminate the water so that all that was left was a thin powder. This was extremely beneficial for him as it drastically reduced shipping costs.
The idea was extremely revolutionary, and Kool-Aid soon became an incredibly popular product all over the country.
Scotts Bluff national park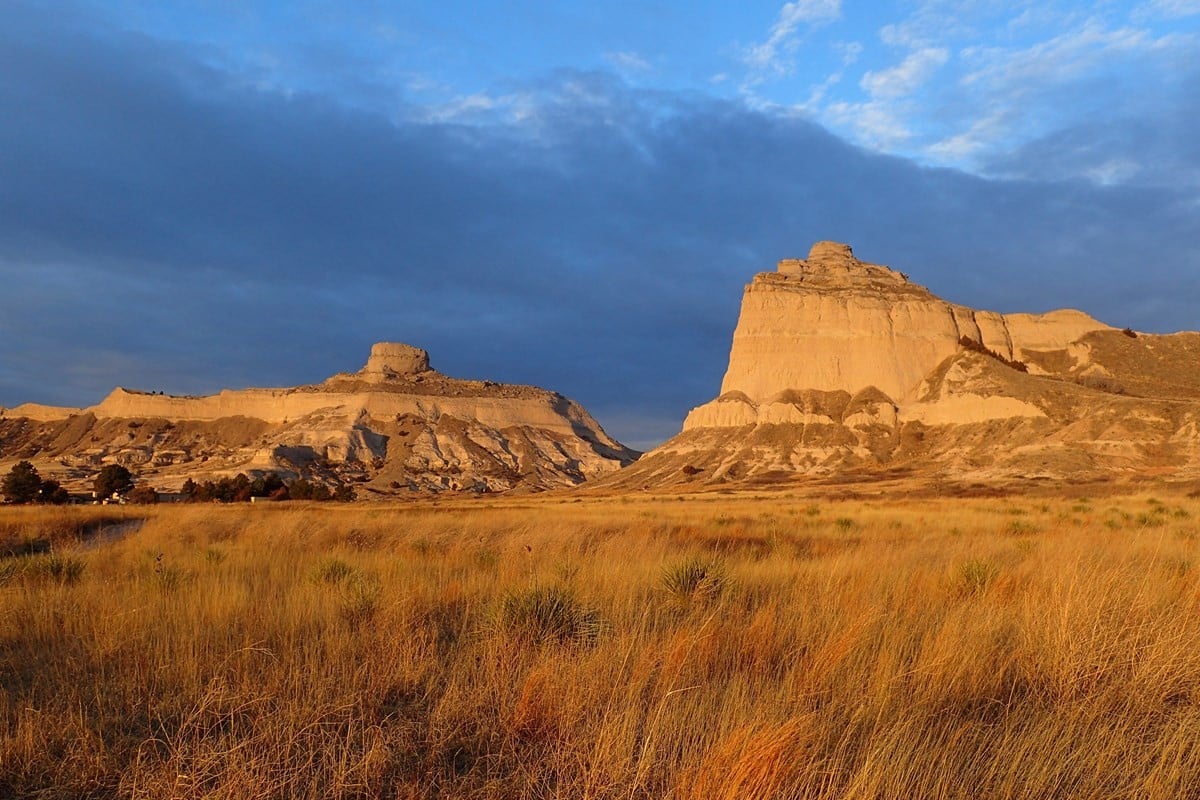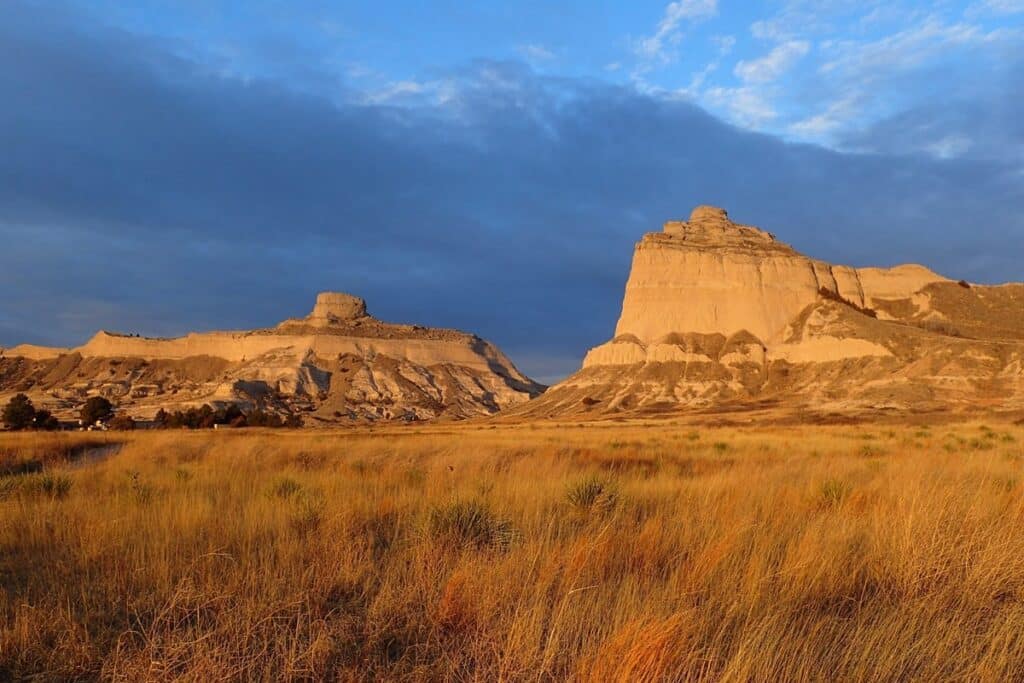 Scotts Bluff National Park is among the most popular attractions in Nebraska. It covers an area of 3,000 acres and welcomes about 100,00 visitors each year.
This park is home to Scotts Bluff, a rock formation with a height of 800 feet. Scotts Bluff is a national monument and is considered an important landmark for several trails. Some of these include the Oregon Trail, the Pony Express Trail, and the California Trail.
This national landmark was named after Hiram Scott, a mountain man, and trapper who died near Scotts Bluff in 1828.
Largest mammoth fossil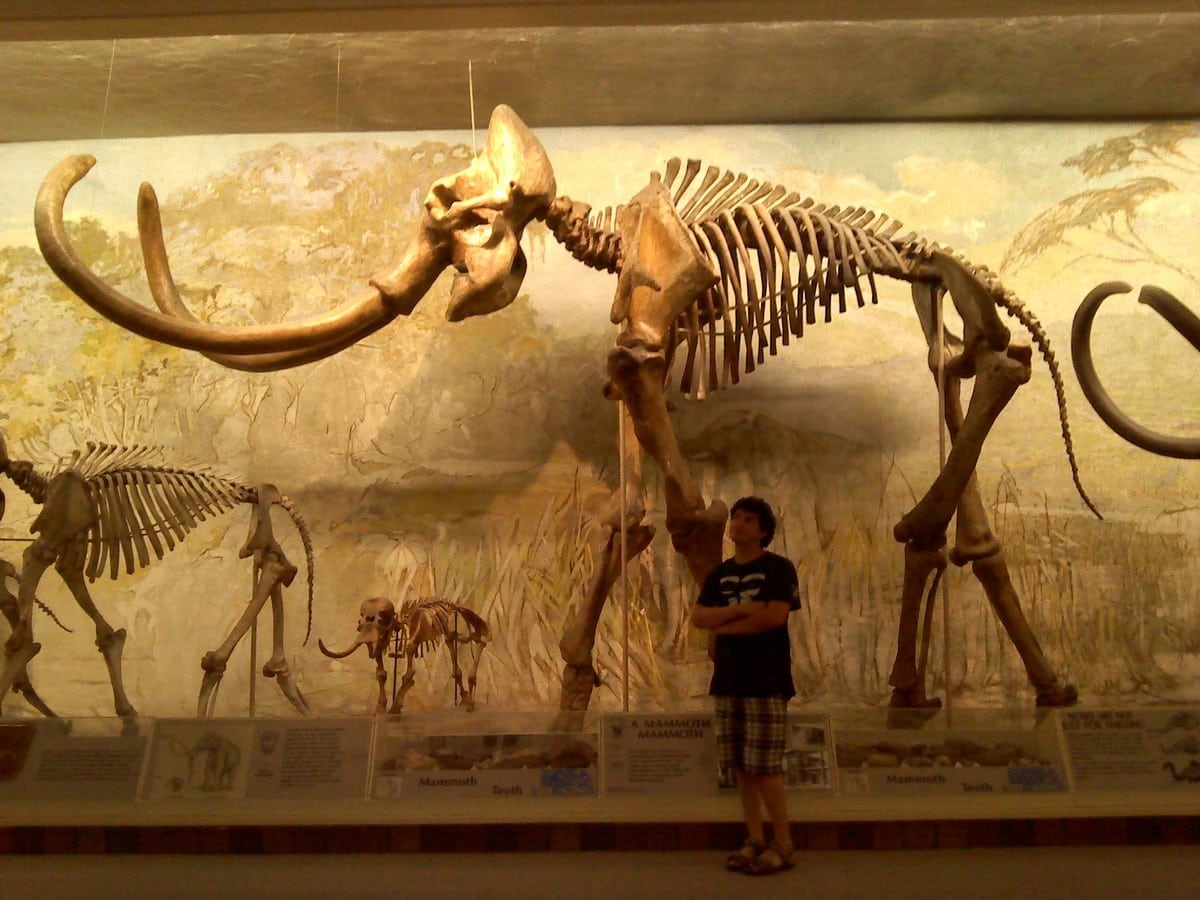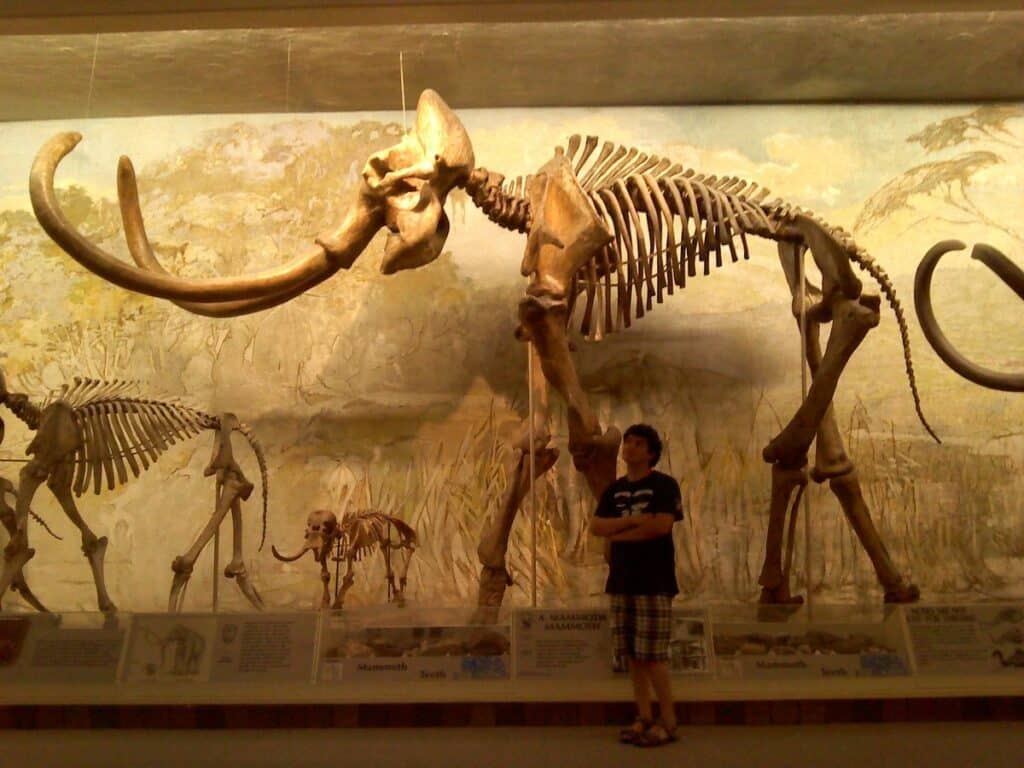 Nebraska is also home to the largest mammoth fossil in the world. This skeleton is currently displayed at the University of Nebraska State Museum.
Known as The Great Mammoth of Lincoln, this mammoth has a height of 14 feet. This impressive fossil was discovered by… chickens! Yes, you heard that right! In 1921, a local farmer noticed that his chickens kept picking some white mineral buried in the soil.
Thinking it was some nutritious mineral, he decided to collect it and add it to their diet. But as he gathered more and more he soon realized those were not minerals. Henry Kariger was, in fact, feeding his chickens with the jaws and teeth of an extinct mammal.
Runza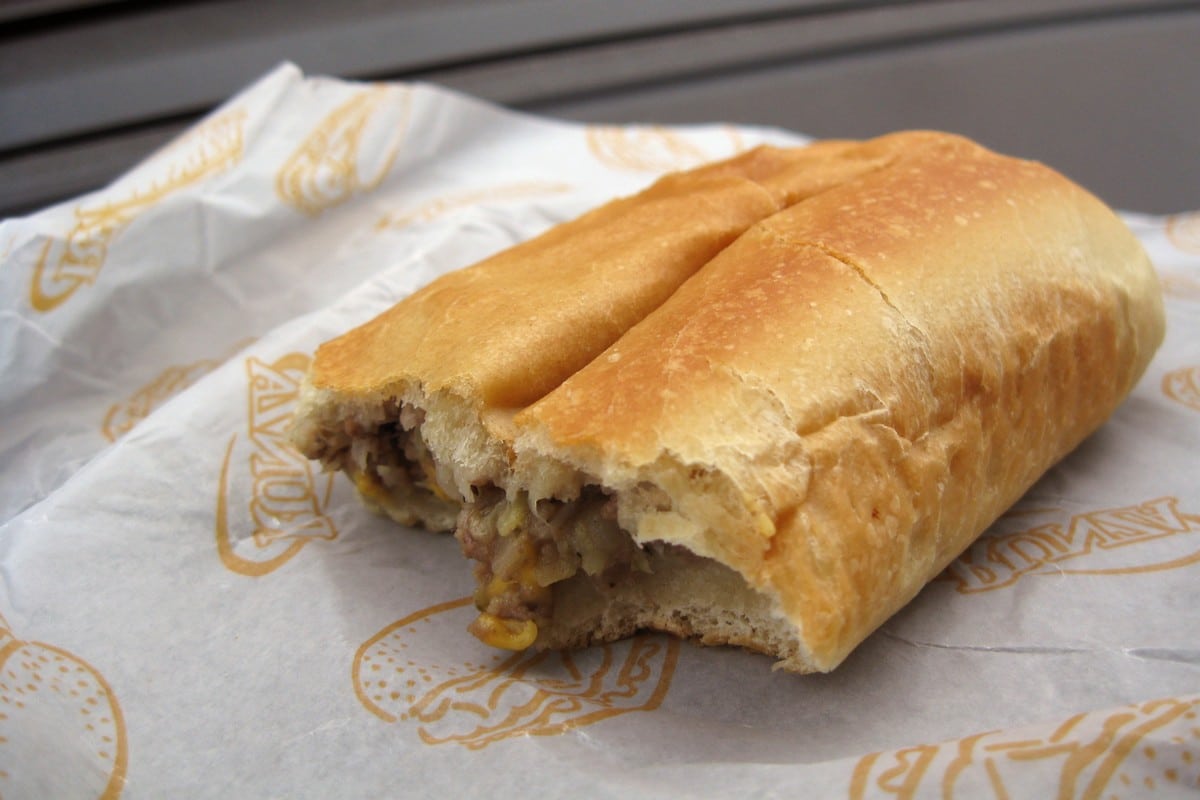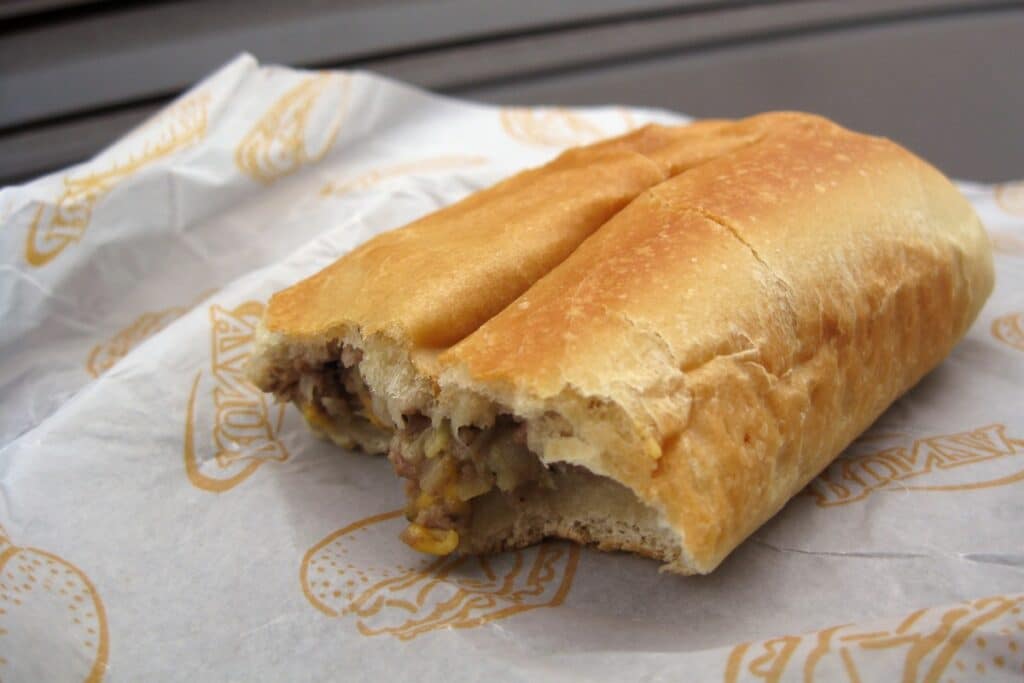 Runza is probably the most popular local dish in Nebraska. This consists of a dough filled with beef, sauerkraut, onions, and cabbage. It is served in different forms ranging from squares to half-moons, rectangles, and buns. Runza was inspired by Russian cuisine, in particular by pirozhok. This is a baked or fried bun containing a variety of fillings.
We are not one hundred percent sure of the origin of its name. However, many believe that the term 'runza' was invented by Sally Everett. A more likely interpretation is that she adapted it from an already existing name.
The Chimney Rock Formation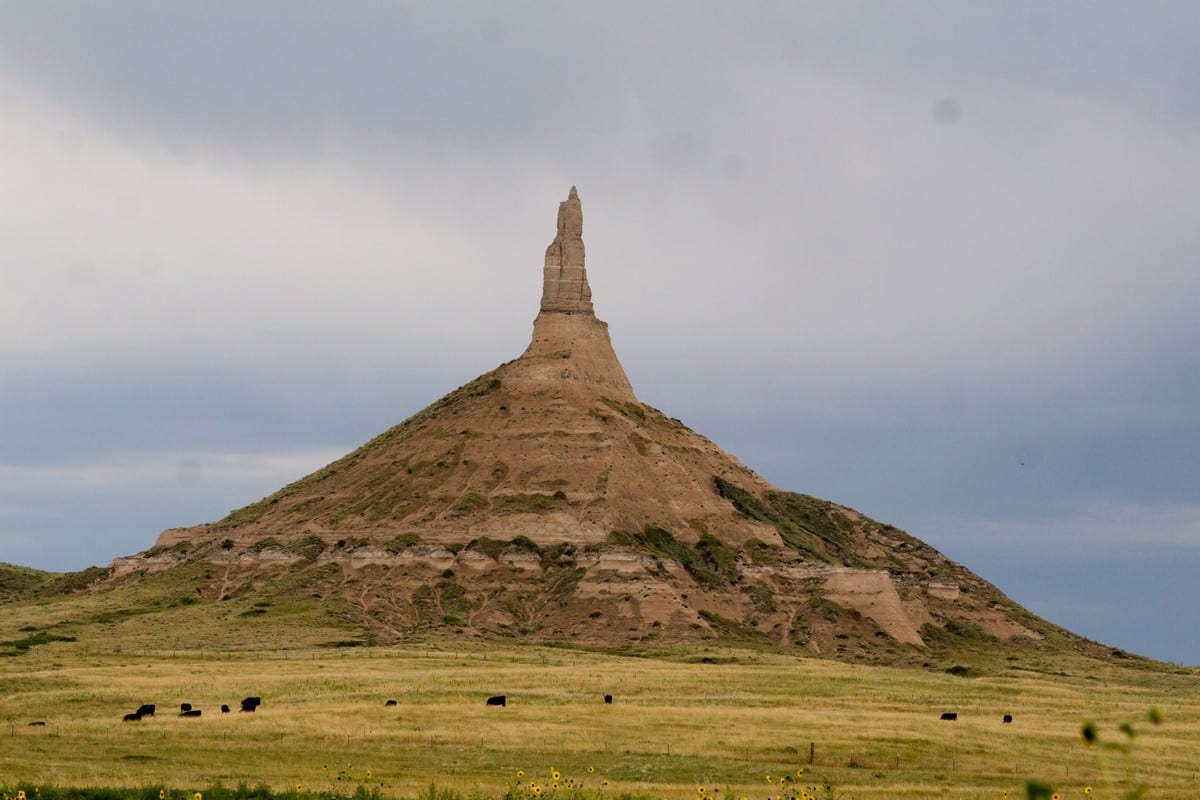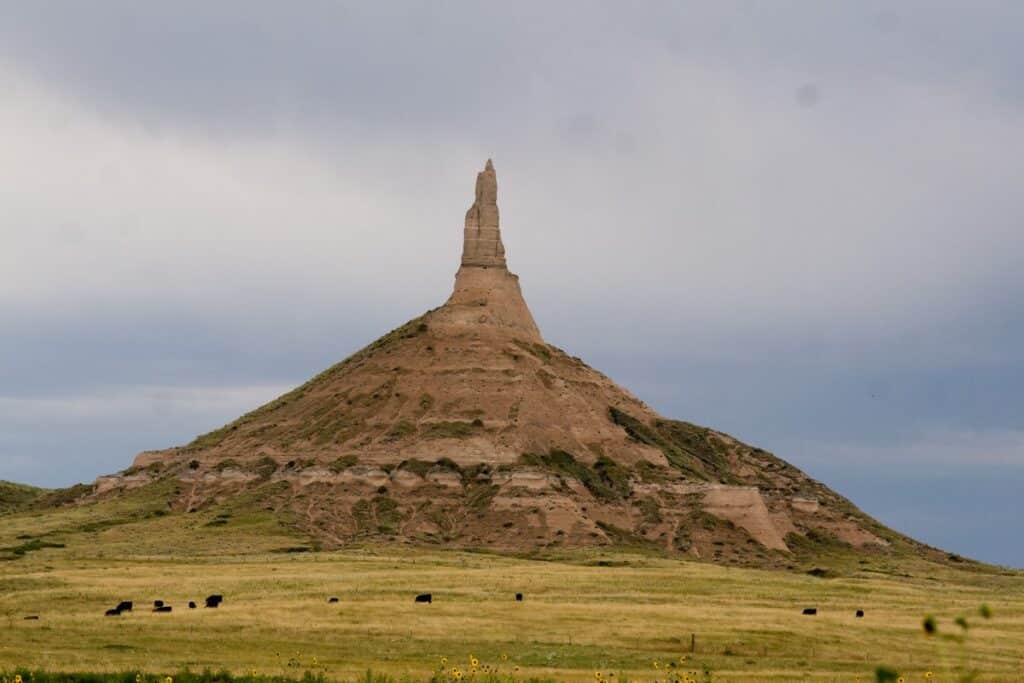 Nebraska is also home to an extremely peculiar rock formation. Known as the 'Chimney Rock Formation', this weirdly shaped rock has an elevation of 300 feet.
Native Americans in the area, particularly the Lakota Sioux, used to refer to this site as the 'elk penis'. The first European settlers that saw the Chimney Rock Formation were probably students of Robert Stuart in 1813.
According to several data, we can now claim for sure that this rock used to be taller when it was first seen by the settlers. However, its size decreased as a result of erosion and lighting.
The world's largest porch swing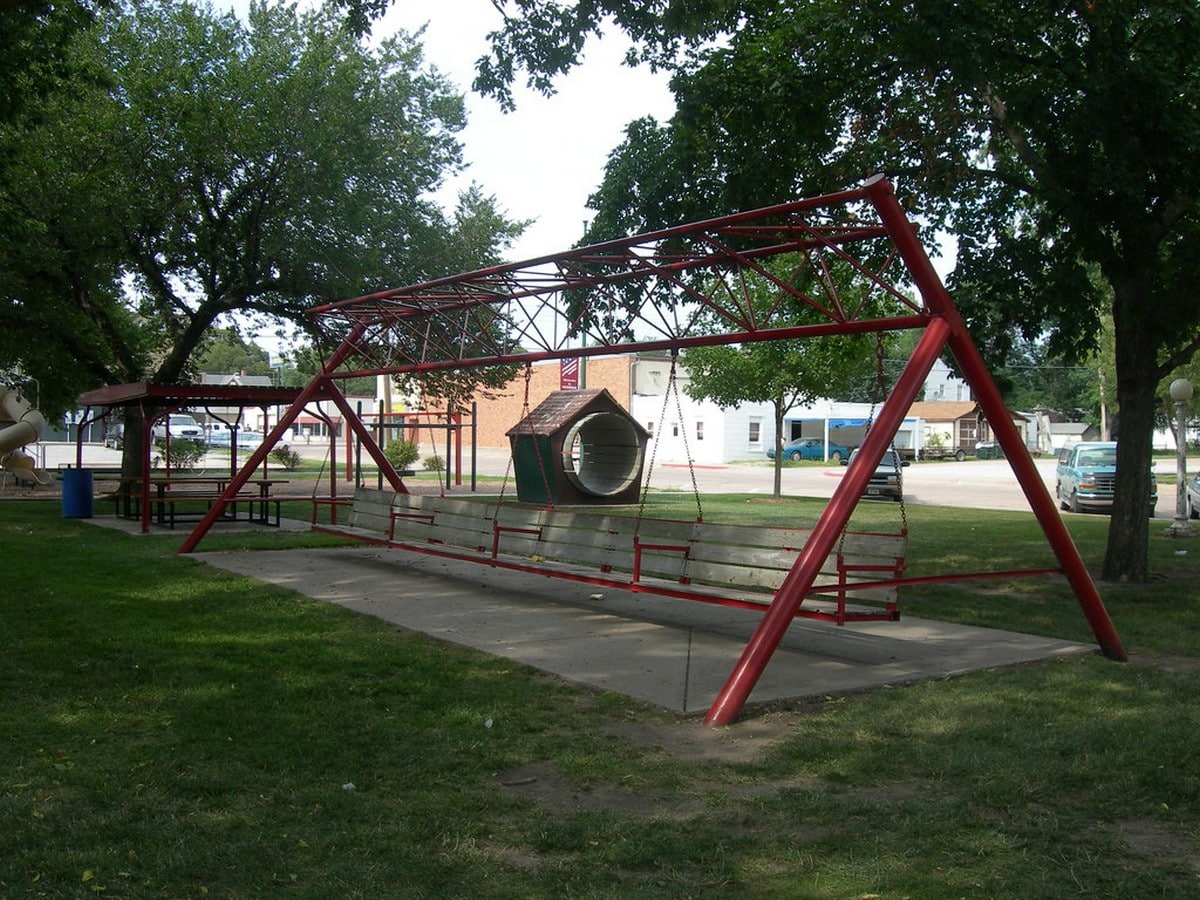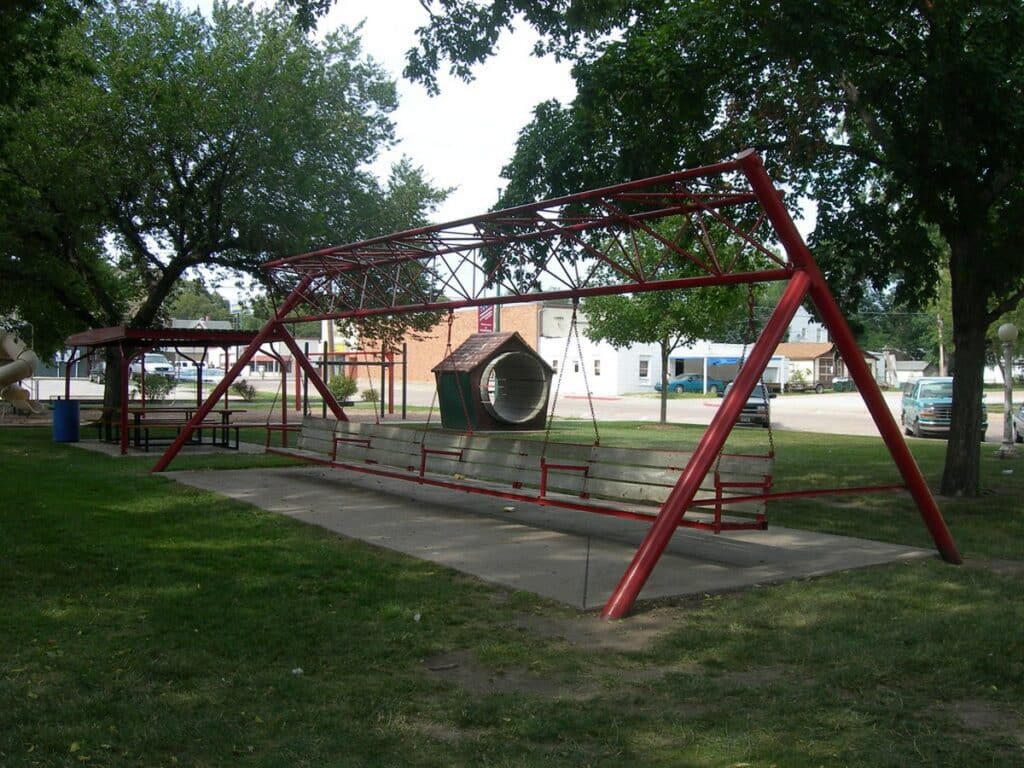 Nebraska can also boast an unusual record. This state is, in fact, home to the largest porch swing worldwide. This porch swing is located in Hebron, in the very south of Nebraska.
This swing can welcome 18 adults or 24 children. It measures 32 feet in length and was made out of a section of a center-pivot irrigation frame.
The world's largest porch swing dates back to 1985 and was moved to its current location in 1991.
Carhenge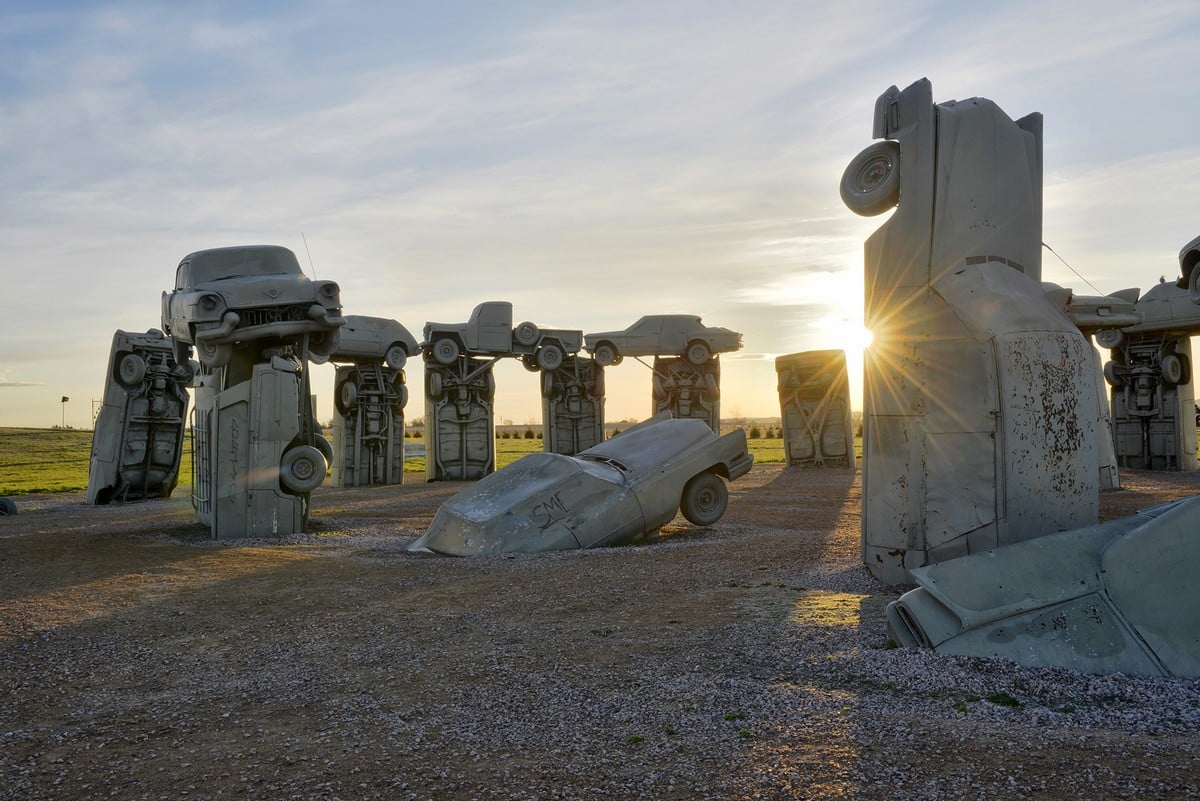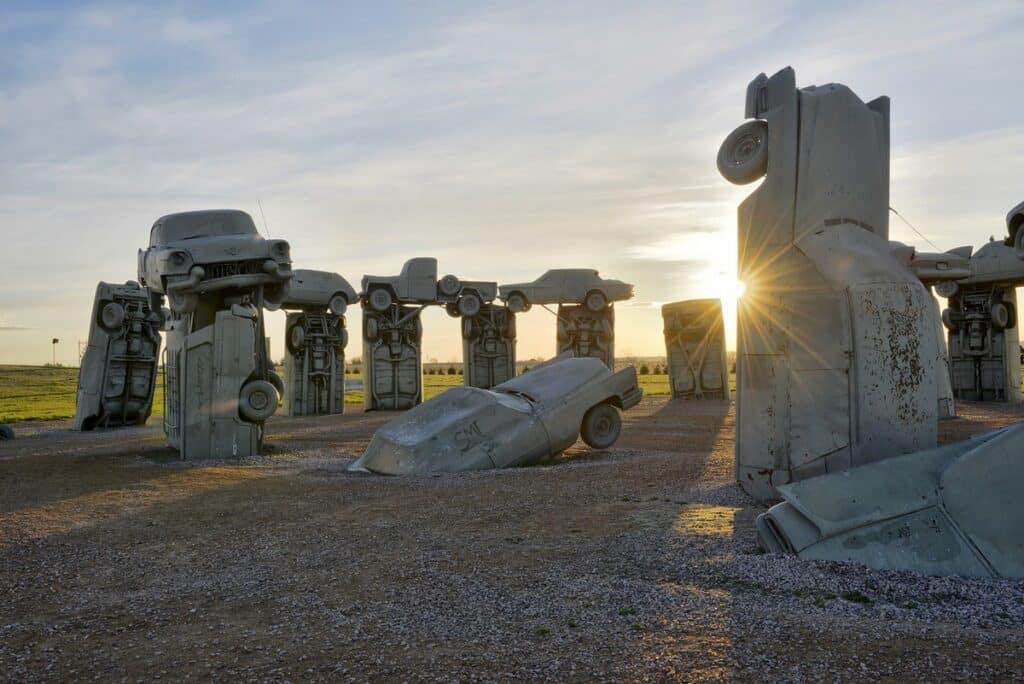 Everybody has heard of Stonehenge, the most famous prehistoric monument in the UK. But have you ever heard about Carhenge?
This work of art was created by Jim Reinders and is a replica of Stonehenge. The only difference? It is entirely made of cars!
Carhenge is located near the city of Alliance in the northeastern area of Nebraska. It consists of 39 cars displayed in a circle measuring 29 meters.
Since 2006, this site has also featured a visitors center and several other unique sculptures.
The world's largest ball of stamps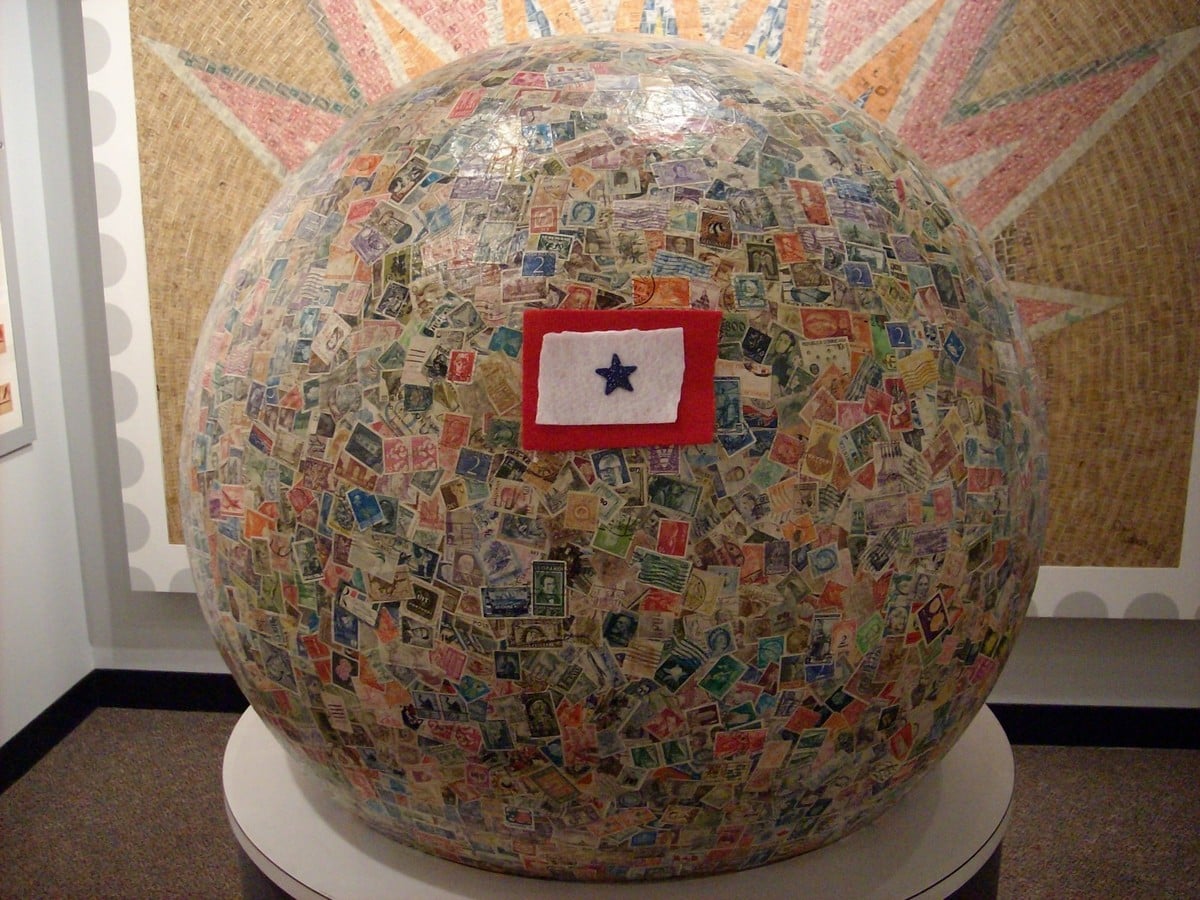 Nebraska is also home to the largest ball worldwide made out of stamps. This unique structure is displayed in Boys Town in the easter area of Nebraska.
The origin of this ball dates back to 1953 when the Boys Town Stamp Collecting Club started to attach to a golf ball some stamps that were not considered valuable.
Two years later, this unique golf ball attracted the attention of a local newspaper that published an article about it. Since then, the world's largest ball of stamps has maintained the same size and today can be seen at the Leon Myers Stamp Center.