Nevada is the 7th largest state in the United States in terms of total area. It is nicknamed "The Silver State" and its capital is Carson City. Its name comes from the Spanish word "nevada" which means snow-clad! This is referring to the peaks of the Sierra Nevada, a mountain range on Nevada's western border. The state has the most mountain ranges than any other in the country, and it has incredible mountains as well as desert landscapes!
Nevada is known for Las Vegas, casinos, and gambling. However, the scenic state also has beautiful national and state parks! It is the home to the Loneliest Road in America, a stretch of Route 50 that drives through barren desert, and it is where Burning Man is hosted every year!
Las Vegas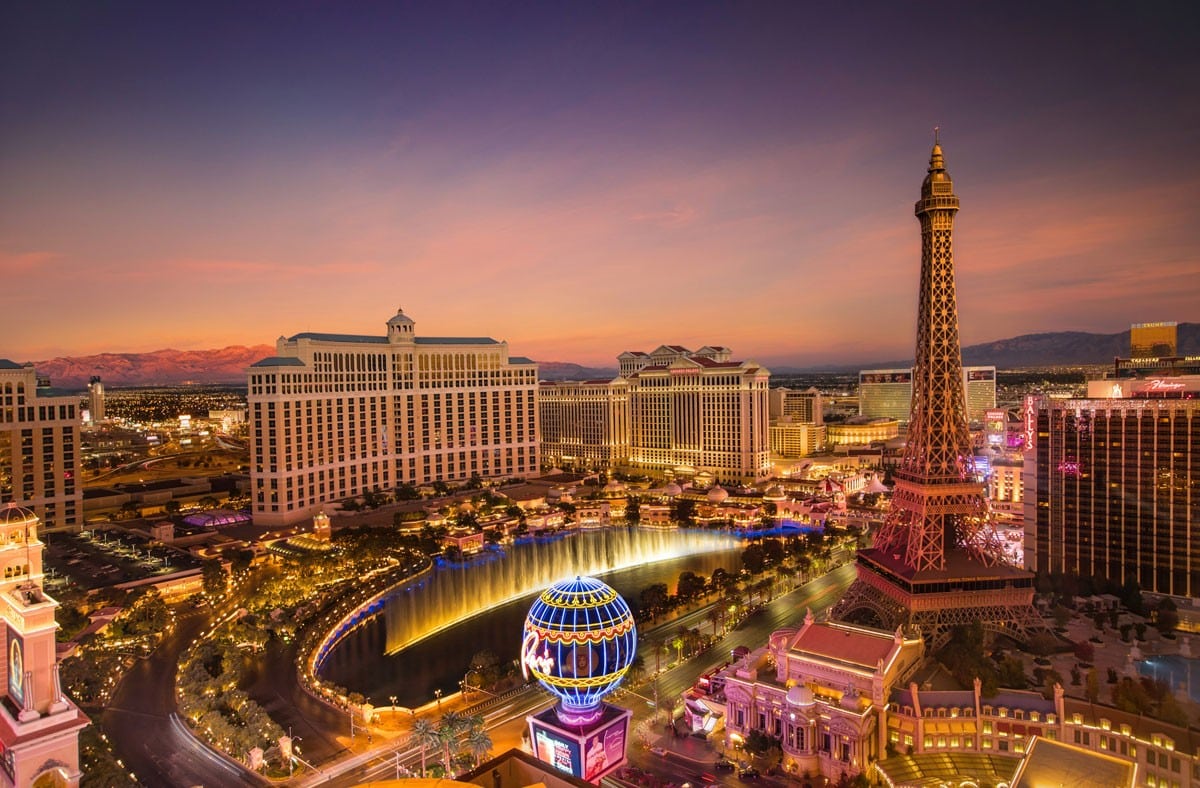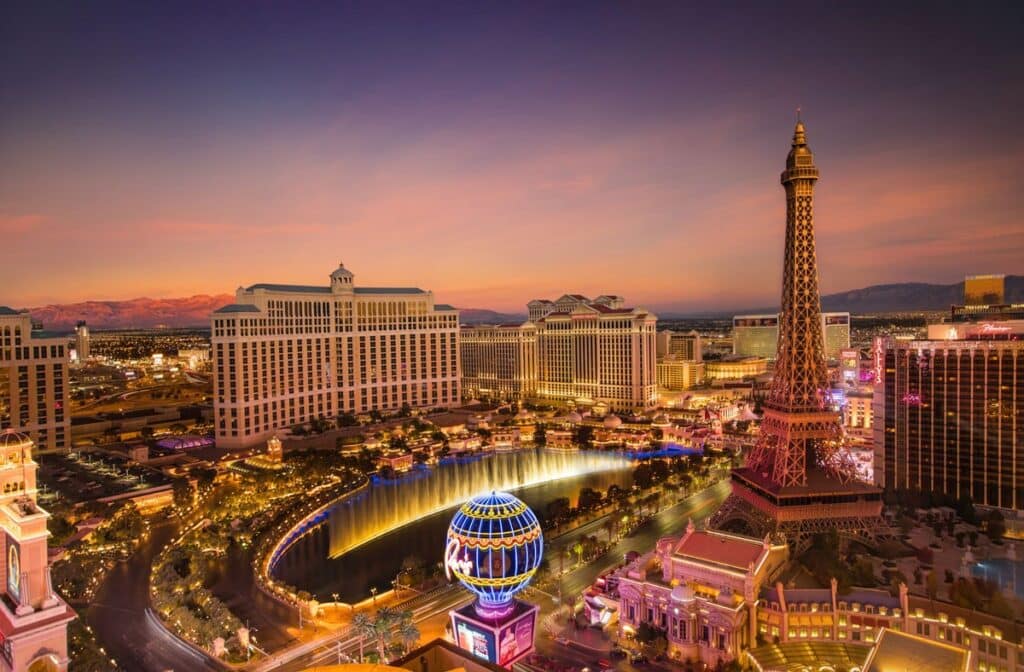 Las Vegas is Nevada's biggest and most popular city. Over 41 million people visit Las Vegas, also known as "Sin City" (amongst other things) every year. It is known for its gambling, party scene, and world-class entertainment.
The city is home to over half the world's 20 largest hotels. Las Vegas' Venetian and The Palazzo is the second largest hotel in the world with over 7,100 rooms!
It is somewhat of a foodie haven, and there are over 60,000 pounds of shellfish consumed there every day. That's more than the rest of the country combined!
The Loneliest Road In America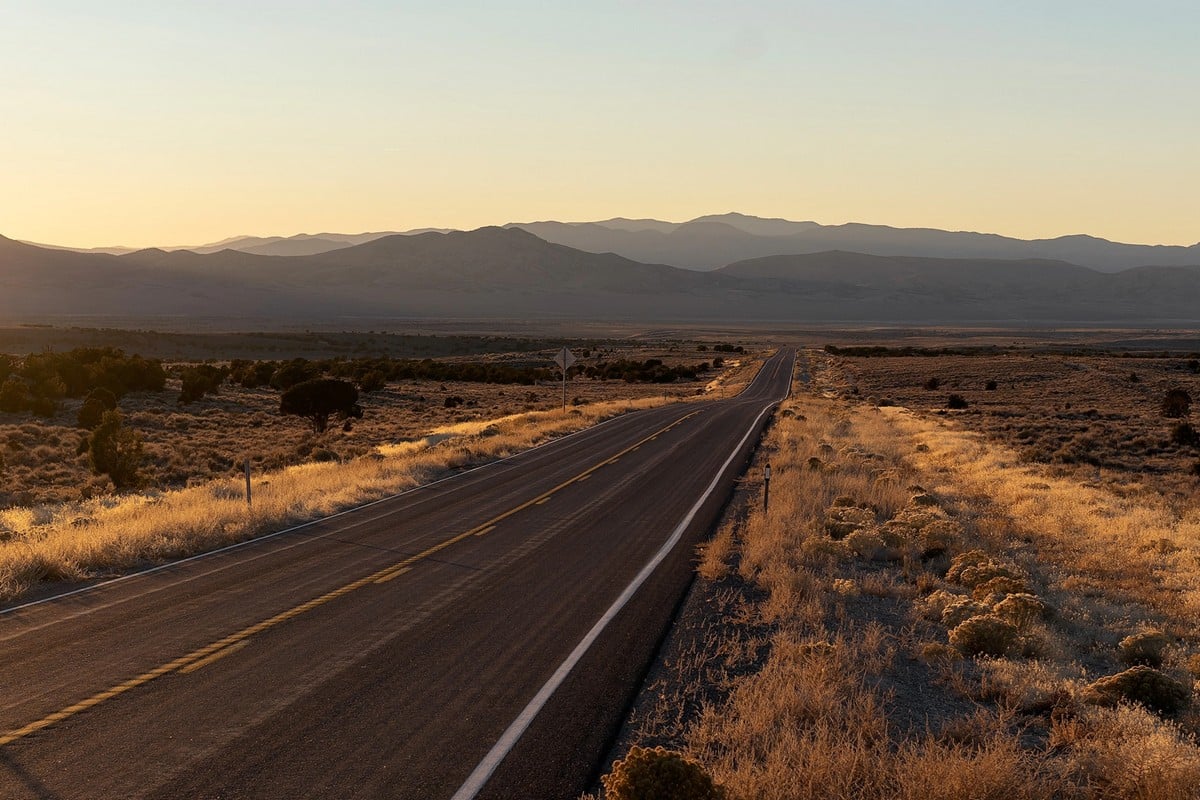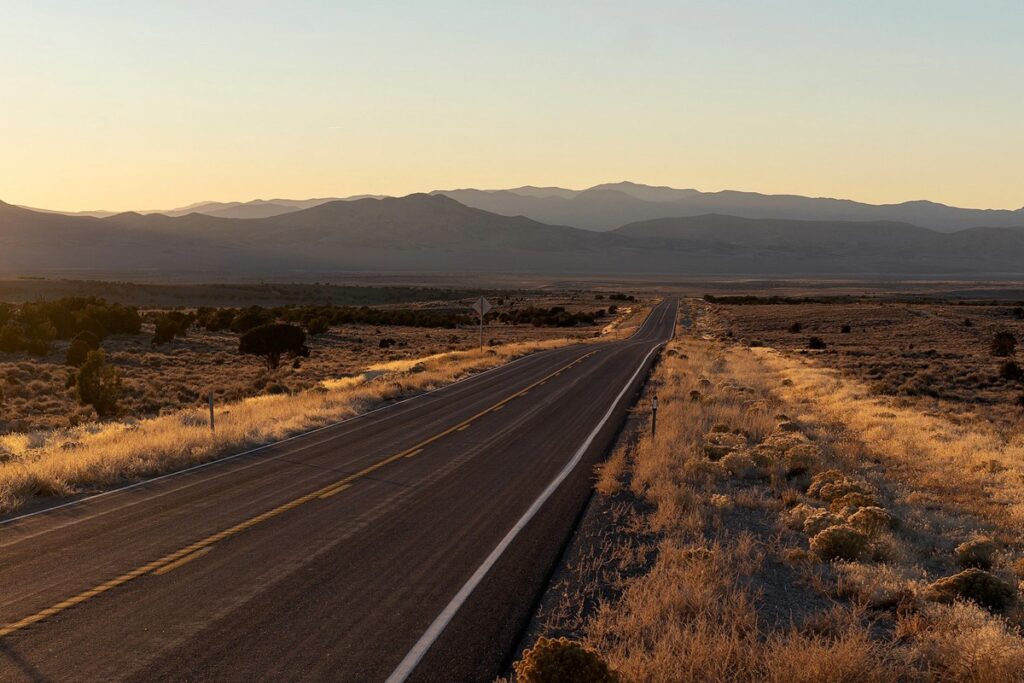 The Nevada section of Highway 50 was coined "The Loneliest Road in America" in 1986 by Life Magazine. It gets its name from the desert-like plateaus and barren mountains that dominate rural Nevada. The nickname was meant as an insult. However, the Nevada officials turned its meaning around and created a successful marketing campaign!
It is now a popular American road trip, starting in Carson City and ending in Great Basin National Park. The road is 658 kilometers long and takes six hours to drive without stopping.
Casinos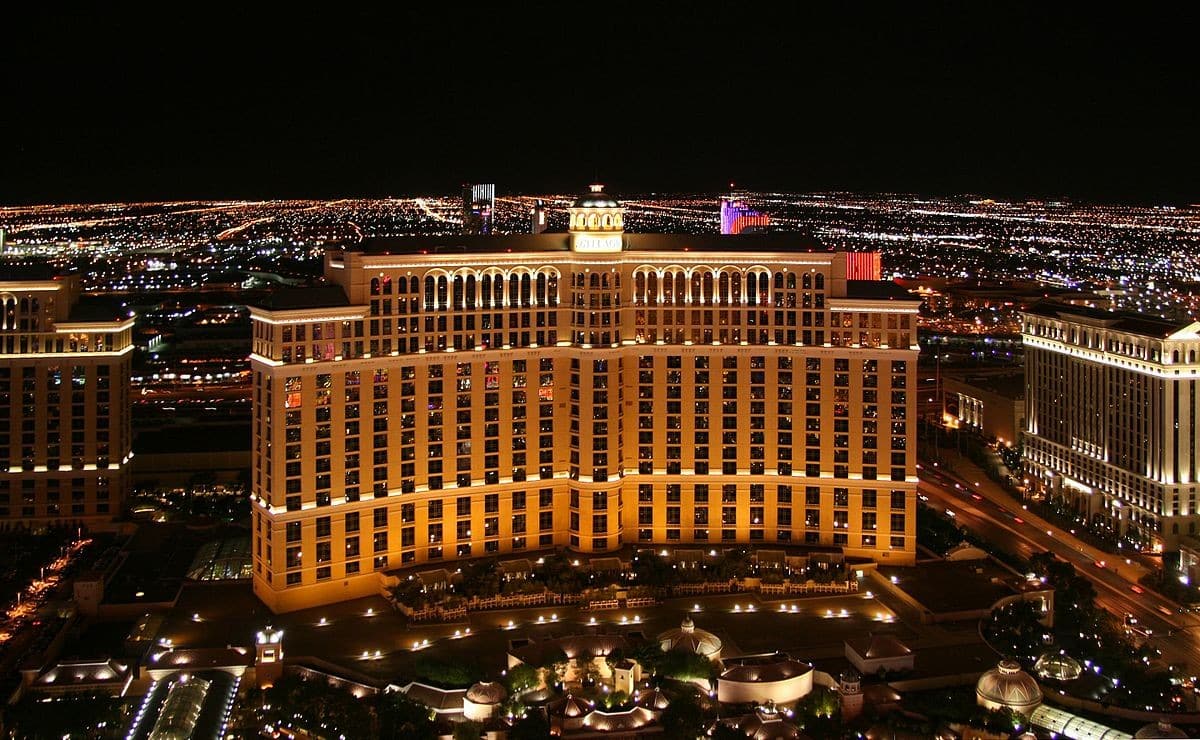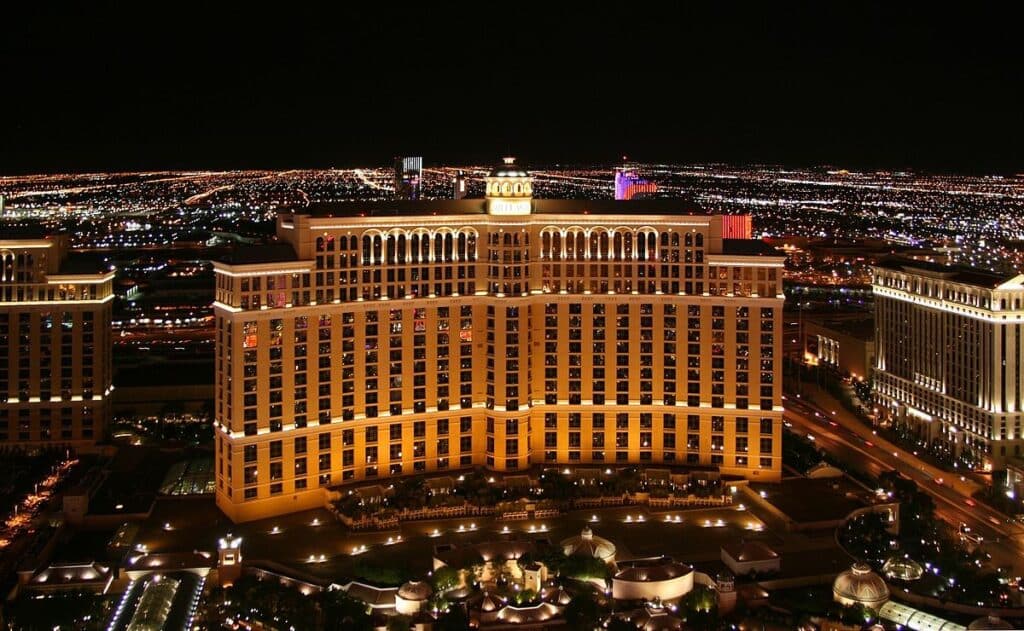 Nevada has the most casinos in the United States, with a total of 433 casinos in the entire state. With so many casinos, it's unsurprising that in 2021 the state generated a whopping 13.4 billion USD in gambling revenue!
The Golden Gate Casino, which opened in 1906, is the oldest in the country and is still operating today. But, the most famous casino by far is The Bellagio. It's known for its grand 8-acre lake and dancing fountain, which is one of the most photographed spots on the Las Vegas strip.
Weddings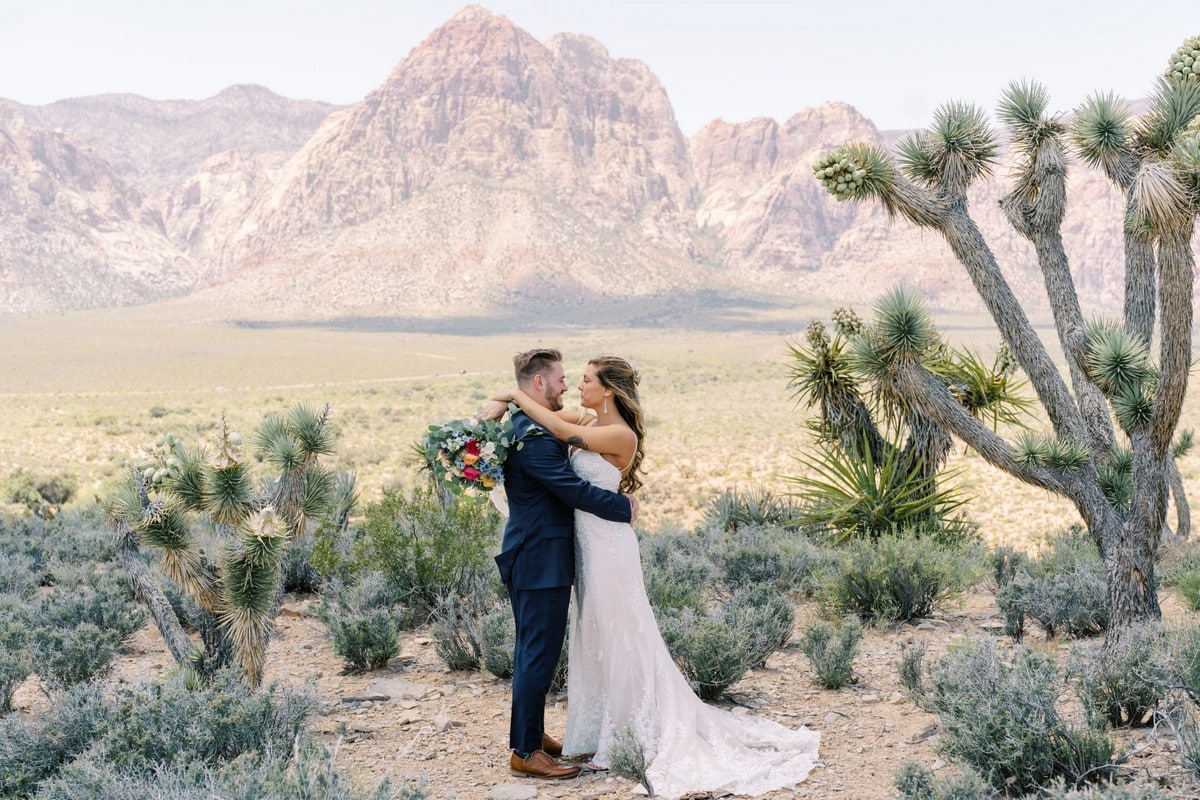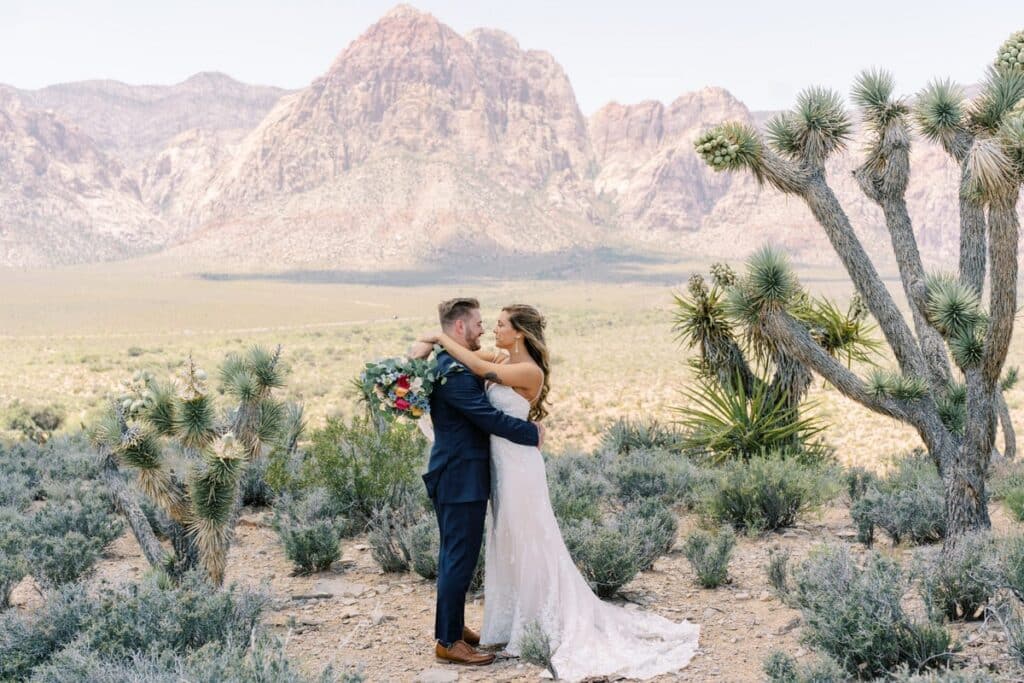 Over the years, Las Vegas has become known as the "Marriage Capital of the World"!
Vegas weddings are extremely appealing as they're so easy (maybe a little too easy…). You can rock up to a drive-through chapel and get married then and there for as little as 50 USD.
There are over 150 Vegas marriages every day and even celebrities get married there! Britney Spears' marriage to Jason Alexander is one of the shortest on record lasting only 55 hours!
Gold and Silver Mines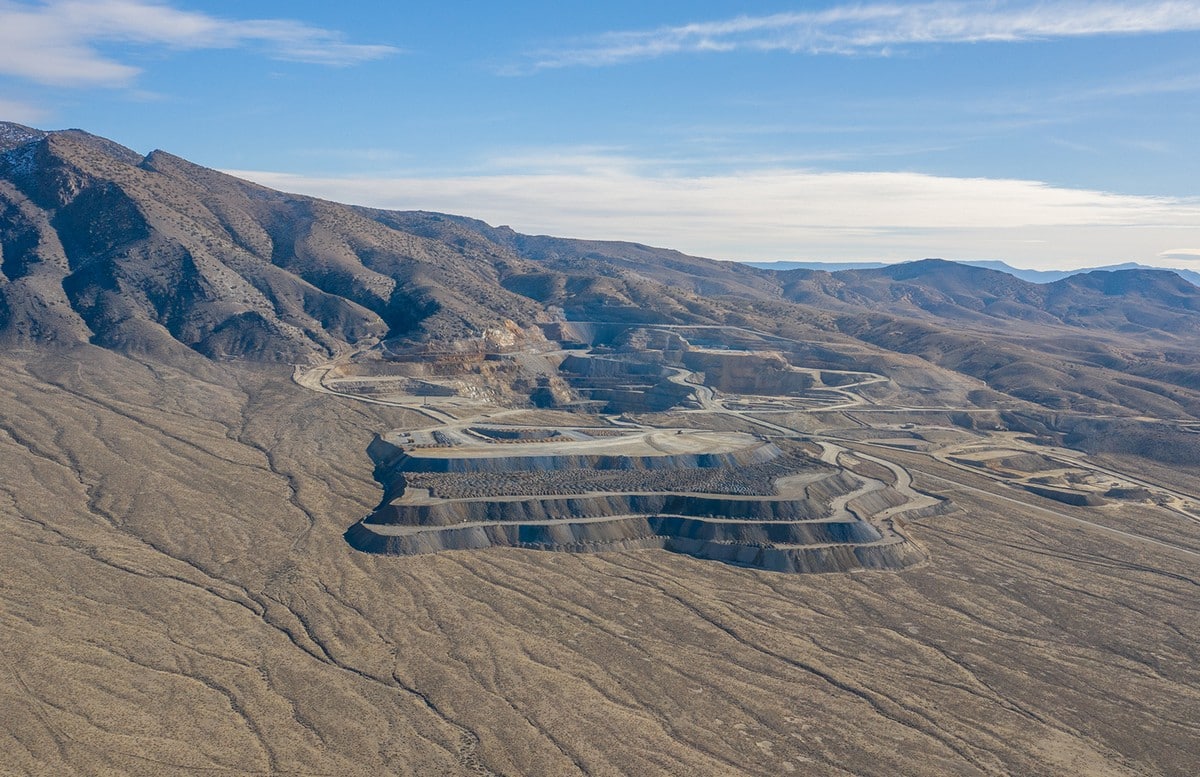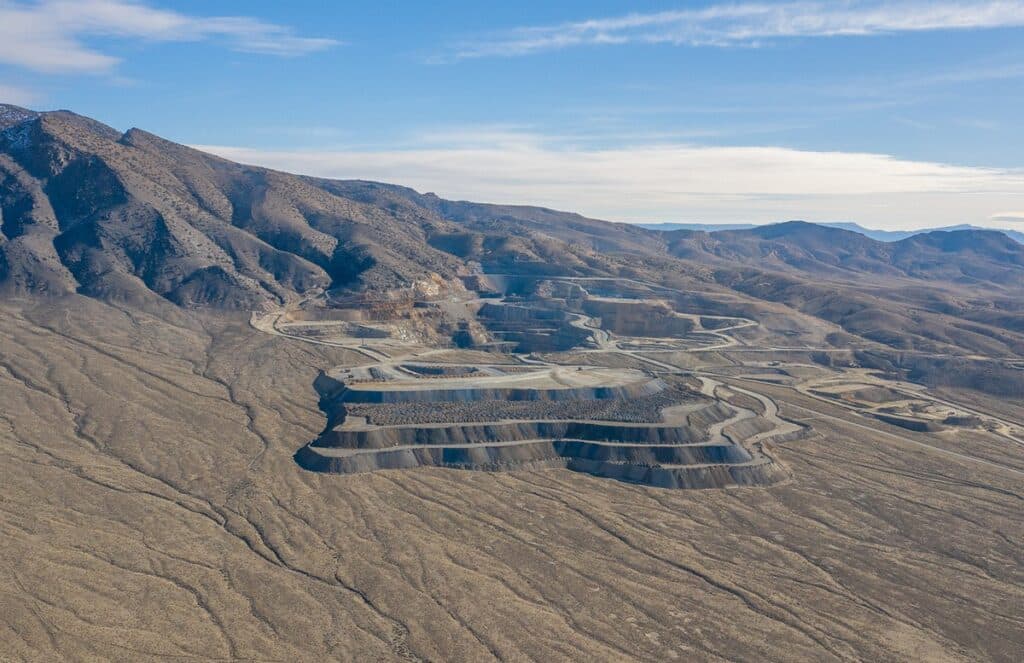 Modern gold mining started in Nevada in 1849 and the state is home to three of the world's top 10 gold mines. However, it was nicknamed "The Silver State" following the discovery of the country's largest silver deposits in Comstock Lode in 1859!
Interestingly, California is known as the Golden State, but it's Nevada which is the top gold mining state in the country. In 2018, California produced 140,000 troy ounces of gold, whereas Nevada produced a whopping 5.58 million!
The Nevada mining industry provides roughly 15,000 direct jobs and 75,000 indirect jobs.
The Valley of Fire State Park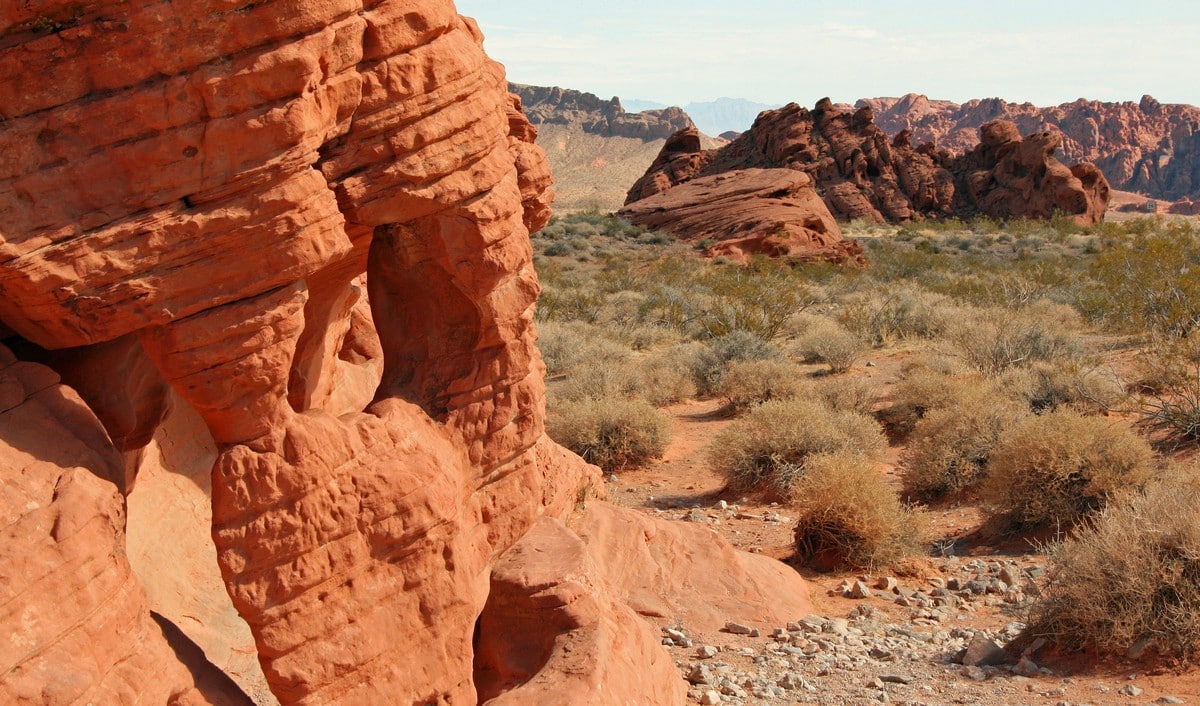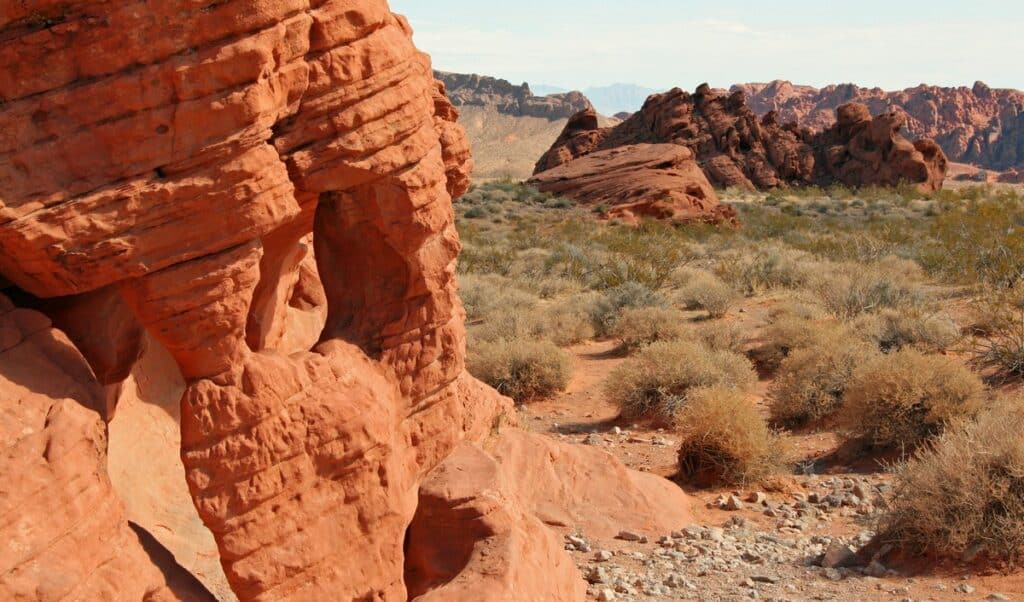 The Valley of Fire is Nevada's largest and oldest state park. It is HUGE at over 40,000 acres, and it's filled with bright red, Aztec sandstone rock formations.
In 1920, an AAA official named it the Valley of Fire because, during sunset, the entire valley looks like it's set ablaze! The park is a popular filming location. You might even recognize it from Viva Las Vegas, Star Trek Generations, and Total Recall.
Every year the park hosts the Atlatl Competition where contestants test out their spear skills with replicas of ancient spears!
Area-51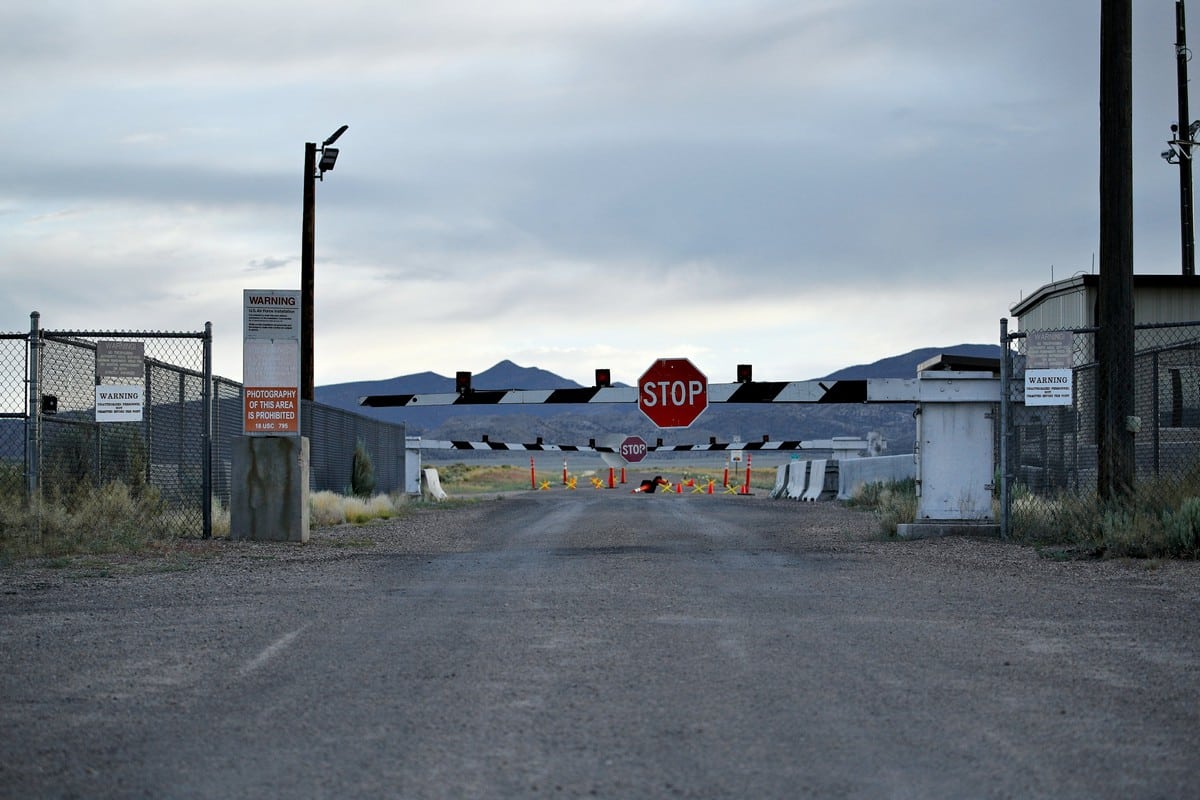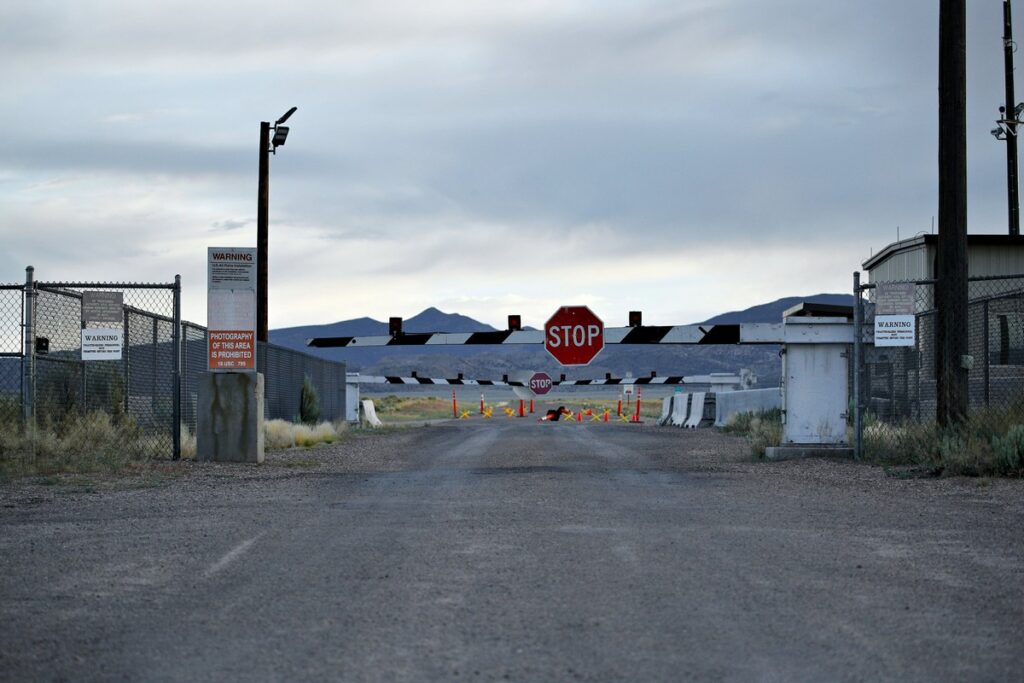 The infamous Area-51 is a highly classified airbase and the source of many conspiracy theories. It has been used by the United States government since the 1950s.
Until 2018, satellite images of the air base were strictly prohibited. This (as you can imagine), only added to the mystery and secrecy surrounding the base.
It is incredibly remote and heavily associated with aliens. Many reports of UFOs in and around the base exist, and people believe remains of crashed UFOs are kept there!
Lake Tahoe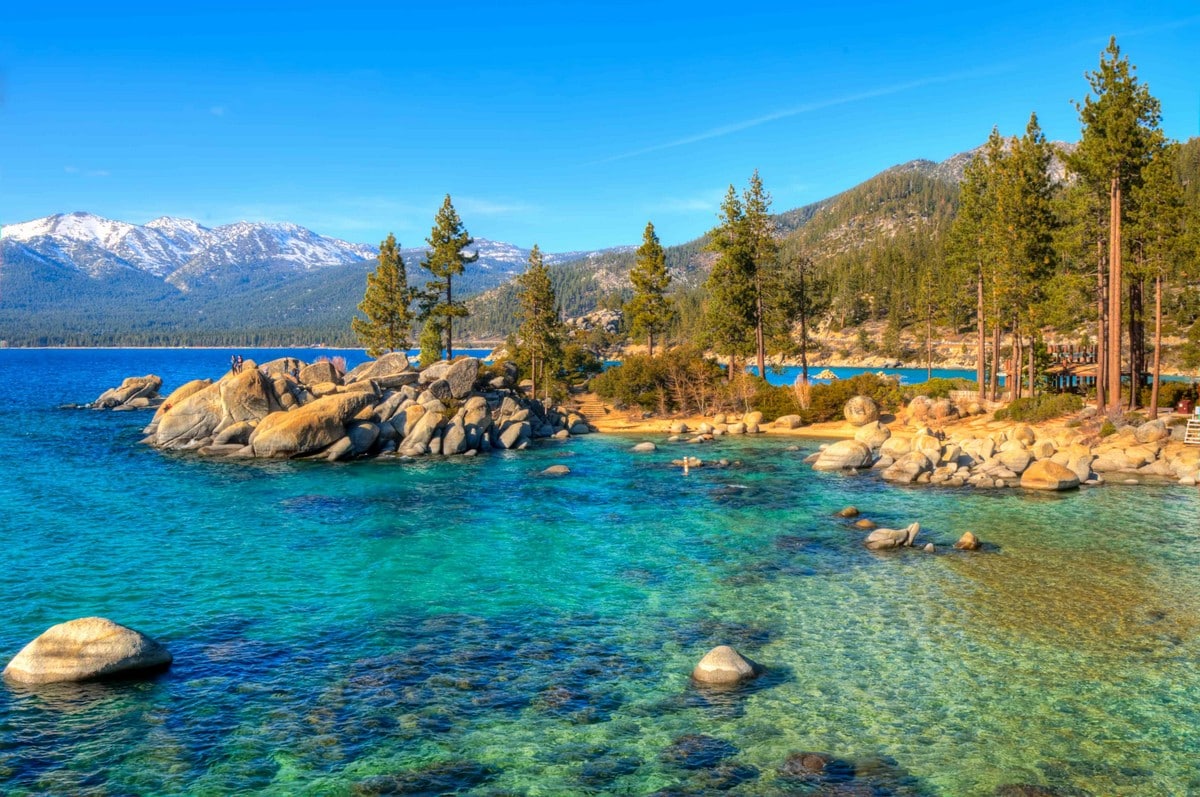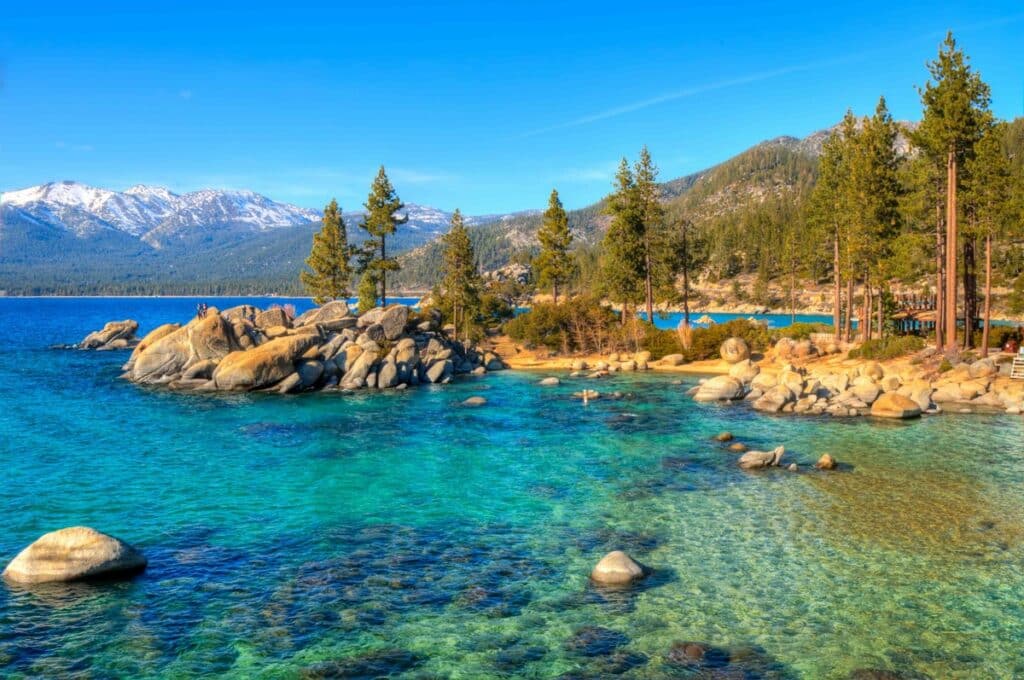 Lake Tahoe is a freshwater lake that sits between the border of Nevada and California. It is just over 488 meters deep, making it one of the deepest lakes in North America. To put that into perspective… Lake Tahoe is deeper than The Empire State Building is tall!
It is also the largest alpine lake in North America, BUT it is known for its turquoise blue tropical-like waters. Parts of the lake have beautiful, sandy white beaches (yes, you read that right!). It is extremely popular, and around 15 million people visit the lake every year!
Reno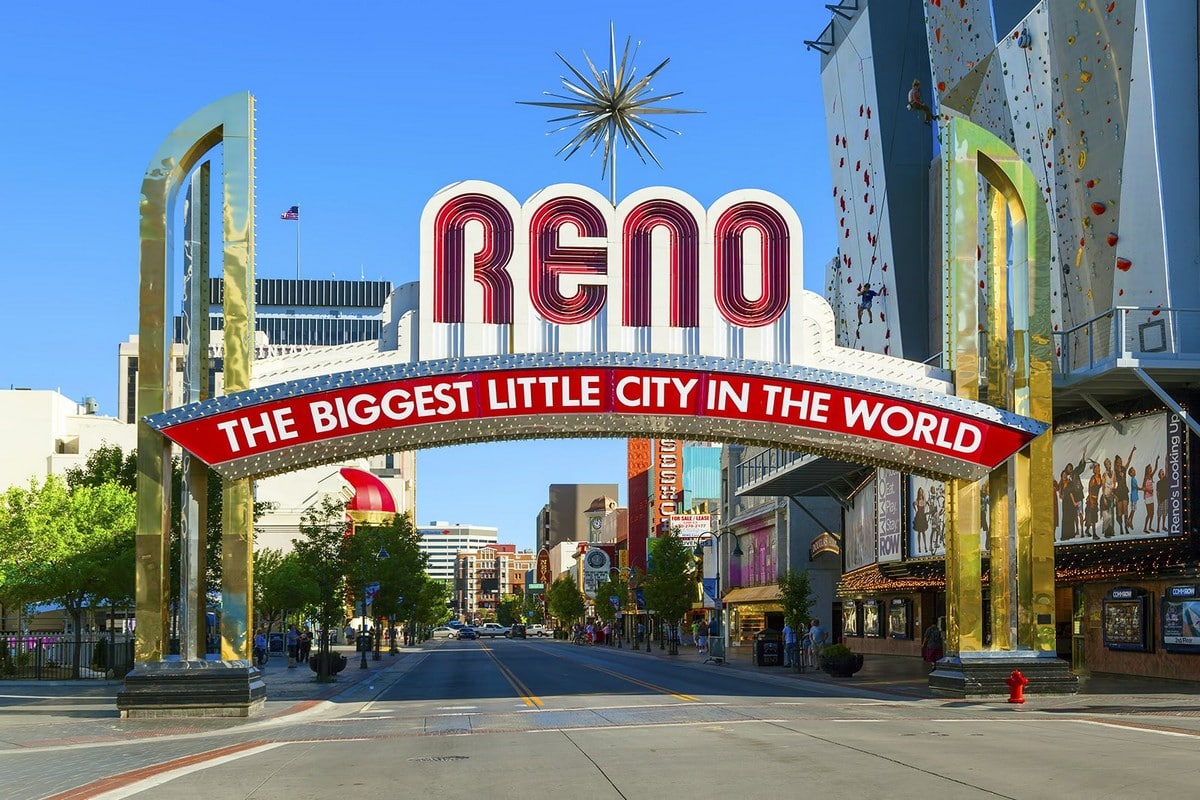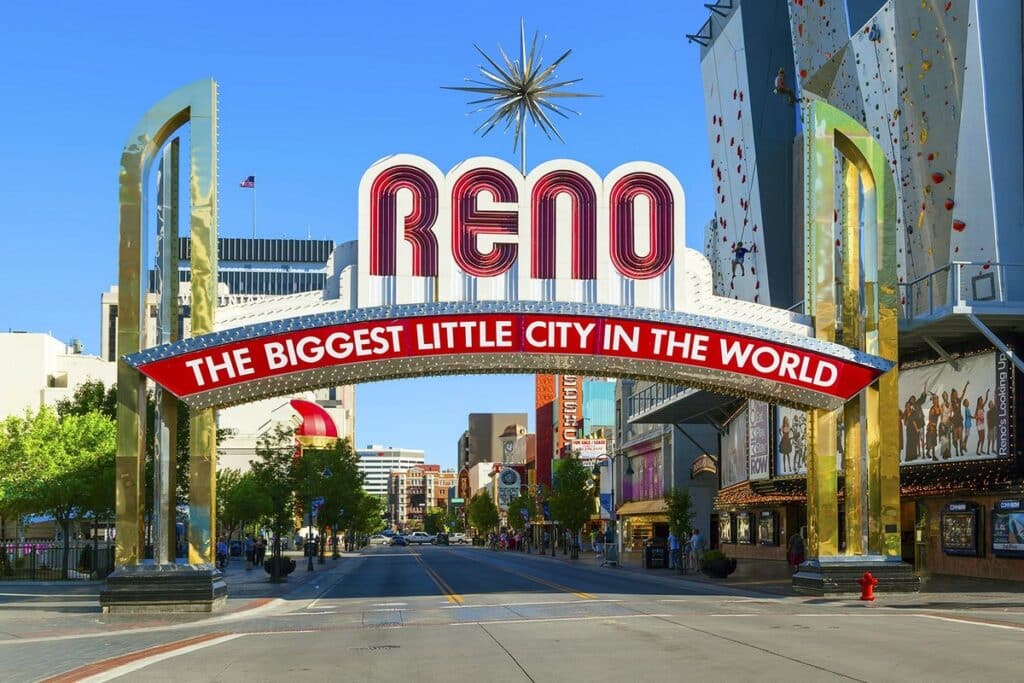 Like Las Vegas, Reno is known for gambling. It has over 20 casinos and there are even slot machines in the airport and grocery stores!
It's also known as "The Biggest Little City"! But, more recently, it's become home to some huge tech giants like Panasonic and Tesla, with some calling it "The Next Silicon Valley"!
Burning Man Festival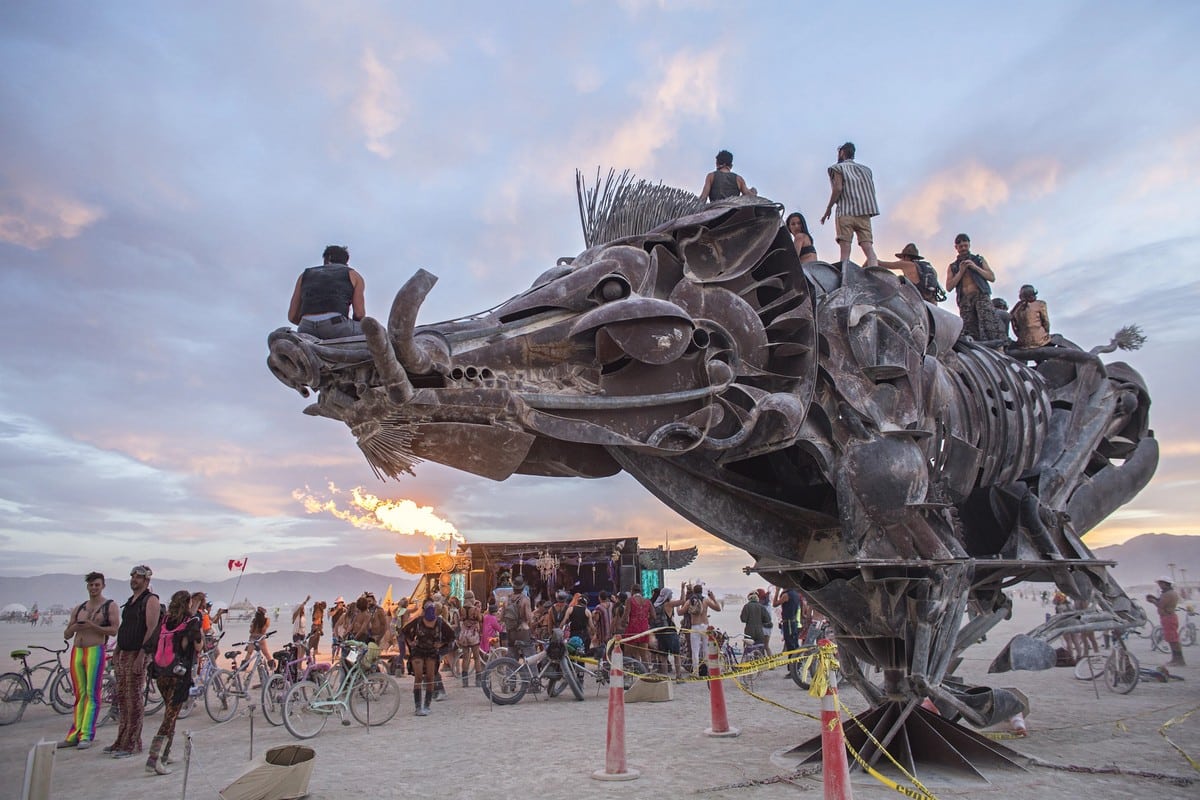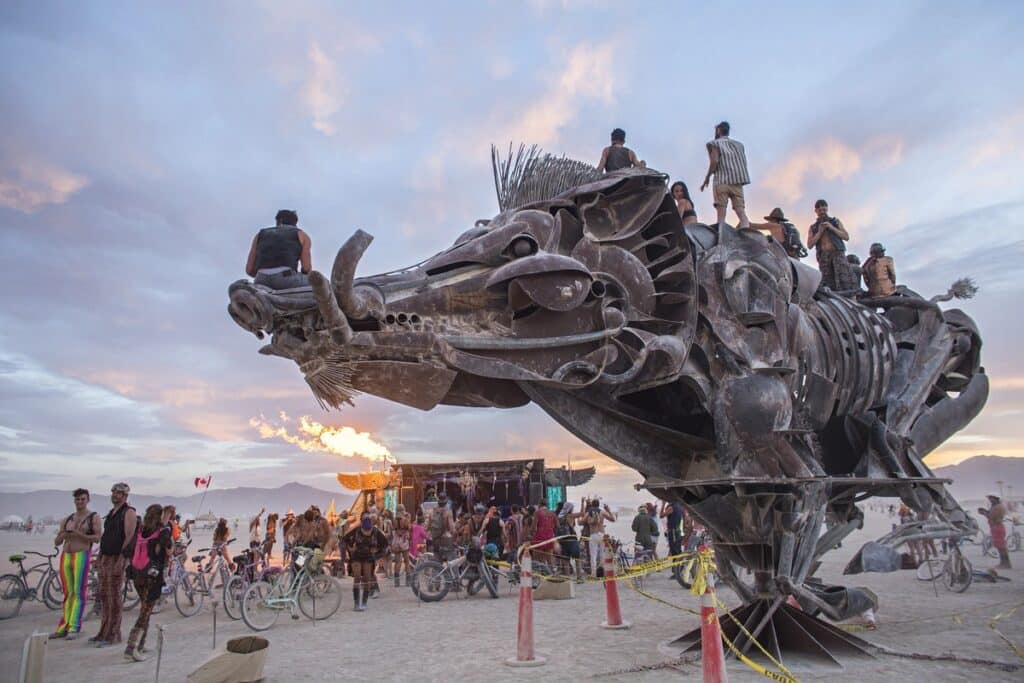 Burning Man is a week-long "festival" held in Black Rock Desert, Nevada. However, it could be described as an experiment in temporary community and self-expression… sounds cool right?!
One of the key principles of Burning Man is leaving no trace. Each year a temporary city is constructed, housing up to 60,000 people! The city has everything from a post office, to a DMV, and diners. But, for most of the year, this area of desert is completely barren and empty.
There's nothing for sale, except for ice and coffee. Residents bring what they need and share it with their neighbors!
Hoover Dam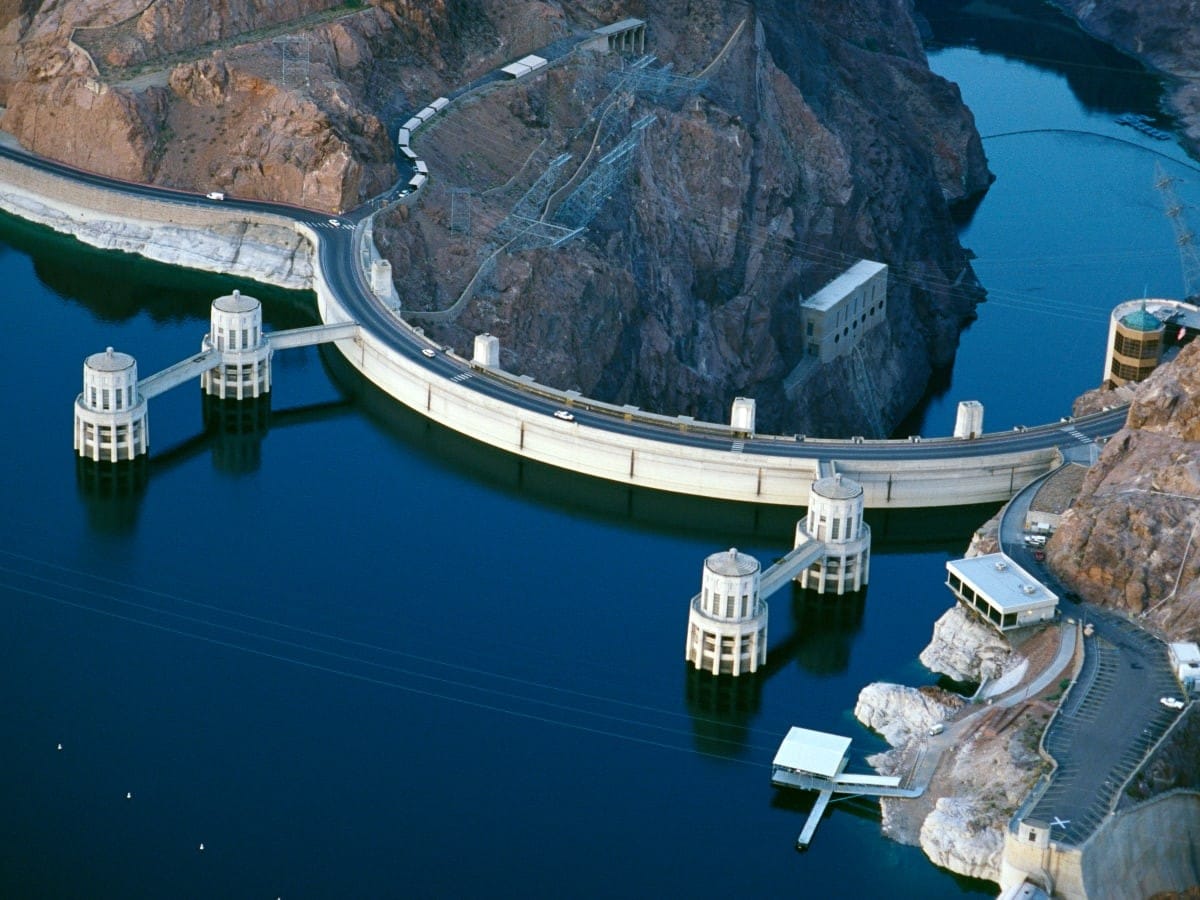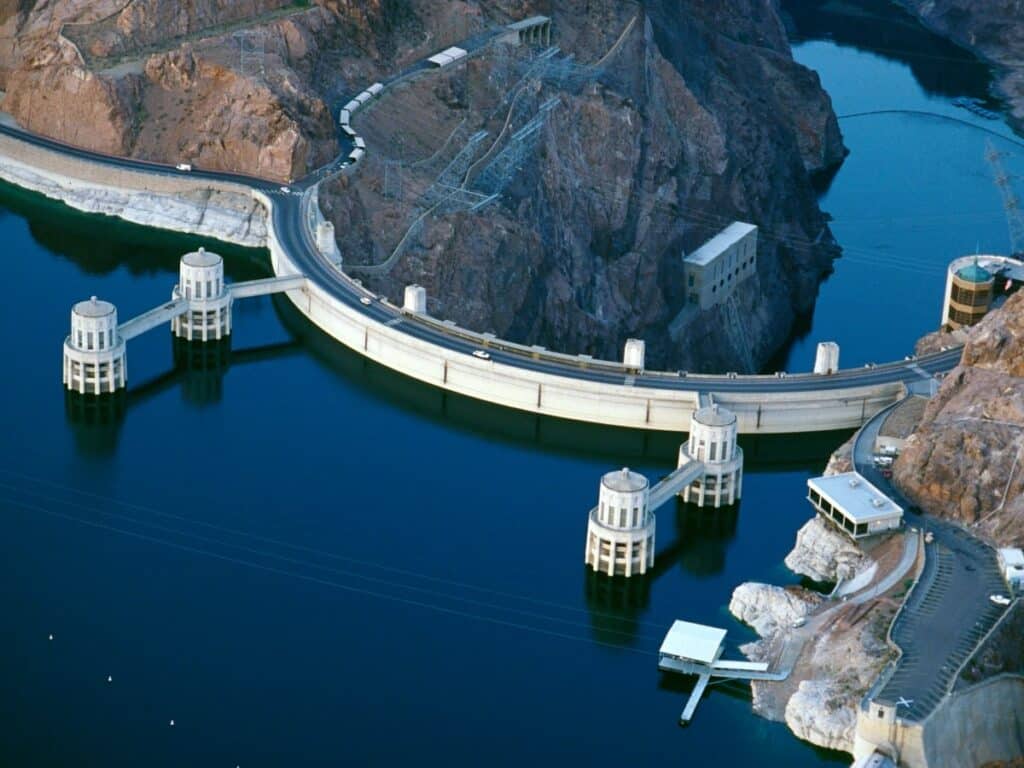 The Hoover Dam is one of the biggest architectural feats in United States history! For a time, it held the title of the largest dam in the world (before Switzerland scooped up the title). Lake Mead, the reservoir behind Hoover Dam, is the largest in the United States.
Construction started in 1931 and took five years and 21,000 workers to complete. The dam is 590 feet deep and at its base, it is wide enough to fit two whole soccer fields! Hoover dam is so large that in some parts, the concrete is still drying!
Great Basin National Park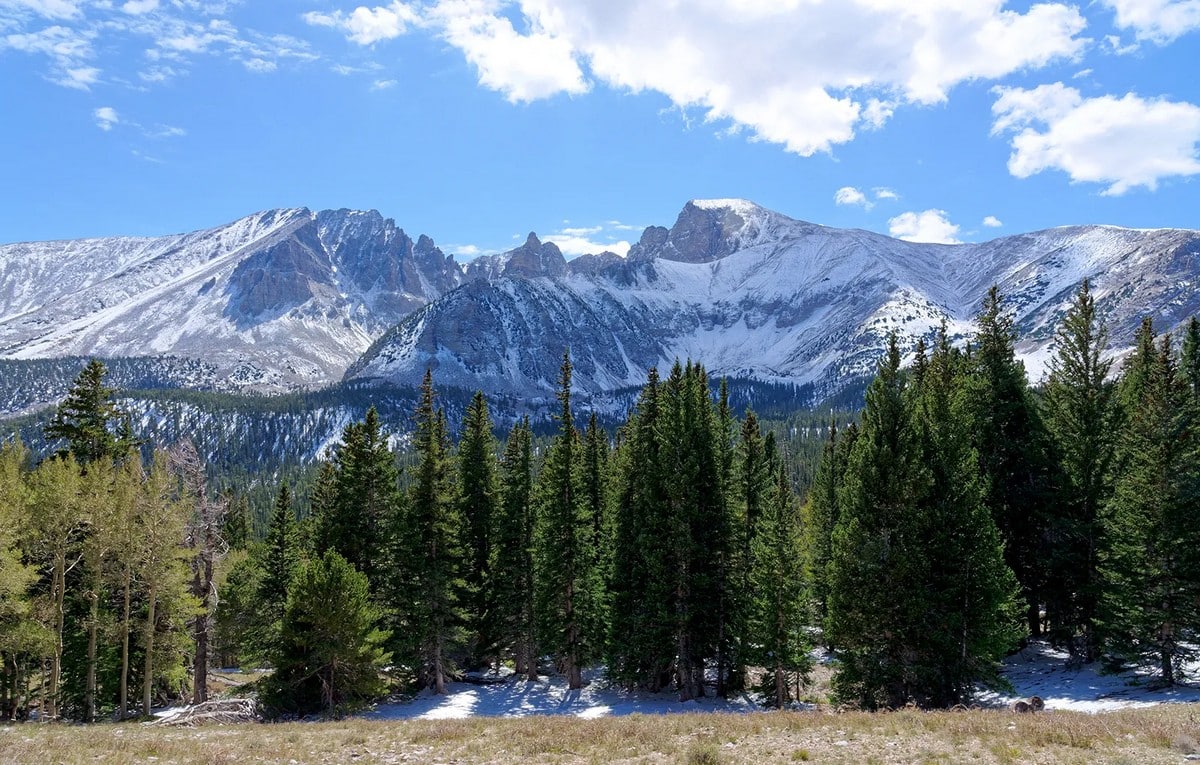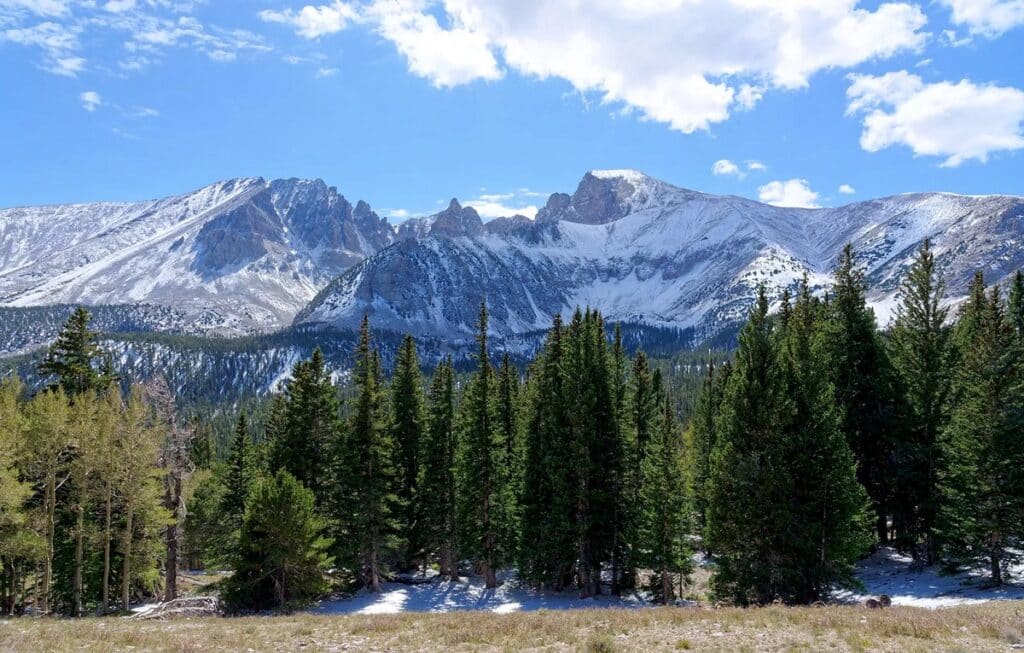 Great Basin National Park is one of Nevada's beautiful parks. It has mountains, huge underground caves, plus it supports a lot of animal and plant life. It spans 77,100 acres and its highest point is 13,060 feet above sea level at Wheeler Peak.
Its remote location makes it one of the darkest places in the United States and one of the best places in the country for stargazing. There's even an annual Great Basin Astronomy Festival!
The park is home to a rare tree species, the Great Basin Bristlecone Pine, which can live for over 4,000 years in harsh conditions! The oldest tree in the park is named "Methuselah" and is estimated to be 4,853 years old. Wow, just wow.
Lehman Caves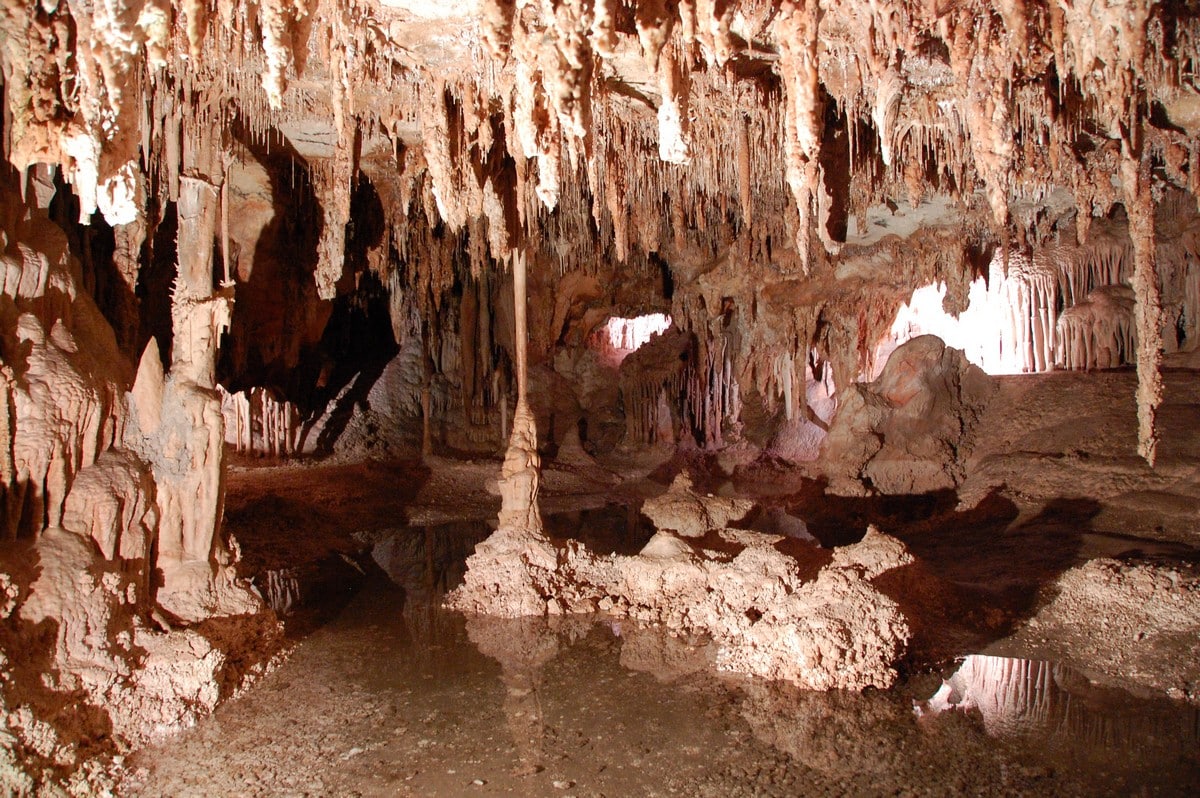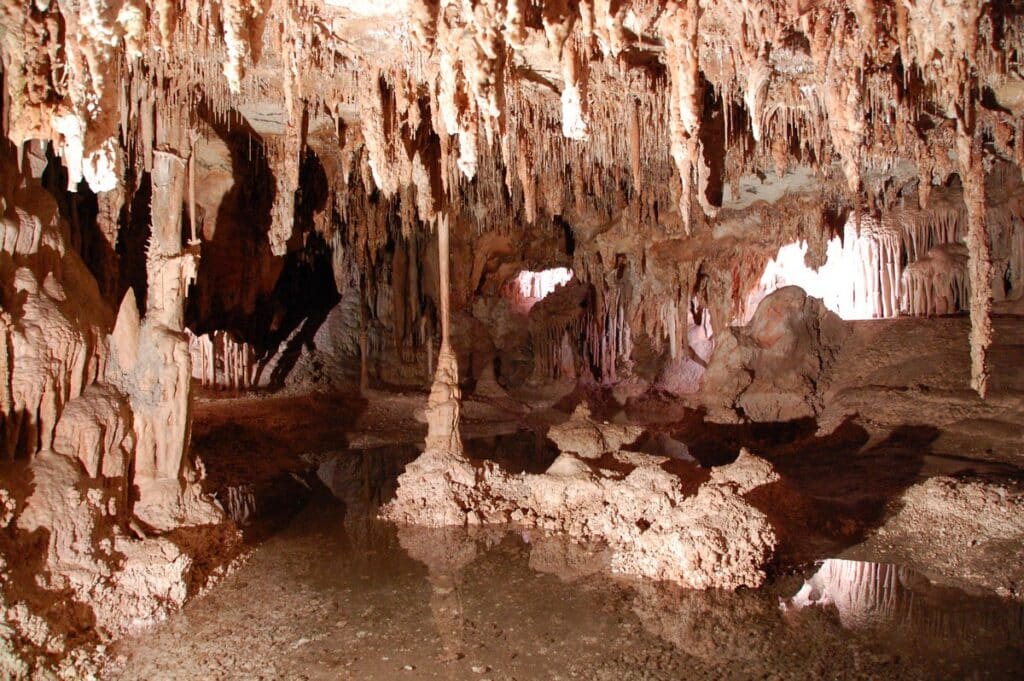 The Lehman Caves are one of the most popular attractions in Great Basin National Park. The cave system is millions of years old, although it was only discovered in 1885. It is full of fascinating stalactites and stalagmites, as well as other rock formations.
The cavern is home to many creatures that are found nowhere else on the planet, such as the pseudoscorpion, bats, insects, and spiders.
Shrimp Cocktail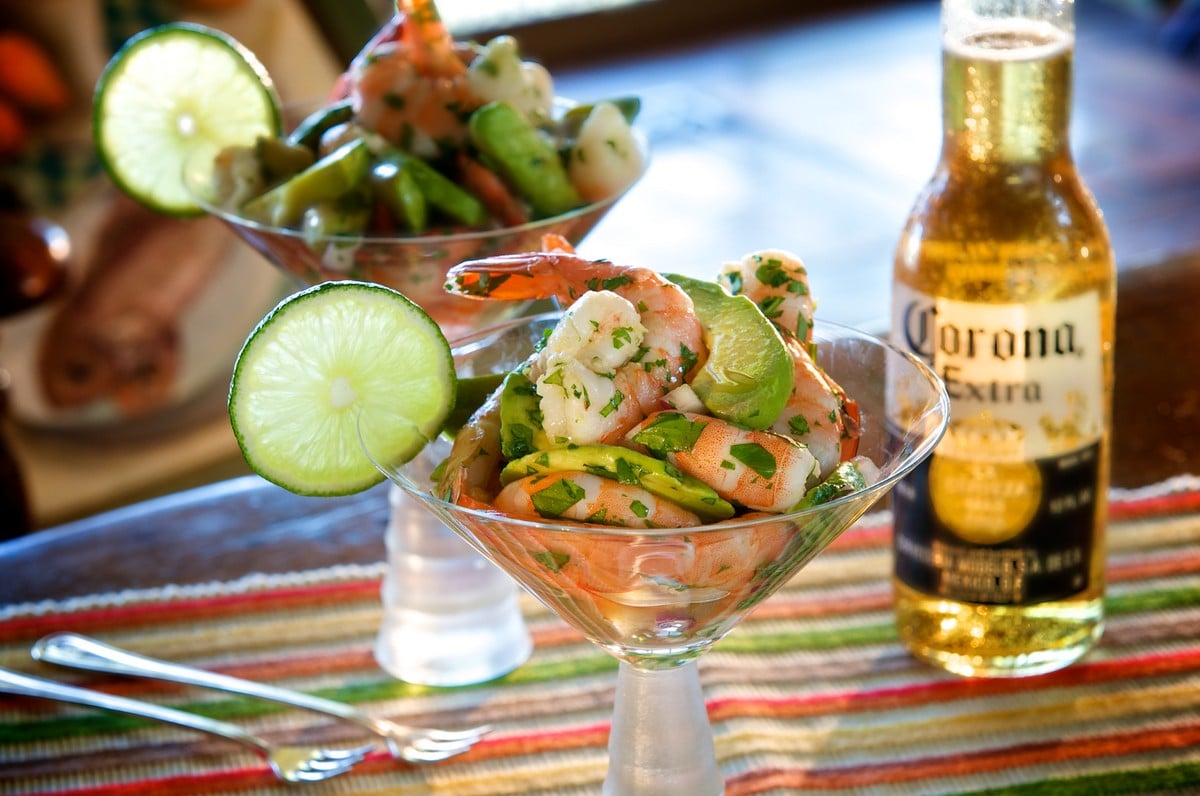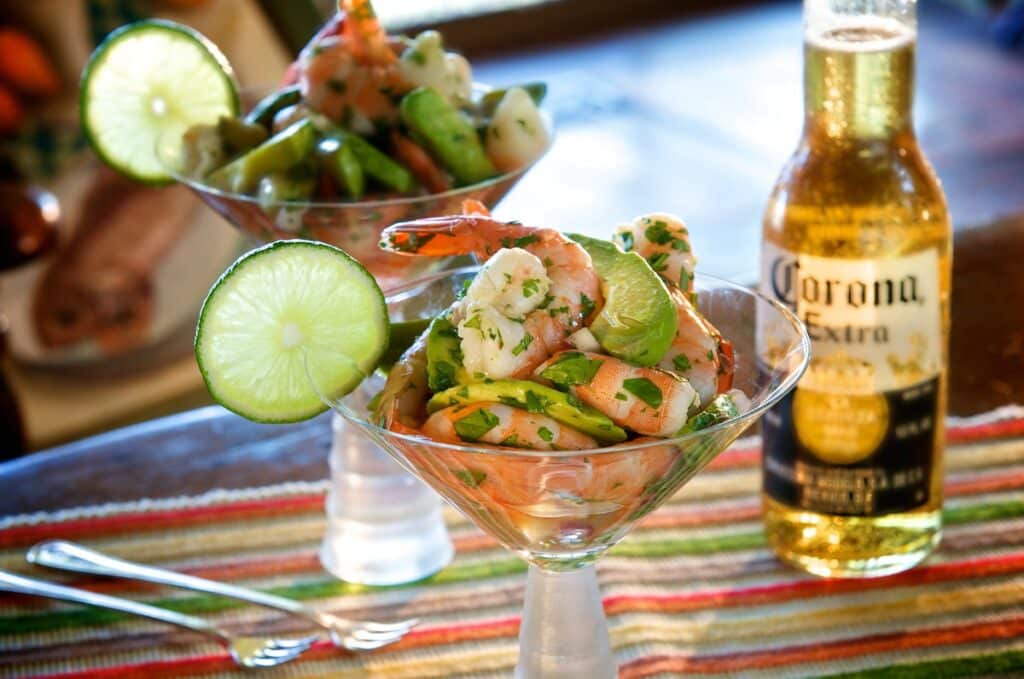 Shrimp cocktail is one of THE most popular appetizers in Las Vegas. It was also the most popular appetizer in the country from the mid-60s until the late 80s!
It was first introduced to the city in 1959 by an Italian businessman who put the dish on the Golden Gate Casino menu for 50 cents! The casino sold as many as 2,000 shrimp cocktails a day. In 1991 it celebrated selling its 25th million shrimp cocktail.
Today, the dish has stood the test of time and is still a big hit, with some restaurants selling it for as little as 99 cents!
Blue Jeans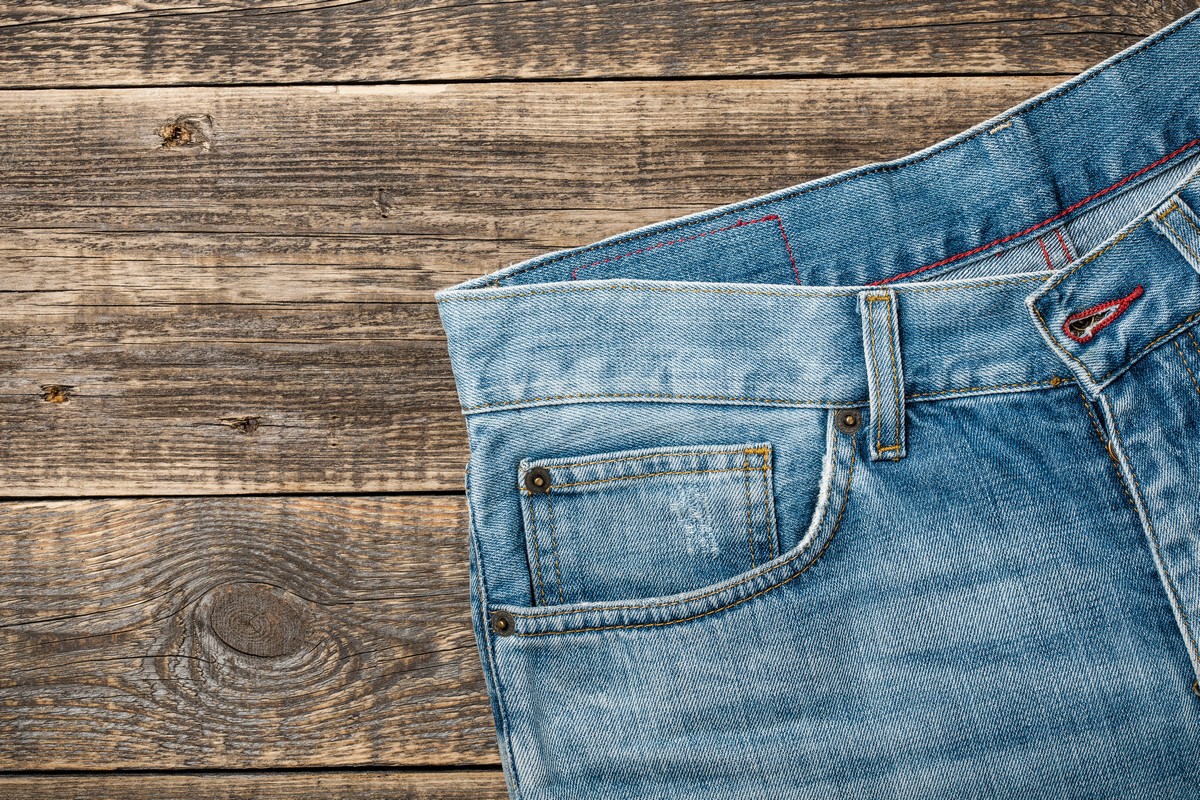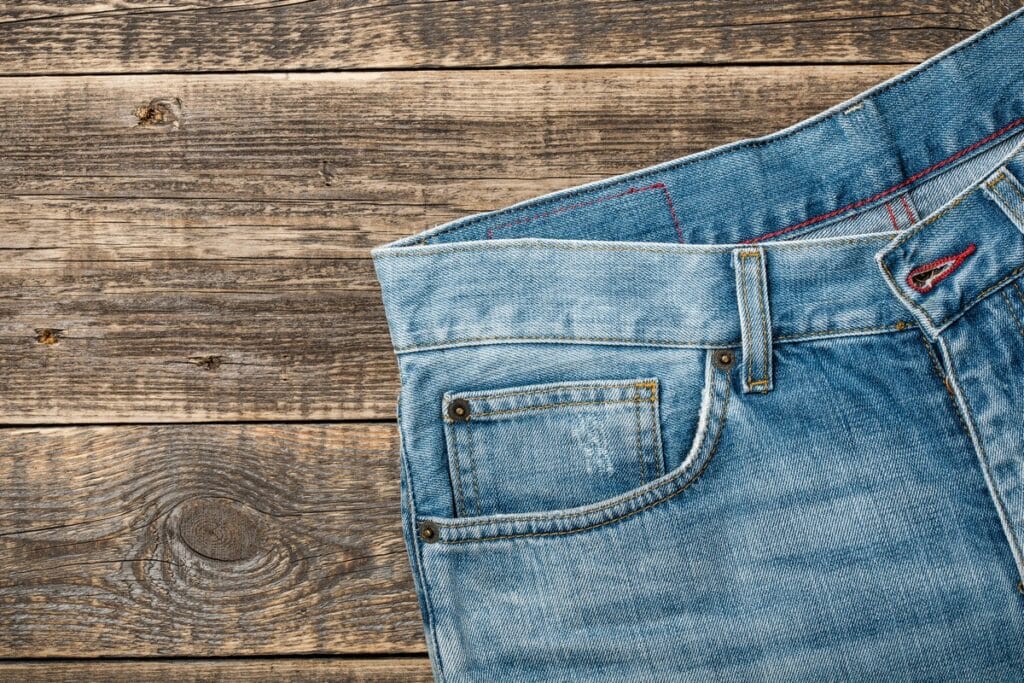 Many people don't know this, but Nevada is the TRUE birthplace of blue jeans! Many associate blue jeans with Levi Strauss from San Francisco, however, they were invented by Jacob W. Davis who came from Reno, Nevada!
He was an immigrant from Latvia and a tailor. He used to buy his fabric, including denim, from… Levi Strauss! One day a customer came with a custom order for a pair of heavy-duty pants, and so, blue jeans were invented! Thank you, Nevada!