You've heard the travel slogan "Virginia is for lovers," but what is there to see in Virginia? No matter what you love, Virginia has something for you. Let's take a look at some of the loveliest things Virginia has to offer.
Virginia is known as being the state for lovers. People also love to visit Richmond, the state's biggest. Virginia also has the homes of George Washington and Thomas Jefferson. Naturalists will love the Appalachian Trail, which has more miles in Virginia than any other state.
Appalachian Trail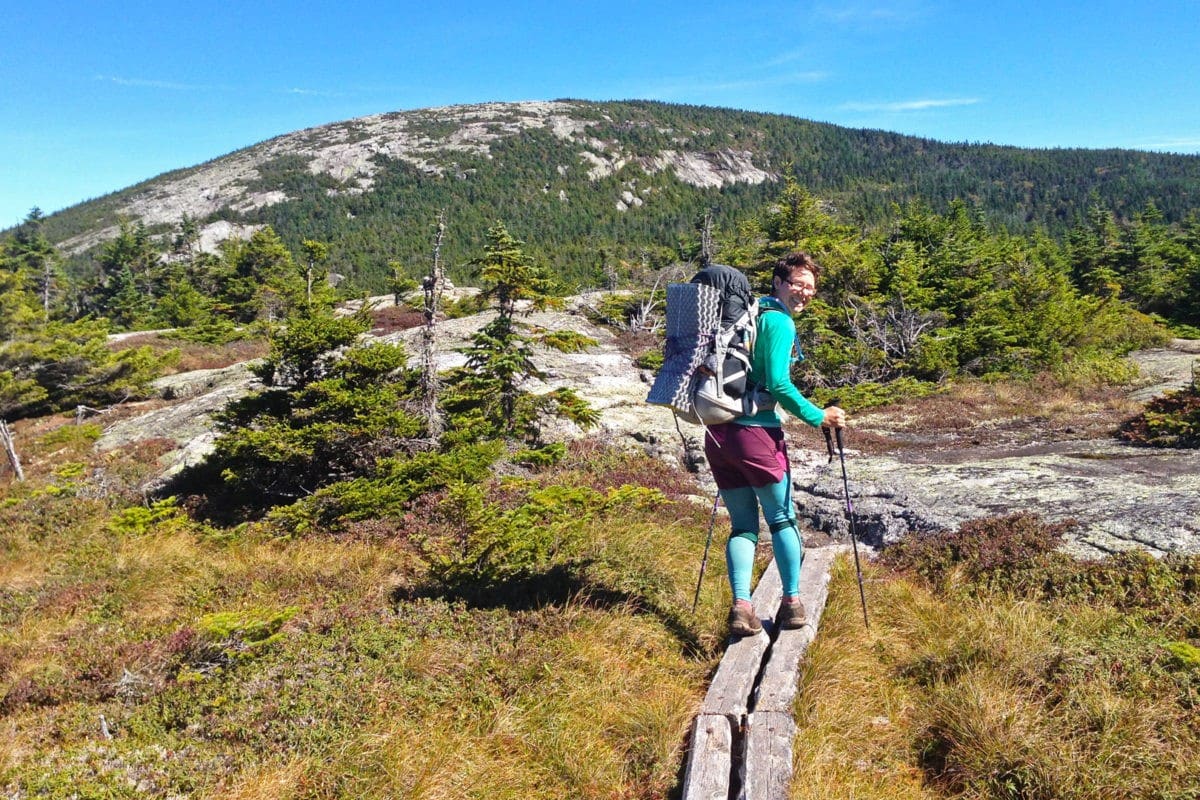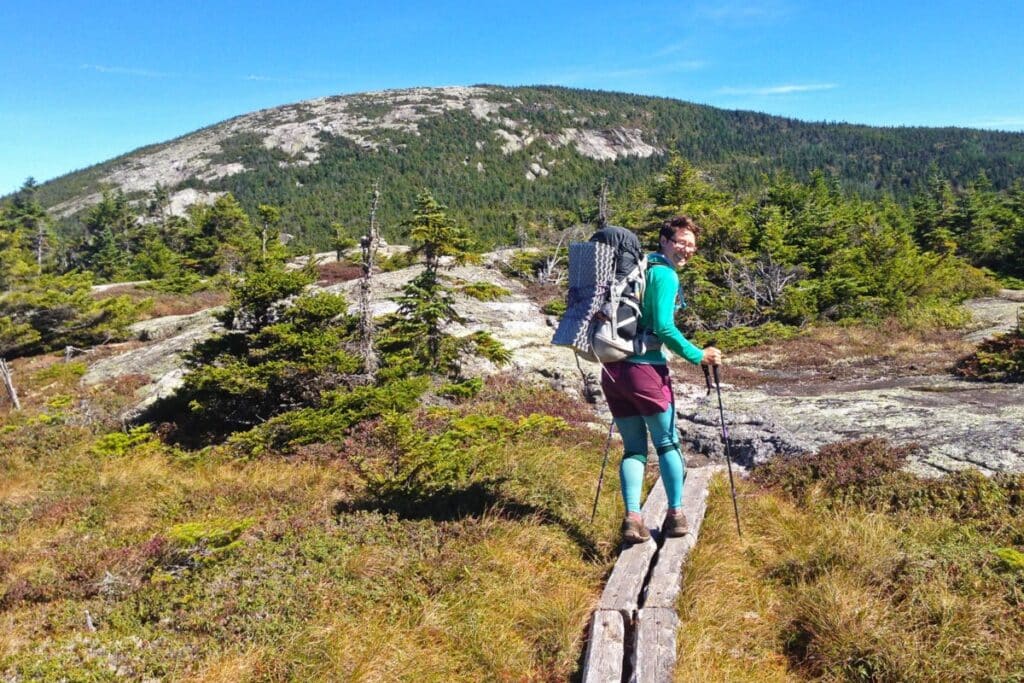 The full Appalachian Trail goes through fourteen states. Virginia happens to be the state with the most trail miles. It has over 500 trail miles, which is almost a quarter of the trail itself.
Visitors interested in seeing the trail can find it at Shenandoah National Park. The trail has gorgeous views of forest and farmland.
Richmond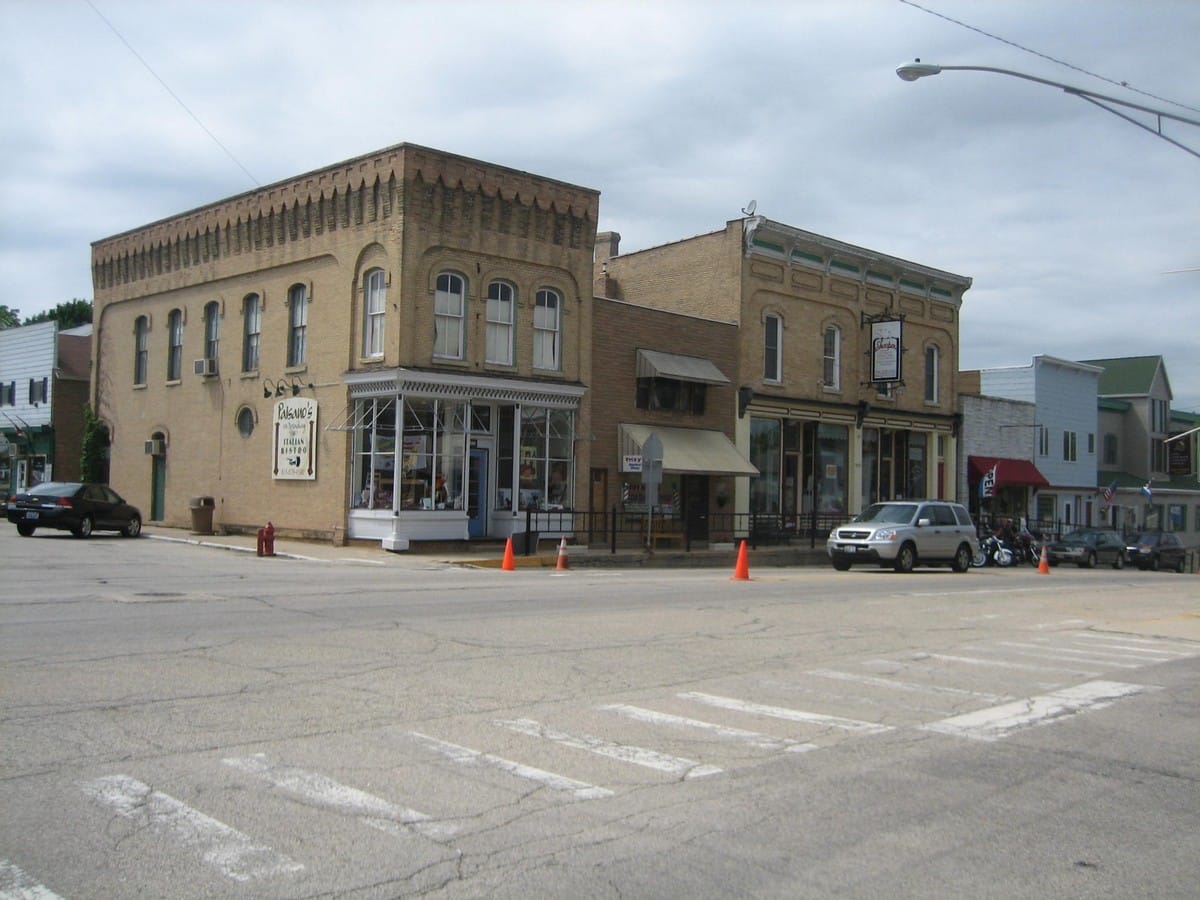 Richmond is the capital of Virginia and one of the USA's oldest cities. It has St John's Church, where Patrick Henry famously declared "Give me liberty or give me death!" in 1775.
Visitors can visit museums dedicated to the American Revolution and Civil war. Carytown is a quirky modern neighborhood where many people like to take food tours. There's also plenty of boutique shopping in Richmond's Carytown.
Blue Ridge Parkway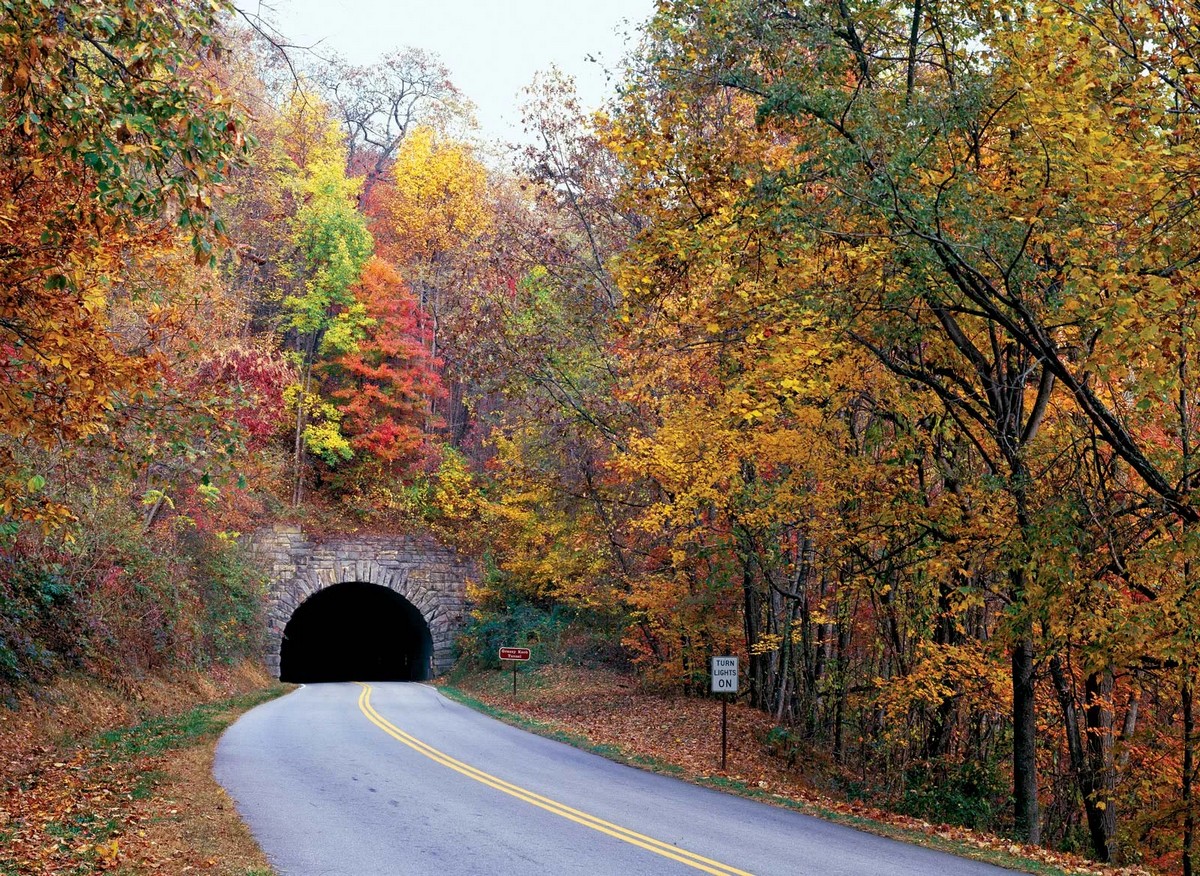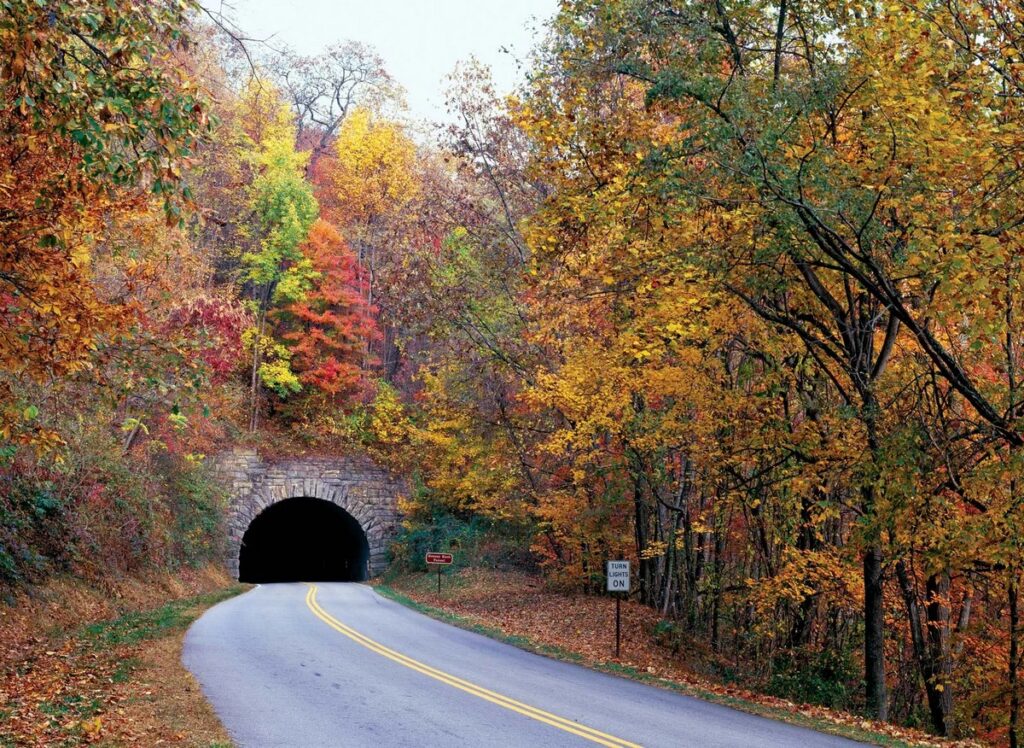 The Blue Ridge Parkway is a true country road. This 469-mile (755 kilometers) road goes from Virginia to North Carolina. Drivers can meander through scenic roads.
On the Blue Ridge Parkway you can see the Cherokee way of life and hear traditional Appalachian music. You can also spot New River which is ironically the oldest river in North America. It's also got the highest waterfalls in the Rockies. Outdoor activities available here include hiking, fishing, and camping.
George Washington's Mount Vernon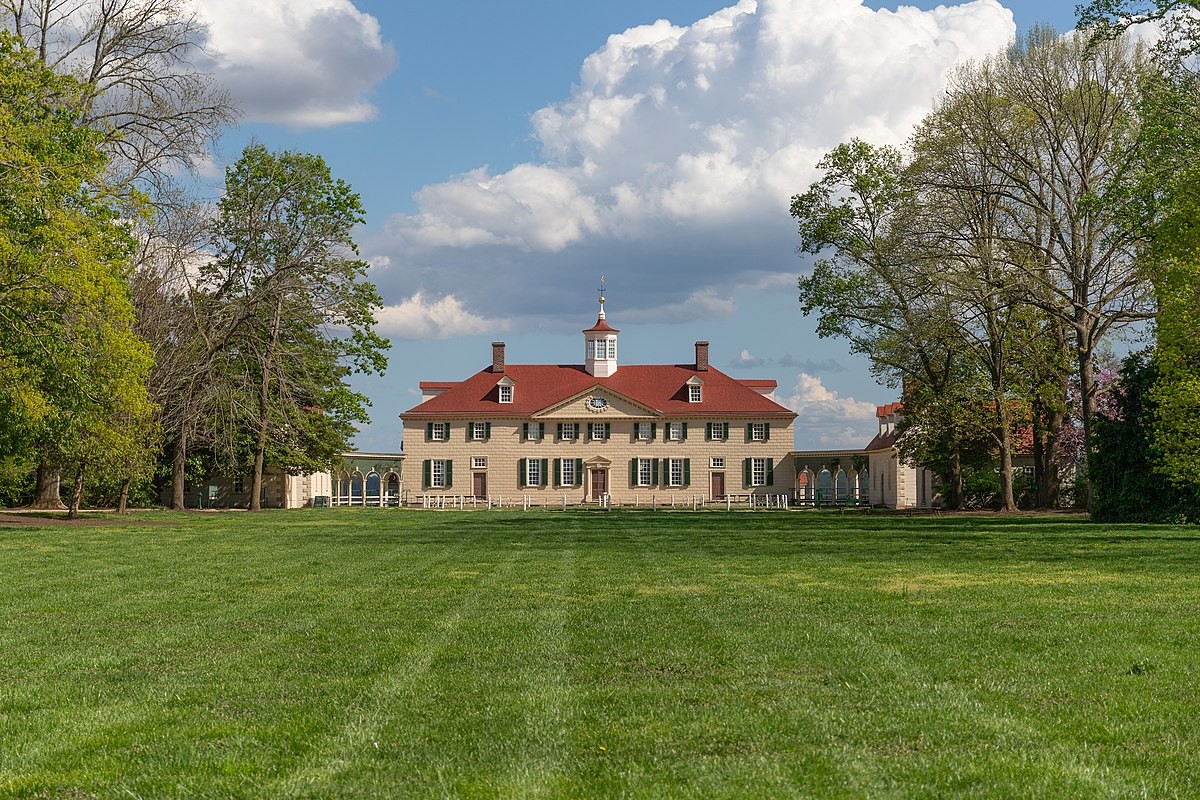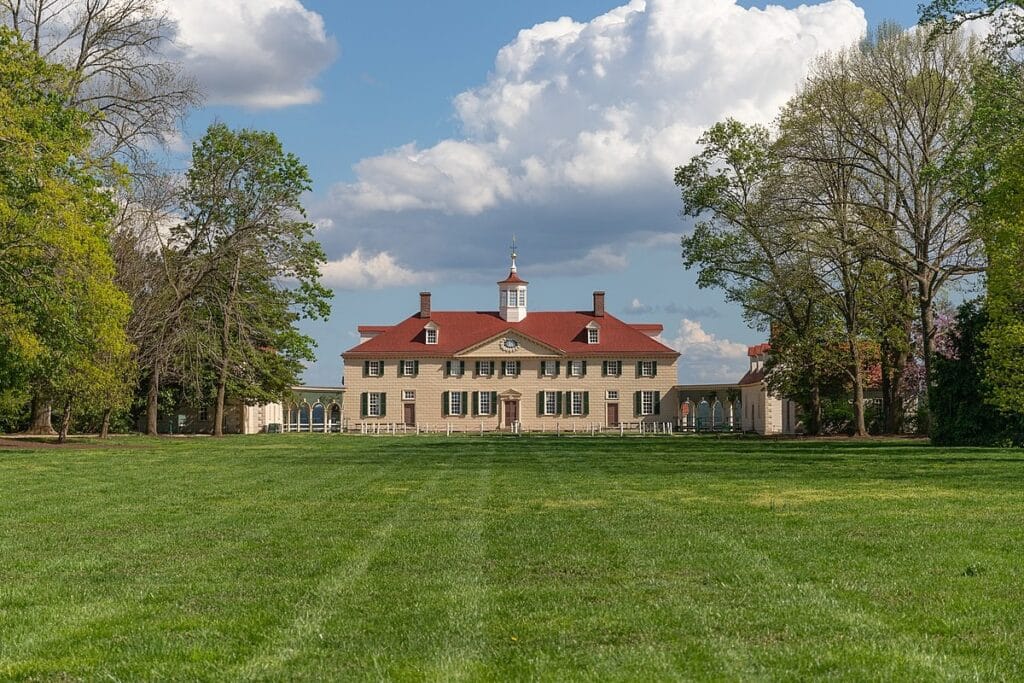 The Mount Vernon Estate can be easily confused with the surrounding area that uses the same name. The surrounding area is an unincorporated community within Fairfax County. It is also named Mount Vernon.
Travelers go to Mount Vernon to see where George Washington lived with his wife Martha. The estate lies on the banks of the Potomac river.
This historic site almost fell to ruin. After the Washingtons died, the estate changed hands several times. It nearly fell to ruin. The Mount Vernon Ladies Association rescued and repaired the historic place. In the 1960s Mount Vernon earned a spot on the National Register of Historic Places.
Thomas Jefferson's House: Monticello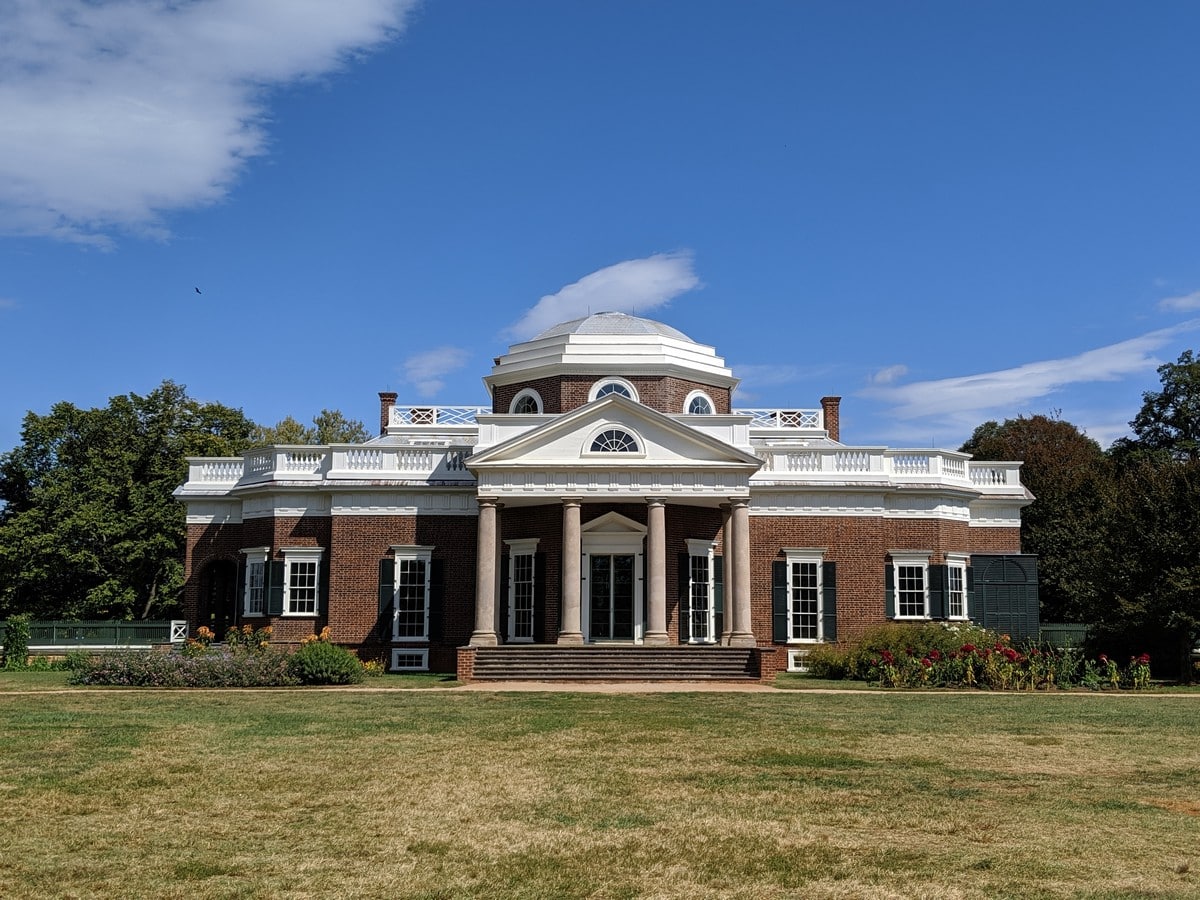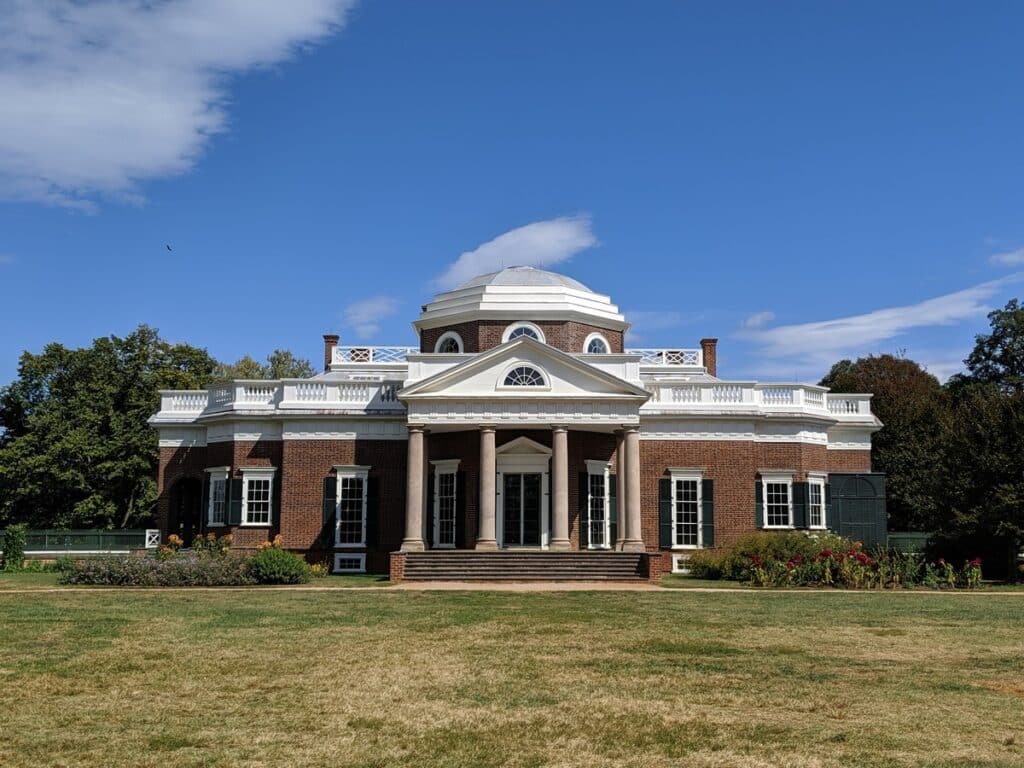 Monticello lies outside of Charlottesville. Thomas Jefferson owned and lived on the plantation. Jefferson designed the building after he inherited the land from his father. The original plantation was 5000 acres (20 square kilometers). The plantation held over 400 slaves who mainly grew tobacco.
Both Monticello and the University of Virginia are UNESCO World Heritage sites. You can see an image of Monticello anywhere in the US by looking at the back of a nickel.
Historic Triangle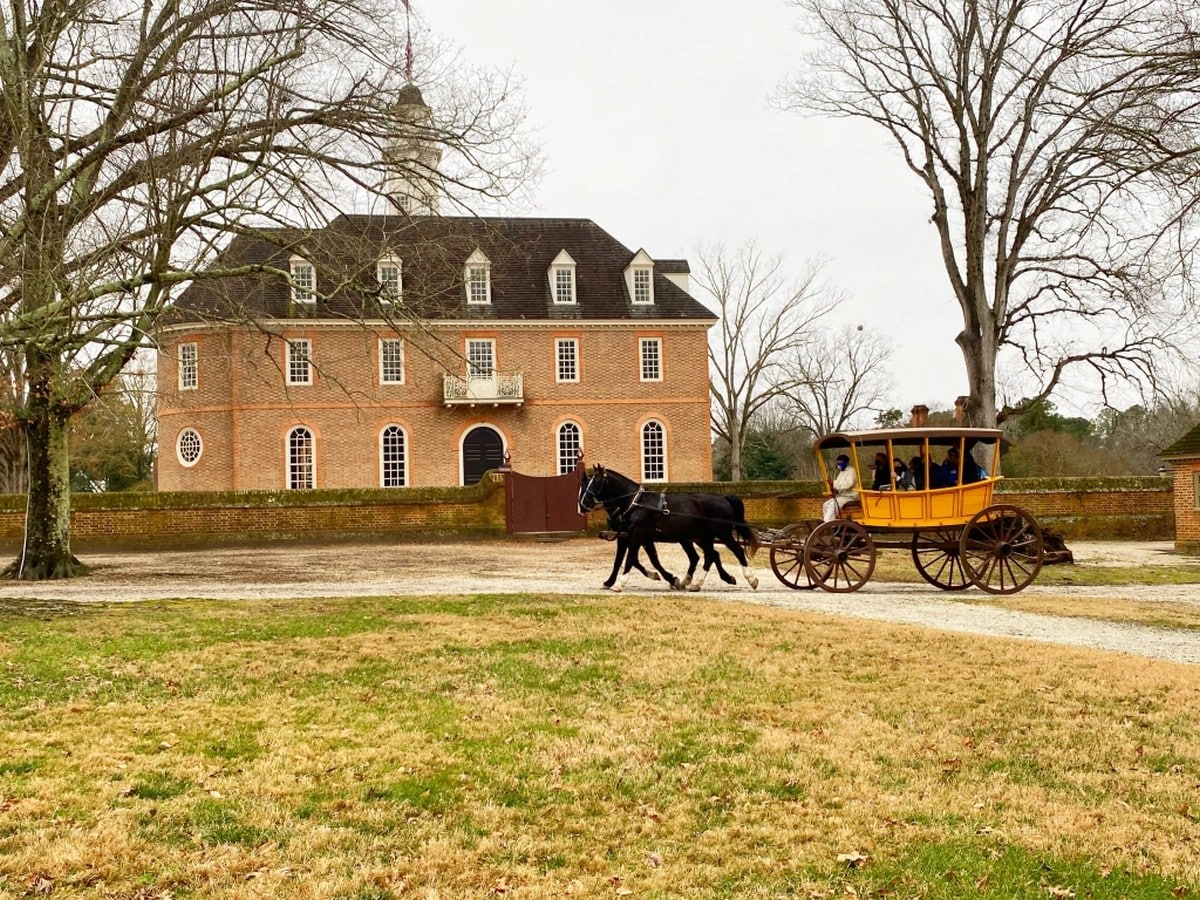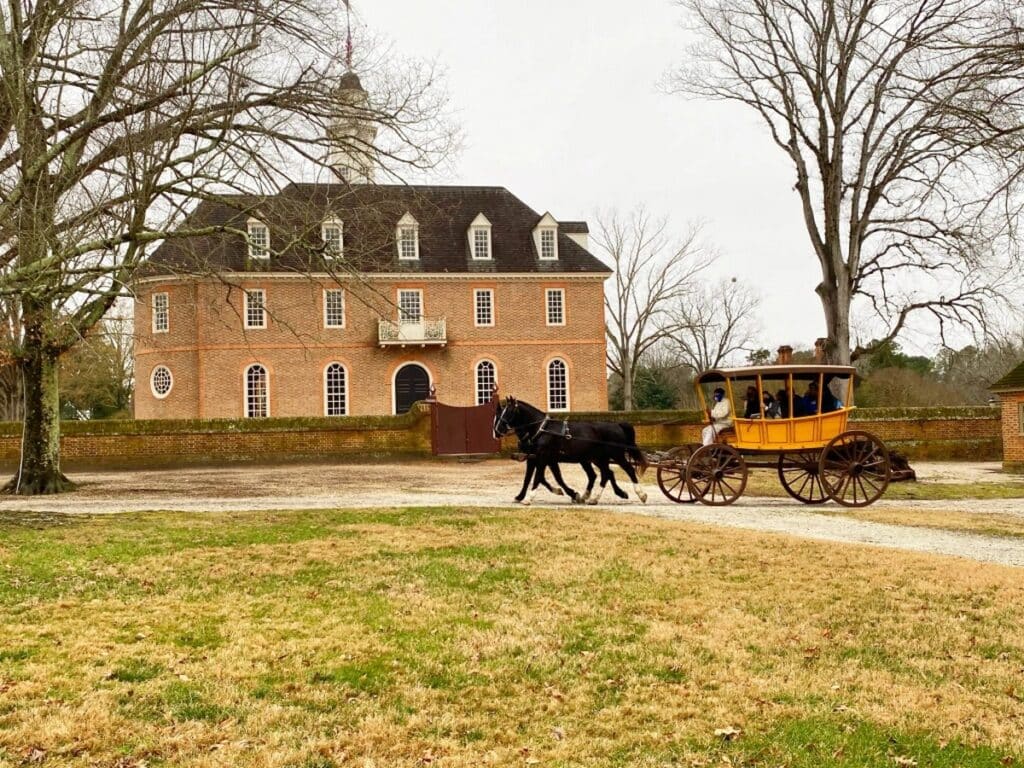 Jamestown, Williamsburg, and Yorktown make up America's "Historic Triangle." Jamestown happens to be where John Smith founded the colony of Virginia. If you want to see the battlefield of the final fight of the American Revolution, it's in Yorktown.
Today, visitors go to Colonial Williamsburg to see what Colonial America looked like. The town functions as a living museum. People stay in character and costume 24 hours a day. Williamsburg still has 88 original building from that era.
Virginia Witch Trials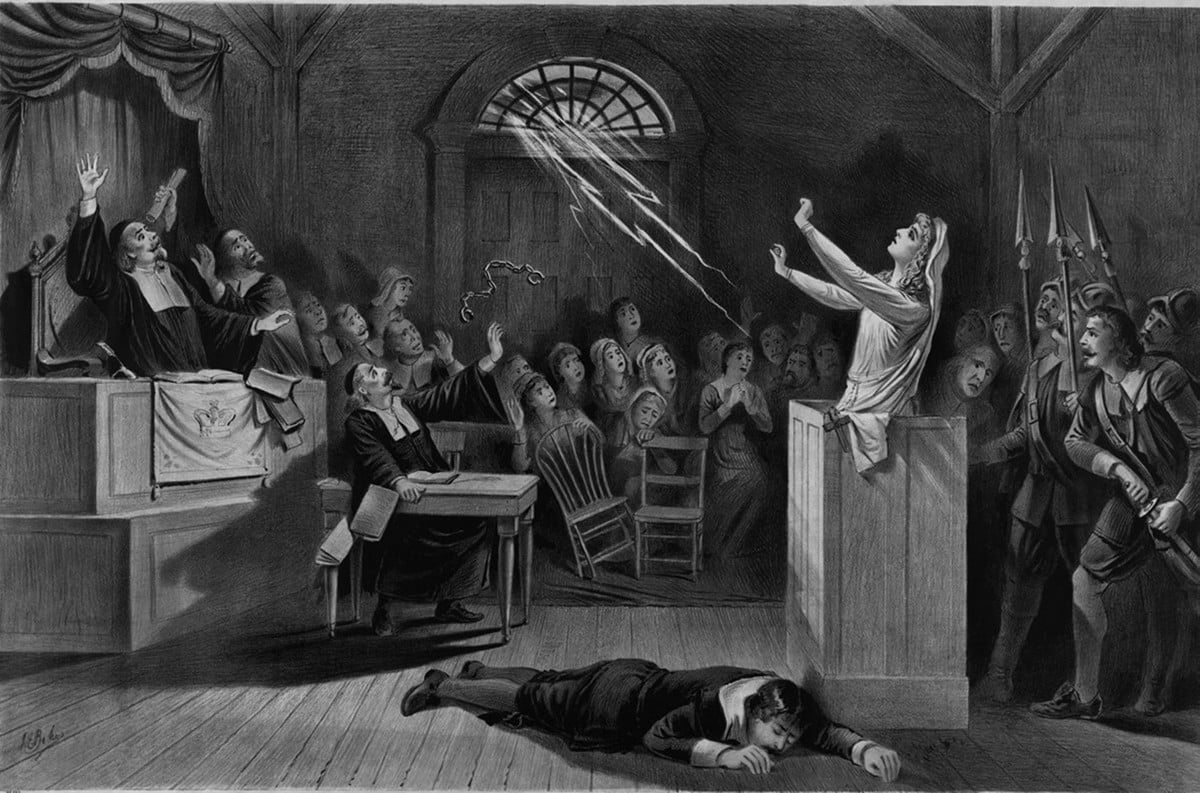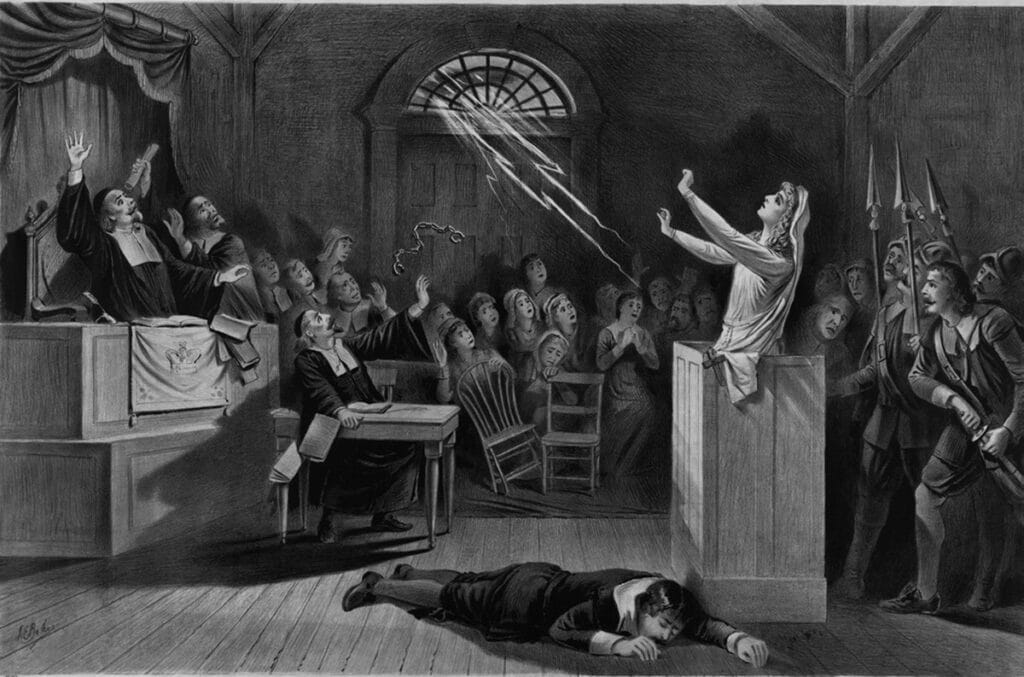 Salem isn't the only colonial-era city with witch trials. For a century-long span between 1626 and 1730 townspeople conducted witch trials. There are records of thirteen women and two men who were tried for witchcraft.
Grace Sherwood is the last convicted witch in Virginia. She was a farmer and a midwife. Her neighbor accused her of cursing her to miscarry and damaging crops. Sharwood's trial consisted of the public throwing her into the water. She floated, so she was declared a witch. She spent nearly eight years in jail before her eventual release.
Dirty Dancing Kellerman's Resort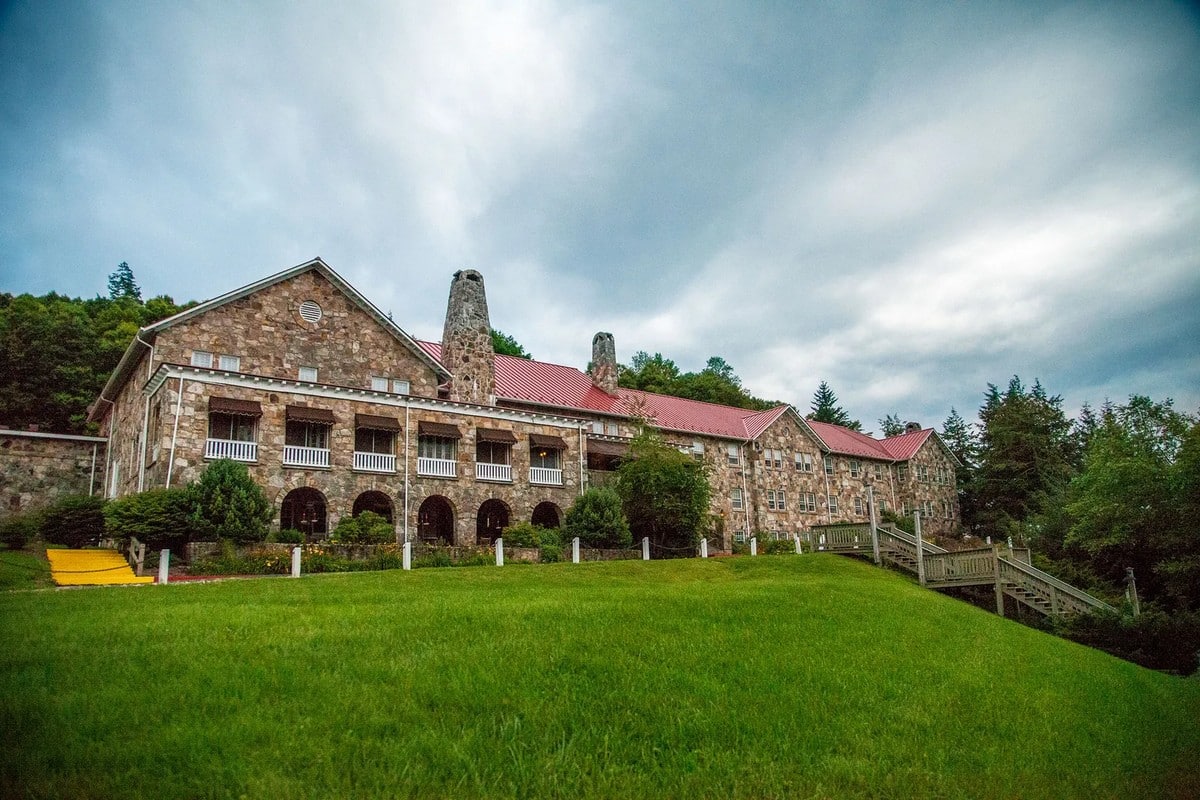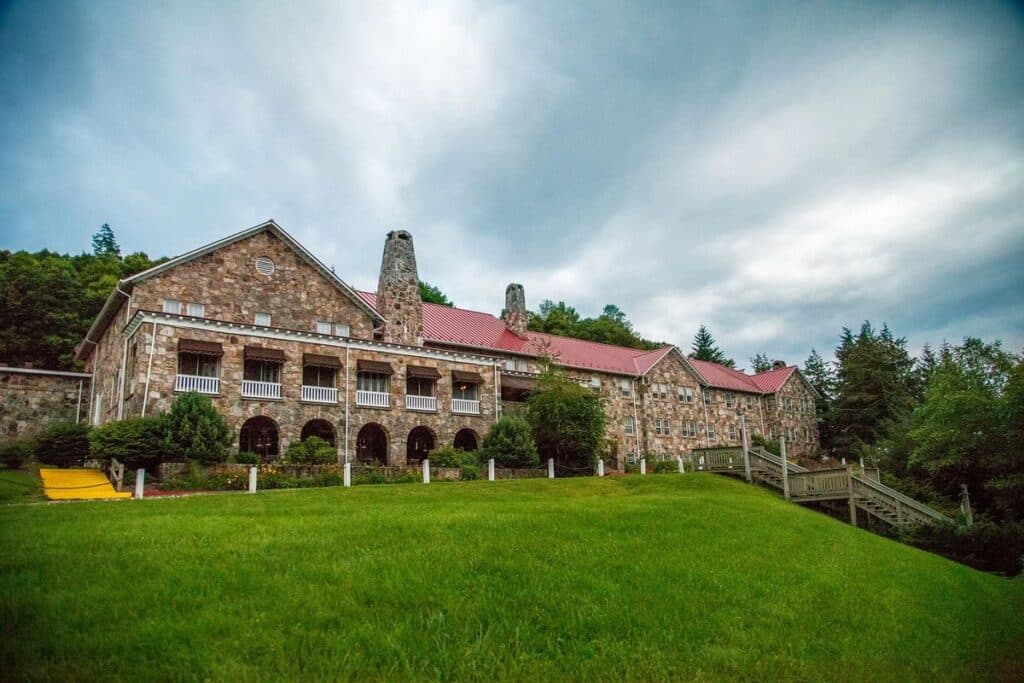 The famous movie of the 1980's Dirty Dancing was almost entirely filmed in Virginia. In the movie, Baby and Johnny Castle meet at the Kellerman's Resort. In real life, people can visit the Mountain Lake Lodge and enjoy the Dirty Dancing package. The package includes themed activities, and of course plenty of dancing.
Arlington National Cemetery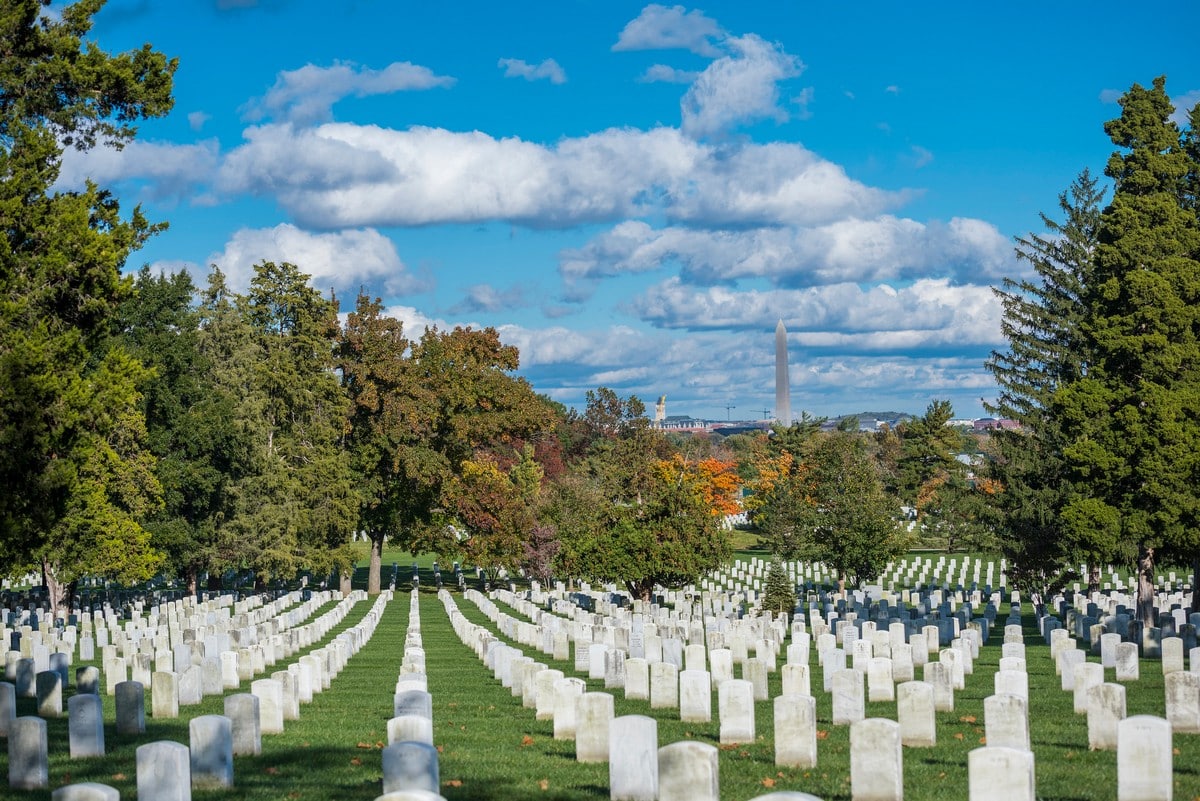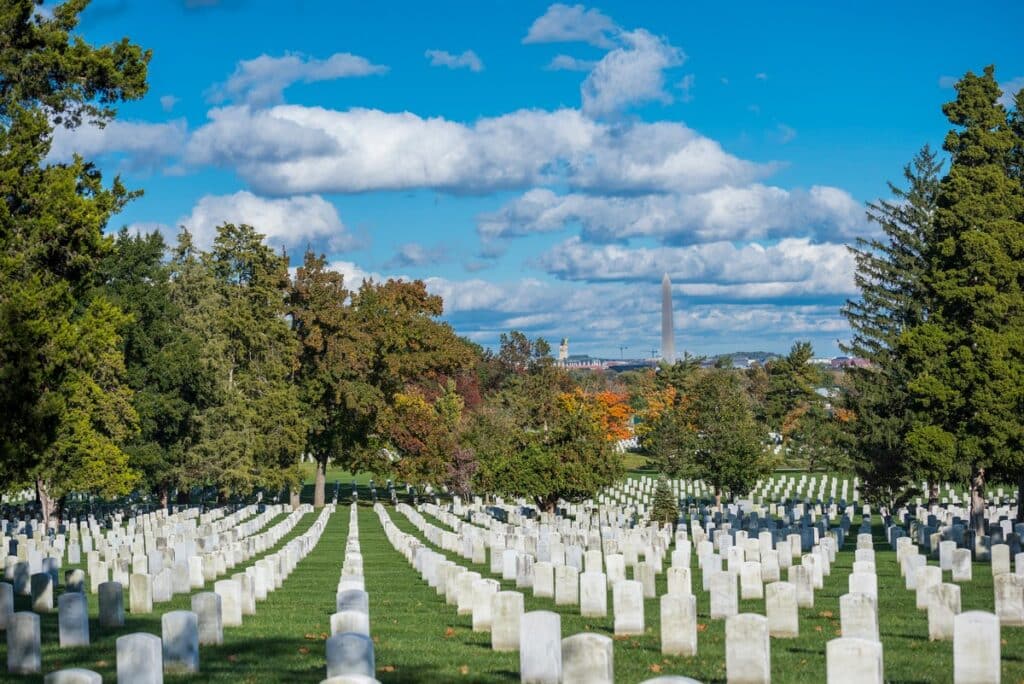 People visit Arlington National Cemetery to pay respects to America's many fallen soldiers. It's the State's military cemetery for those who sacrificed their lives. It has tombs for soldiers lost in the Civil War, WWI, WWII, Vietnam, and the Cold War.
In addition to the many soldiers, there are also the graves of two former presidents. Both John F. Kennedy and WIlliam Howard Taft lie in Arlington.
About three million pay their respects at the final resting place every year.
Tomb of The Unknown Soldier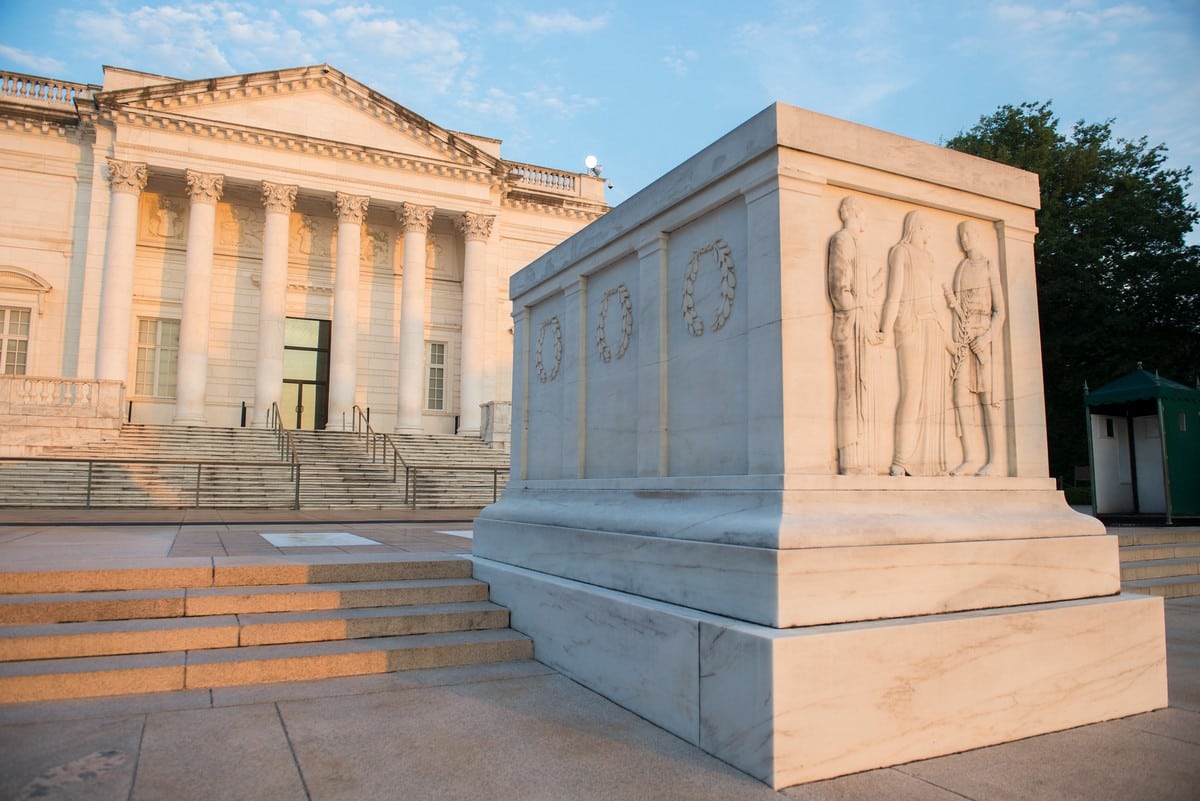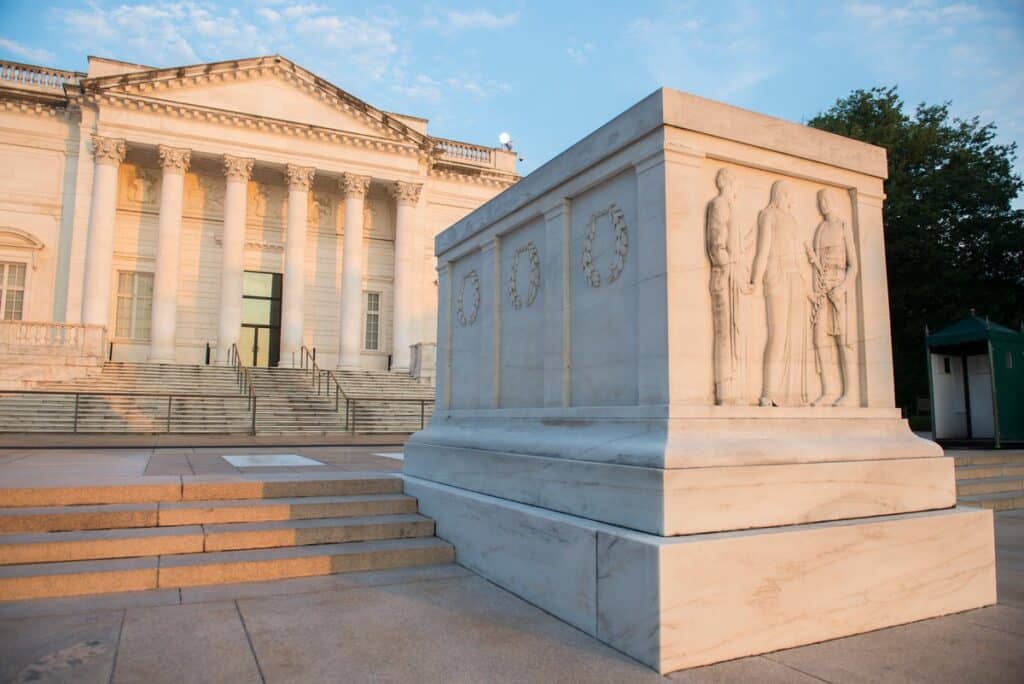 At Arlington National Cemetery is a memorial for soldiers. The Tomb of the Unknown Soldier honors the sacrifice of many soldiers. The Tomb is specifically for those who could not be identified after their bodies were found. It honors those lost in WWI, WWII, and Korea.
Virginia Natural Bridge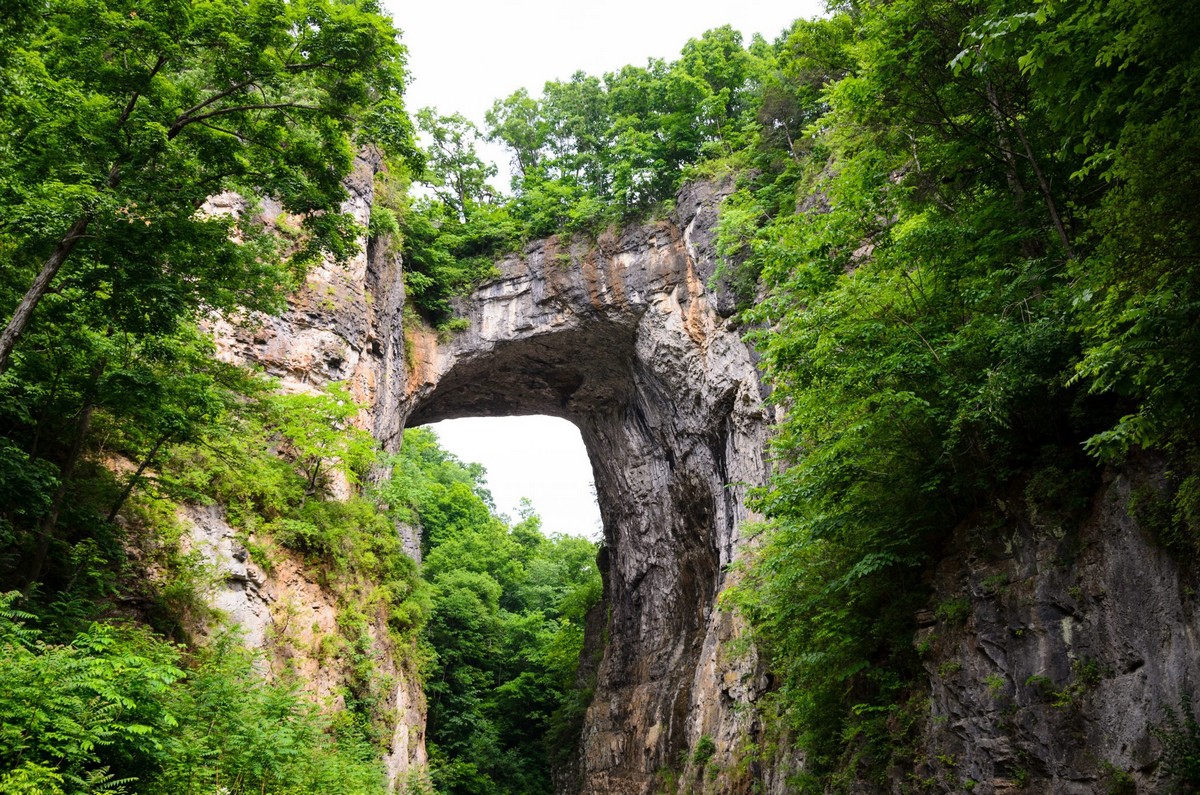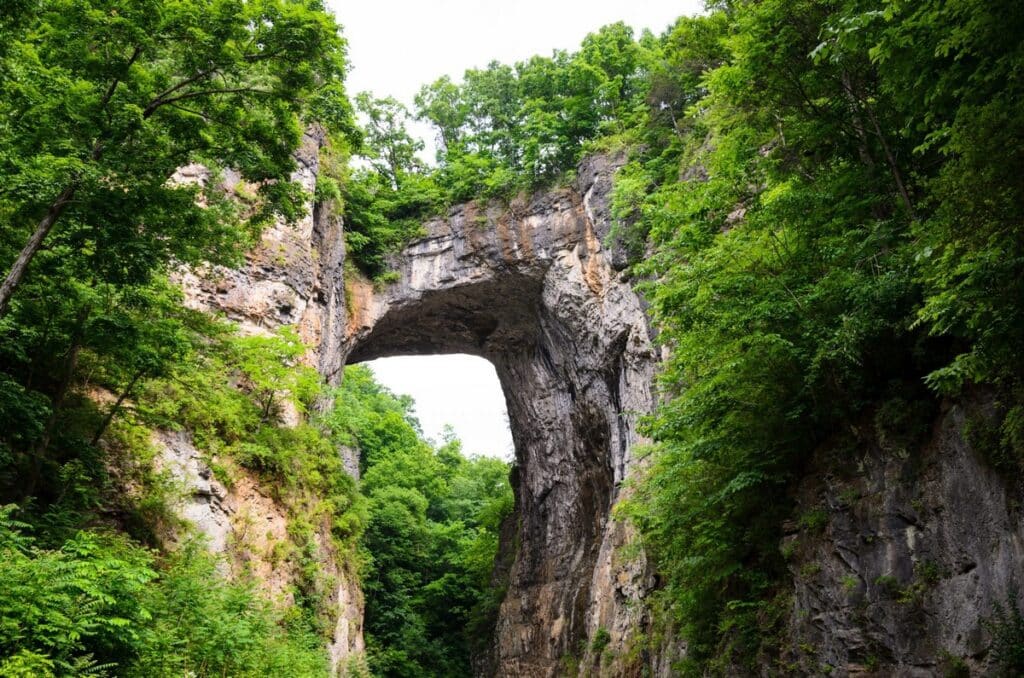 Cedar Creek has a gorge with an impressive geologic formation. The Virginia Natural Bridge is one of many natural features in the James River's tributary.
The Natural Bridge is two hundred and fifteen feet high and ninety feet wide. It was formerly a worship site of the Monacan people. Thomas Jefferson also loved the bridge, and kept a painting of it in Montecelio.
Oysters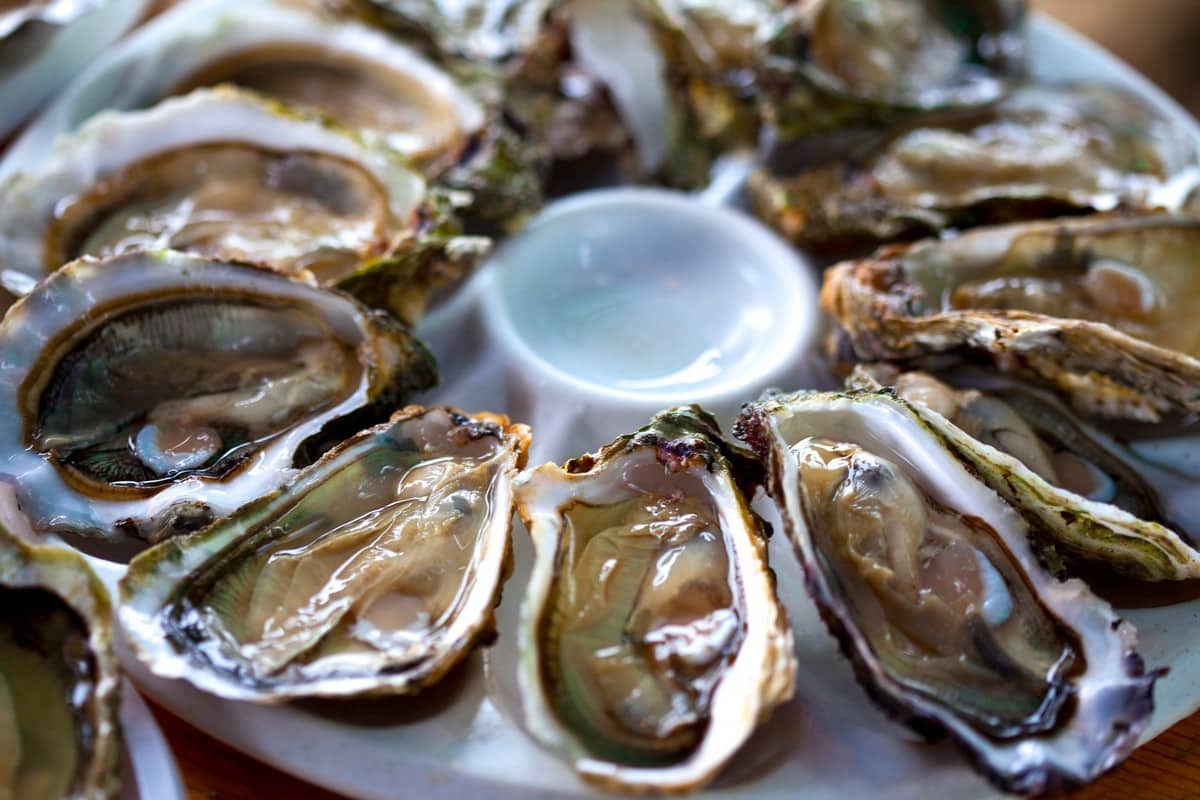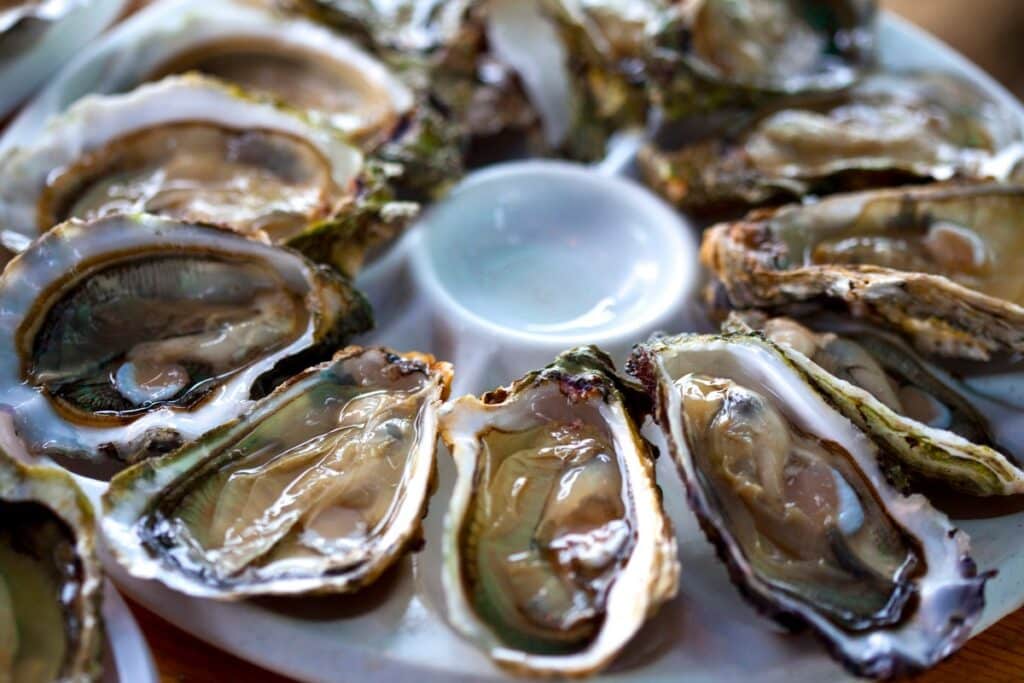 Virginia is The Oyster Capital of the East Coast. Since 2016, servers have sold an average of 40 million oysters a year.
Oyster lovers go gaga for Virginia Oysters because they have a range of flavors. There are eight oyster-harvesting regions in Vigia. Each one has a distinct flavor of oyster. Legend has it that oysters are a natural aphrodisiac, so many that's why Vigia is for lovers.
Blue Crabs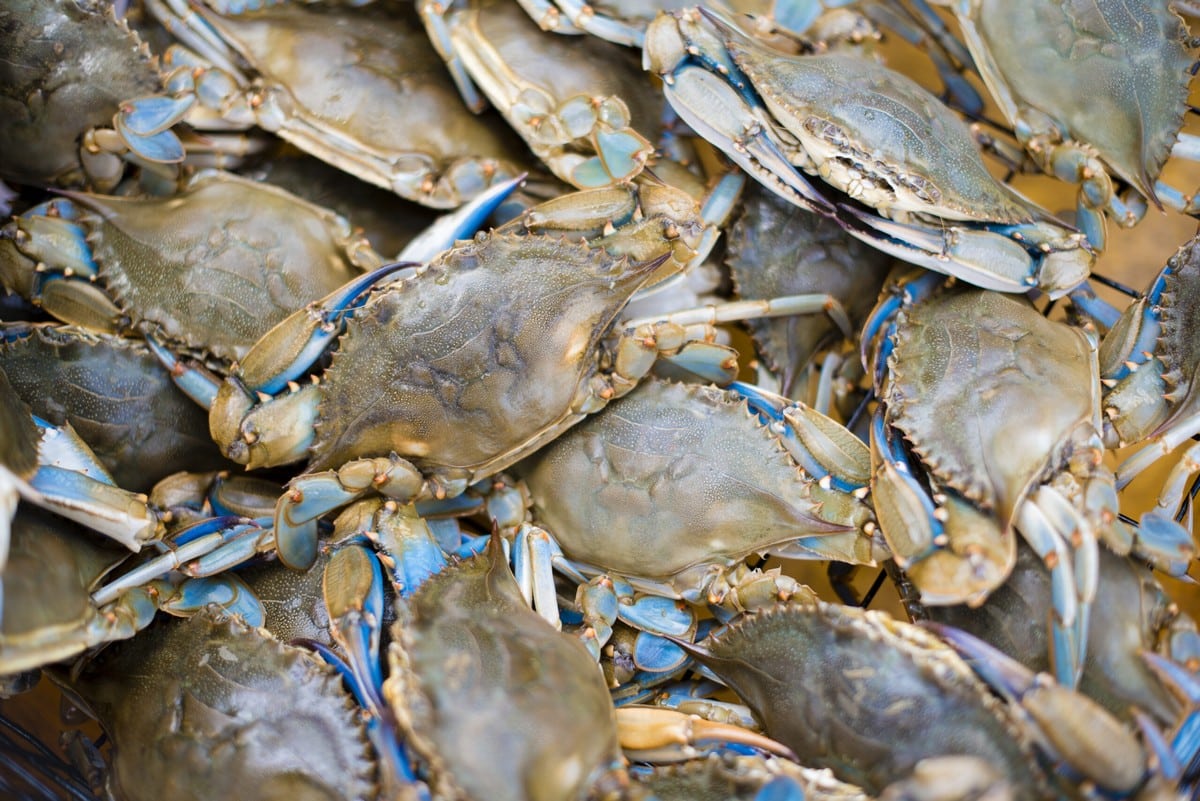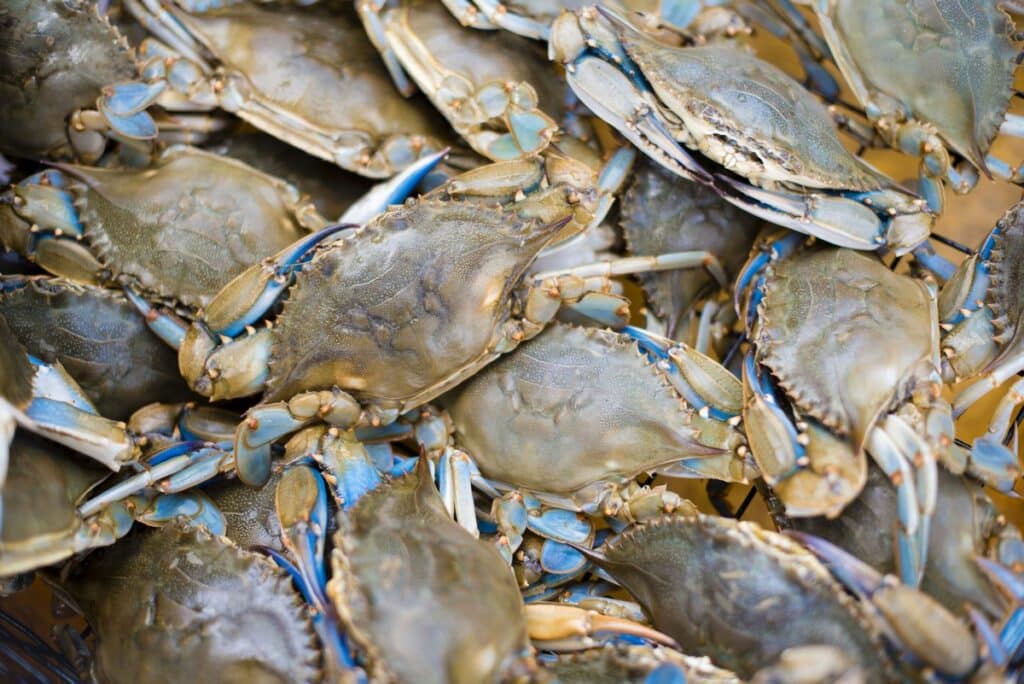 Seafood lovers must visit Virginia's River Realm to try blue crabs. In 2019, surveyors found 600 million crabs in Chesapeake Bay. This was a 60% increase from the year before. You can either eat them in one of the many fresh seafood places. However, since they are not an endangered species, you can dig them up yourself.
Locals call a male crab a "jimmy," and a female crab a "sook." Many like to throw the female crabs back into the bay to keep the crab population thriving. You can tell a jimmy from a sook by looking at the claws. A jimmy's claws are all blue, while a sook's claws have a red tint at the ends.
Brunswick Stew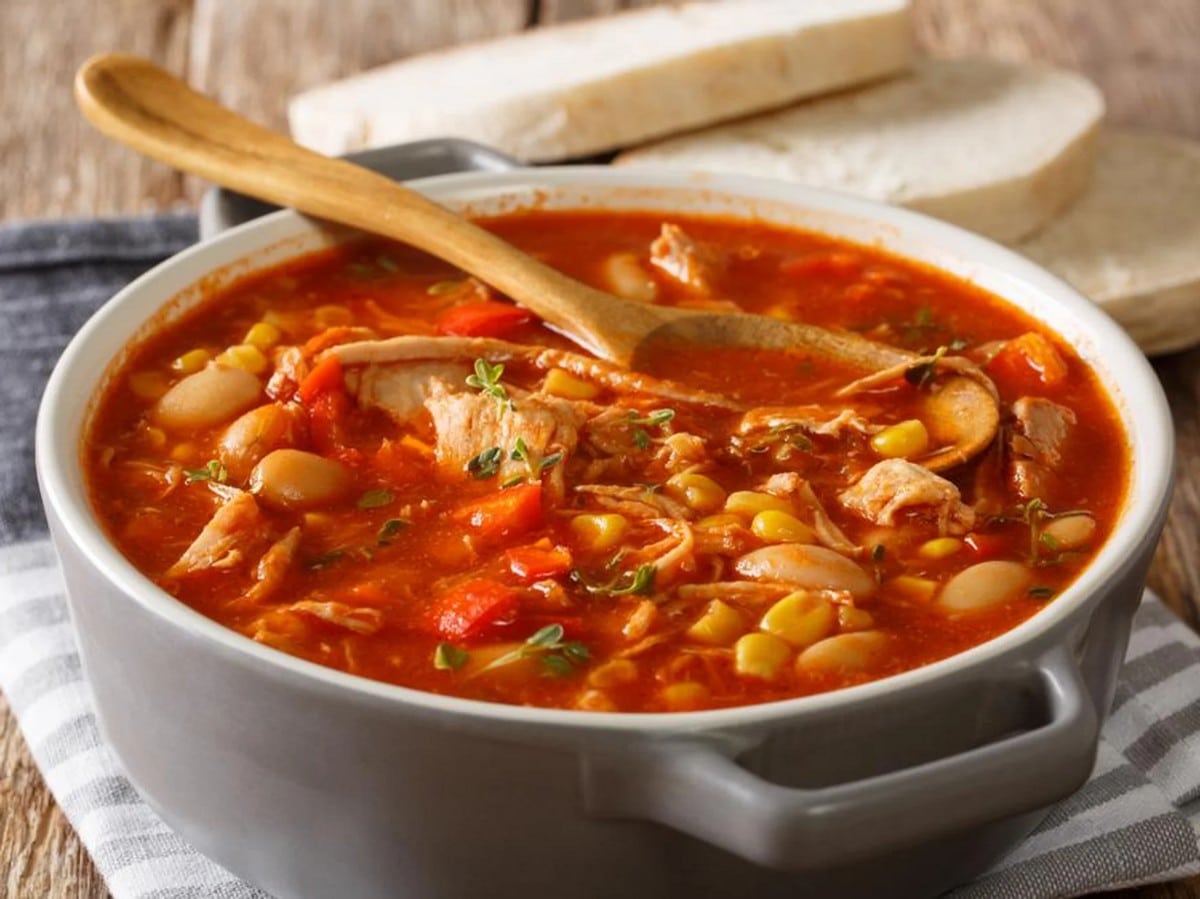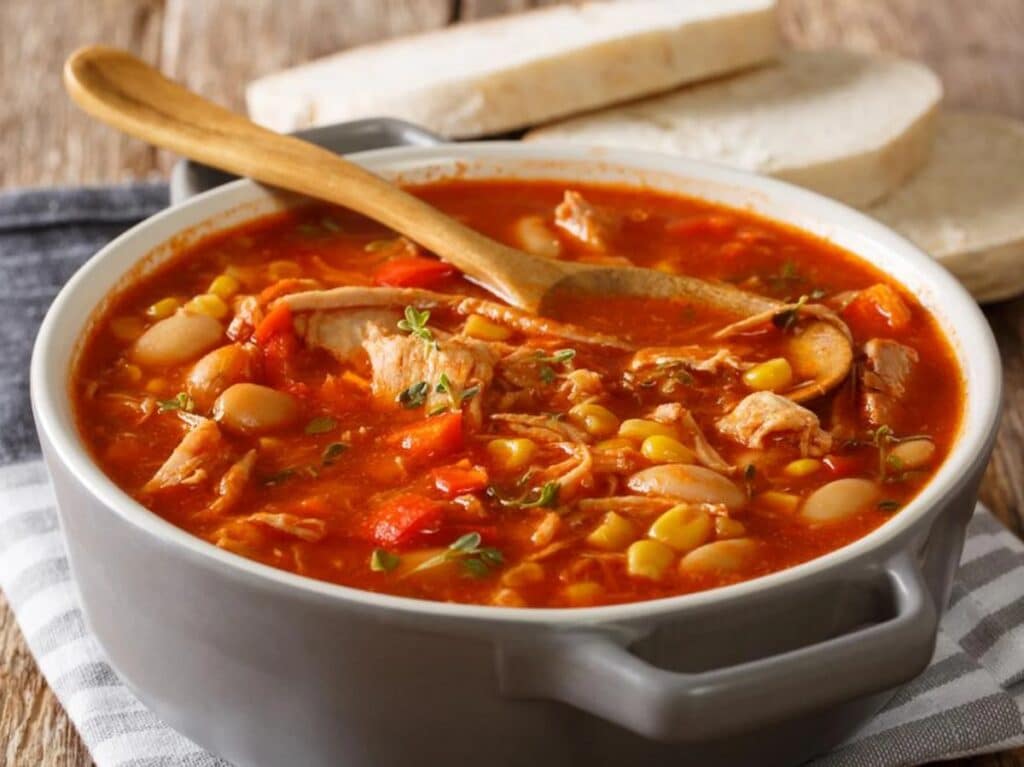 Brunswick stew is a tomato-based soup. It usually contains local beans and vegetables. Traditionally cooks prepare it with a squirrel or a rabbit. However, these days people usually prefer to make it with chicken.
Many states claim to be the origin place of Brunswick stew. Georgia also claims to be the original creator of the iconic soup. In 1988, the Virginia General Assembly declared Brunswick County as "The Original Home of Brunswick Stew."
The Pentagon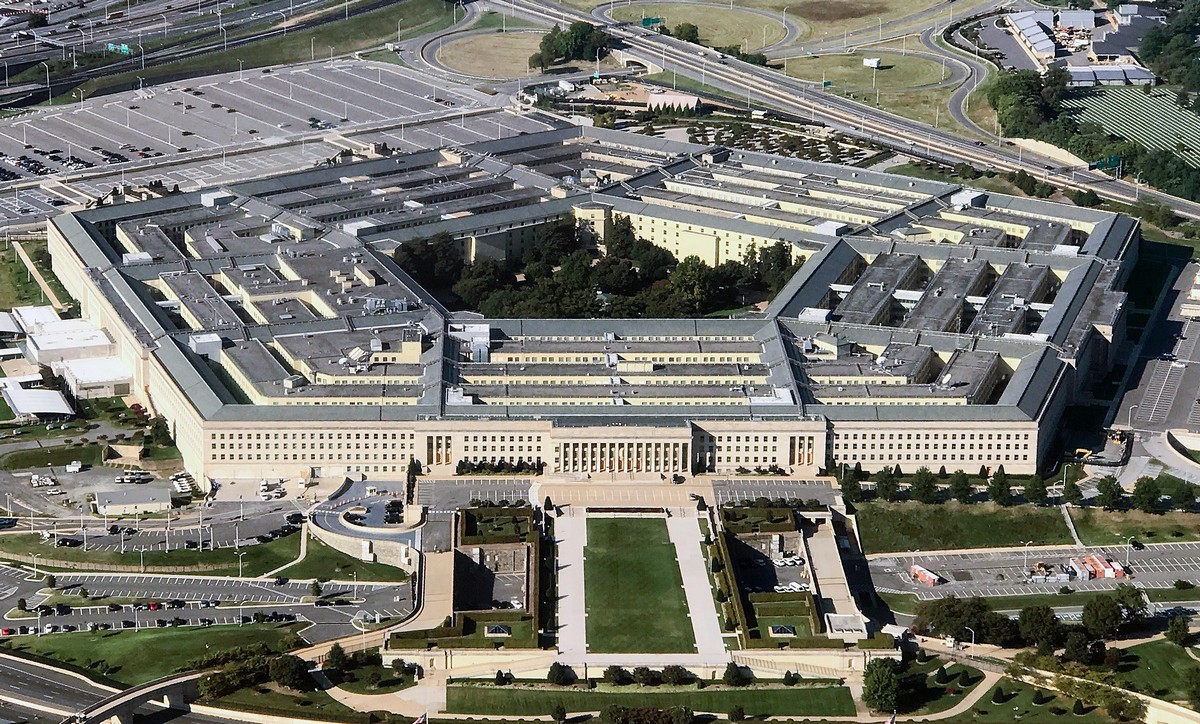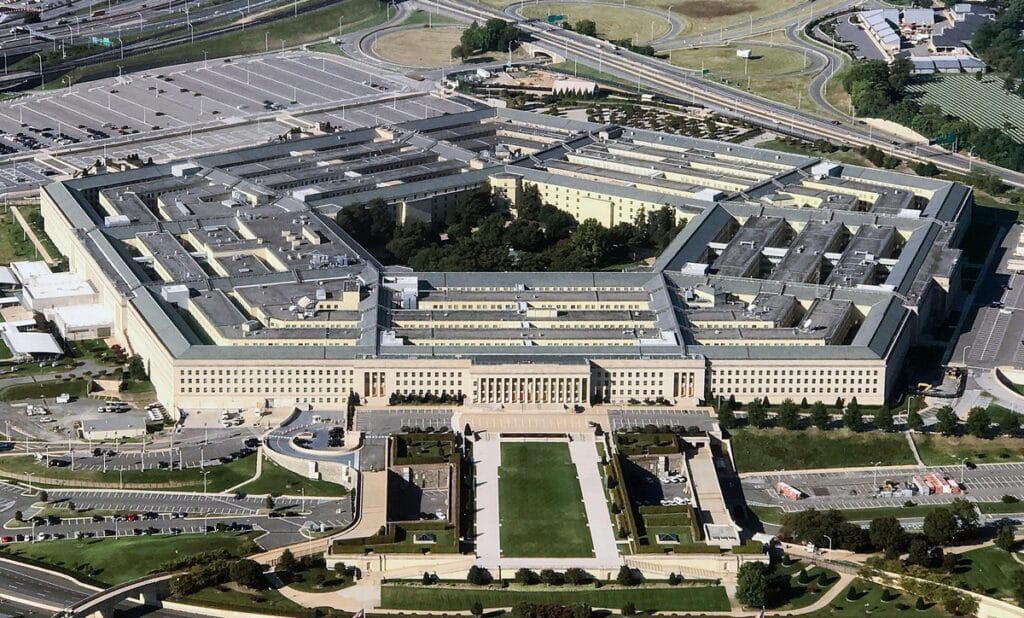 A lot of people think the Pentagon is in Washington DC. That's true for many other famous Federal Government headquarters. However, the Pentagon is actually in Virginia. The building is close enough to DC that its mailing address is in Washington.
The Pentagon has a ton of office space: 6,500,000 square feet (roughly 604,000 square meters) to be exact. It took 16 months to complete the massive building. The Pentagon first opened its doors in 1943.
Manassas National Battlefield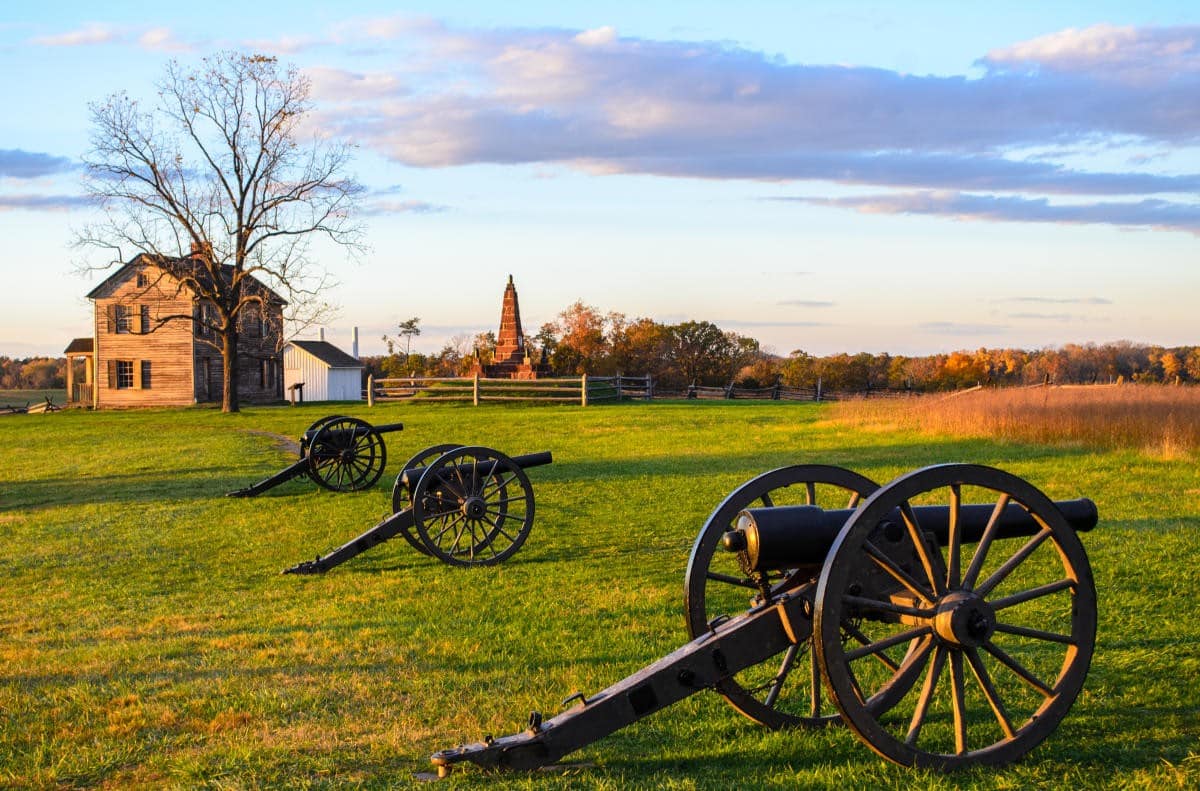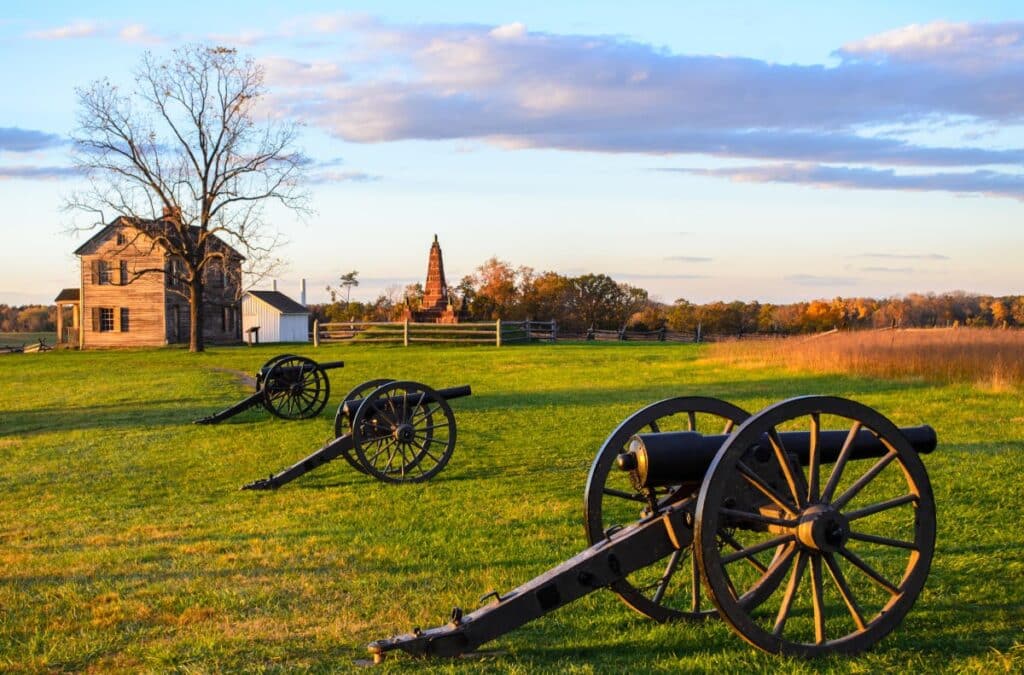 Manassas Battlefield is a 5,000-acre (20 square kilometers) park. It's where two major Civil War battles occurred. The Union and Confederate soldiers fought there in both 1861 and 1862. Today visitors can watch Civil War Reenactment battles.
Some Fun Facts About Virginia: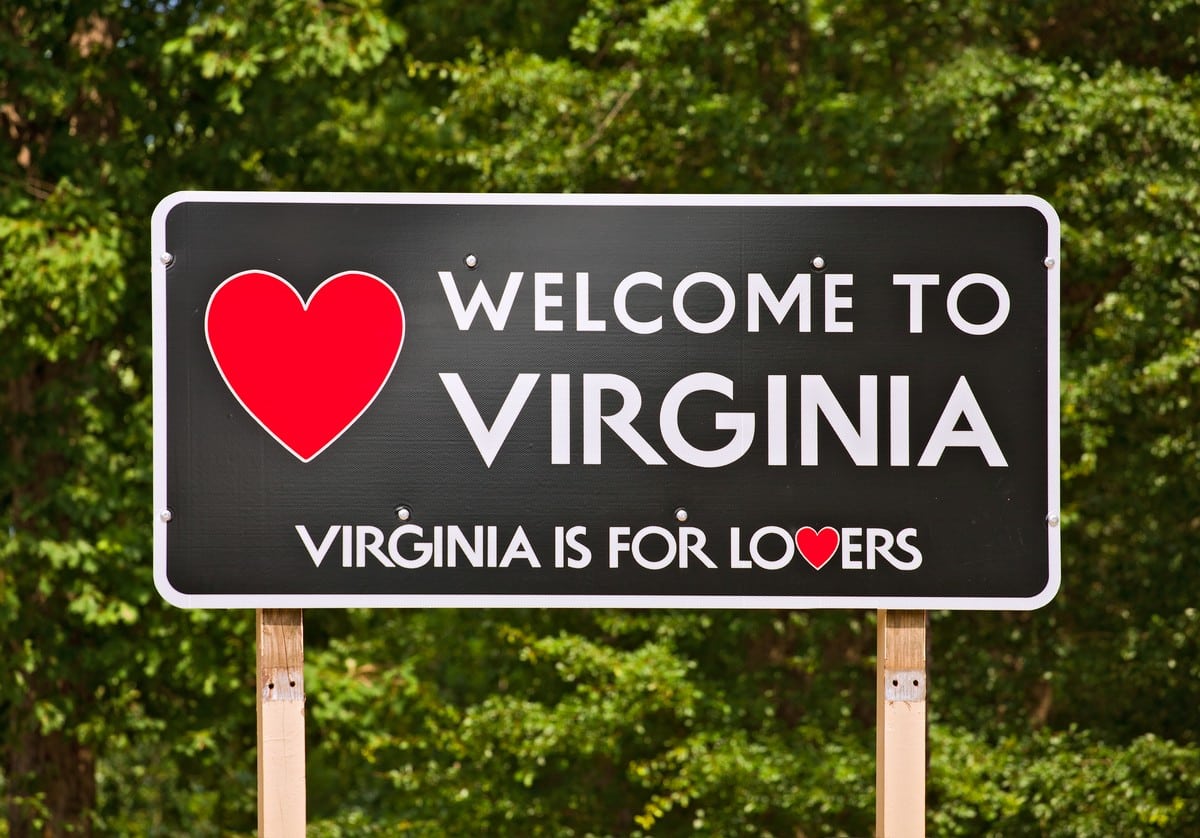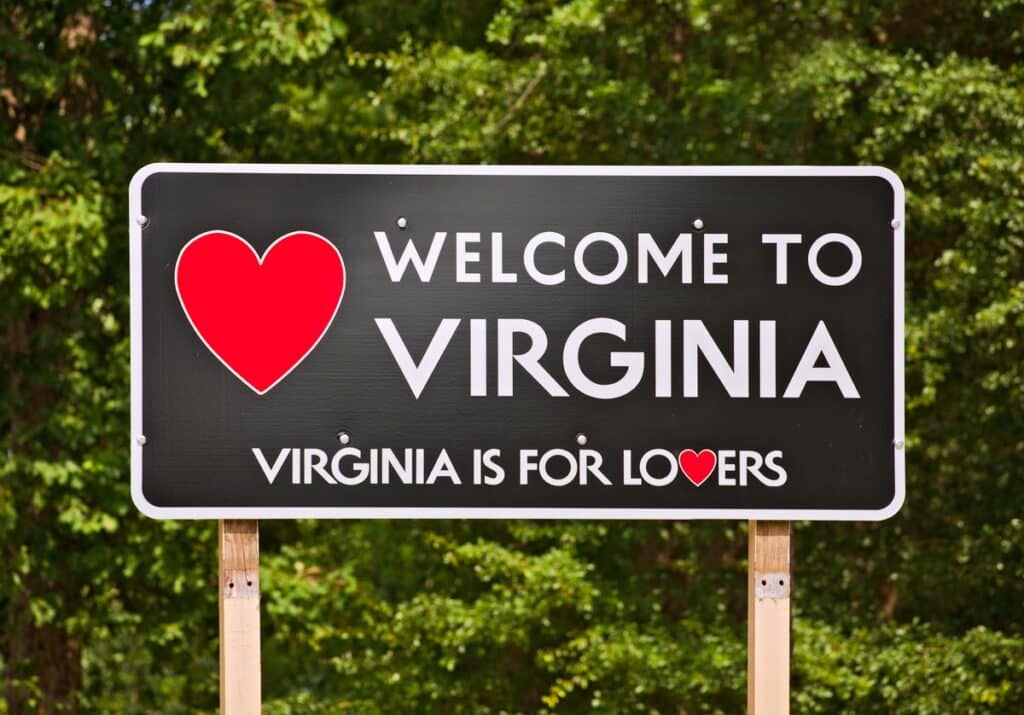 The famous phrase "Virginia is for lovers" was first used as a tourism slogan in 1969.
Virginia also has the nickname "The Mother of States" because it was the USA's very first state.
Virginia is the Birthplace of College Greek Life. The first college fraternity was Phi Beta Kappa, which college students created at College of William & Mary in 1776.
Virginia's cash crop in colonial times was tobacco, but farmers first tried to use the land to cultivate silk. Unfortunately, a fungus destroyed the mulberry trees necessary for silk production.
Legend has it slaves in Virginia grew America's first peanuts. In 1902, Virginia grew more peanuts than any other state.
Notable celebrities from Virginia include Sandra Bullock and Pharell