Singapore is a small island city-state located in Southeast Asia. It is located off the southern tip of the Malaysian Peninsula. It is one of the most densely populated countries in the world, with just over 6 million residents and a total area of 283.1 square miles. The city-state is a global financial center and a hub for international trade and tourism. Singapore stands out through its stunning architecture, lush greenery, and rich cultural heritage.
Singapore is known for being a hub for education, international trade and is a melting pot of cultures. It has a vibrant mix of Chinese, Malay, and Indian influences. The city is famous for its iconic skyline, including the Marina Bay Sands Hotel and the Gardens by the Bay.
One of the Smallest Countries in the World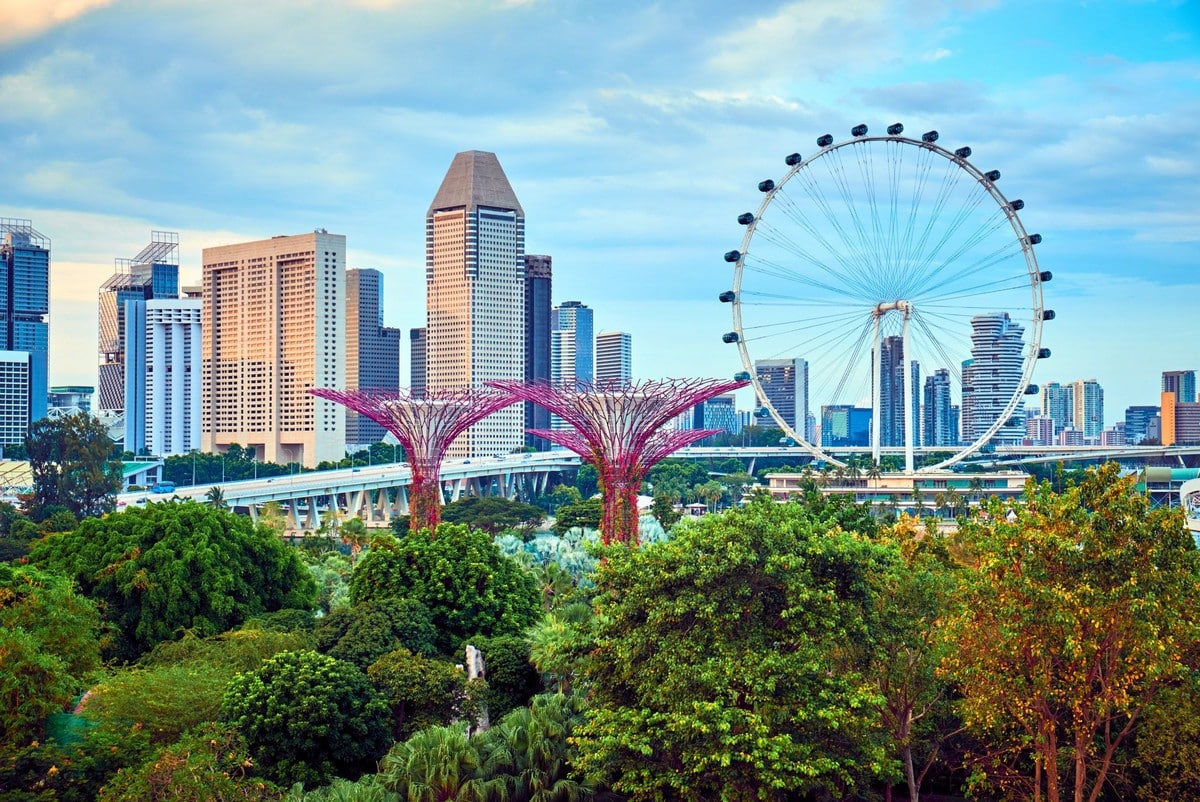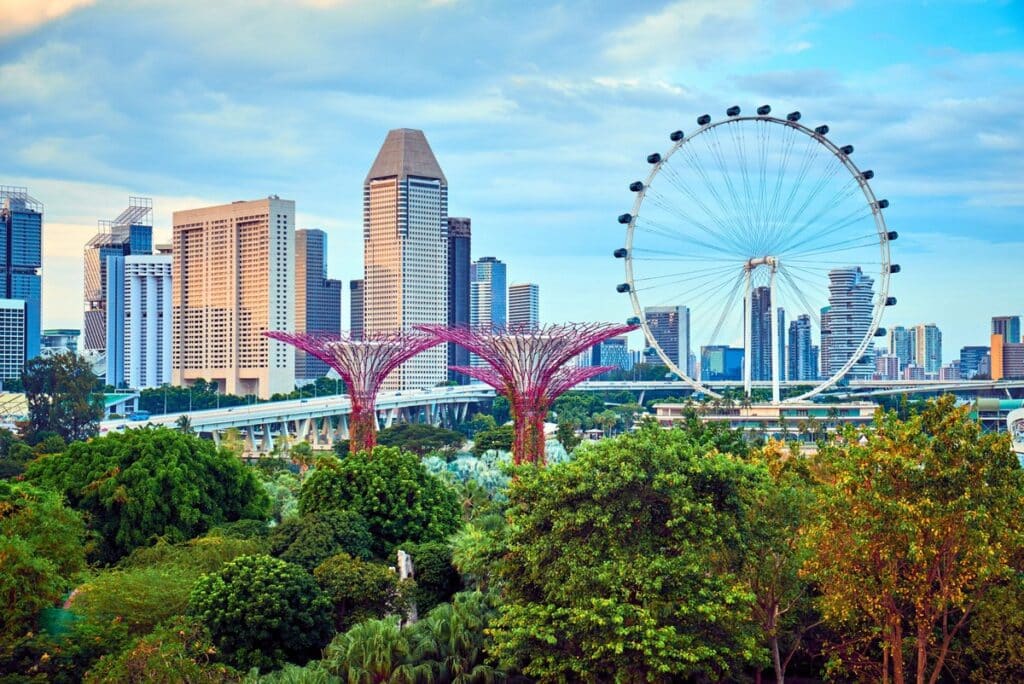 Singapore is one of the smallest countries in the world in terms of land area. It is a city-state and island nation located in Southeast Asia. Despite its small size, Singapore is a highly developed and modern country known for its clean streets, efficient transportation system, and thriving economy. It is also a popular tourist destination, attracting millions of visitors each year with its unique blend of culture, history, and modernity. Singapore is a melting pot of different cultures and ethnicities and is known for its food, shopping, and entertainment offerings.
Asia's Cultural Melting Pot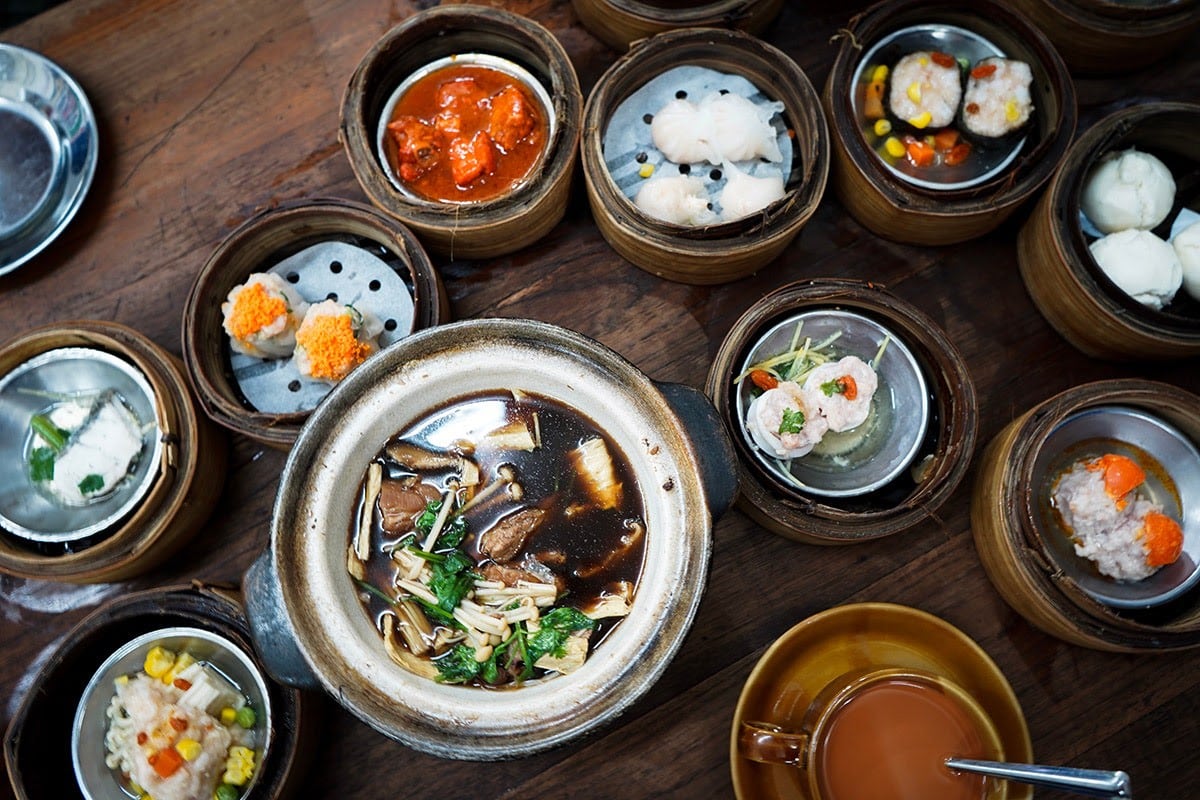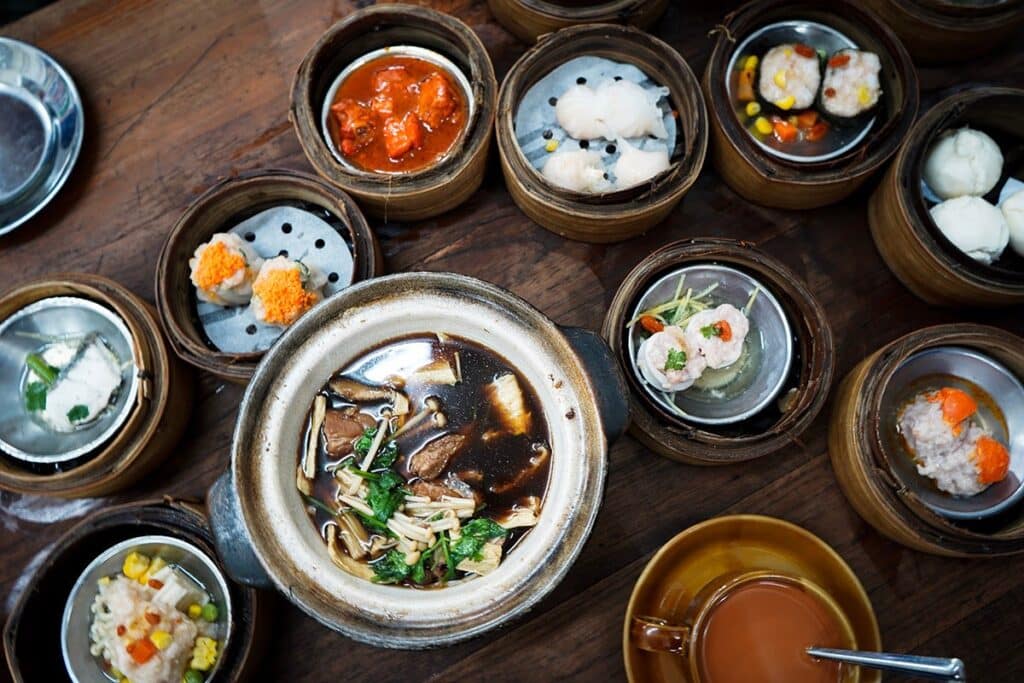 Singapore is known for its cultural diversity and mix of ethnic groups and traditions worldwide. The population is predominantly Chinese, with significant Indian and Malay communities and a growing expatriate community. This diversity is reflected in the country's food, festivals, and religious practices, with a rich tapestry of cultural expressions and traditions. The government promotes cultural harmony and understanding, and several initiatives are in place to preserve and showcase the country's rich cultural heritage. The cultural diversity of Singapore is one of its strengths and is a key factor in making it a vibrant and cosmopolitan city-state.
Gardens by the Bay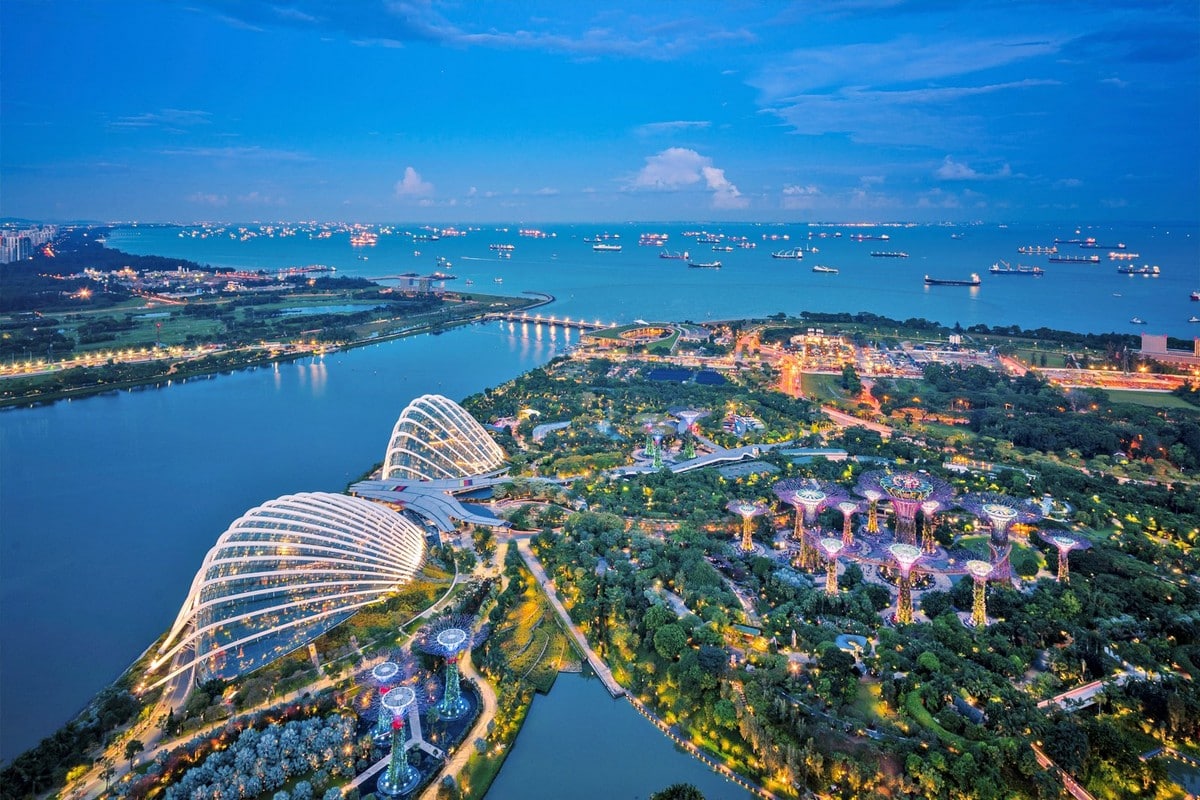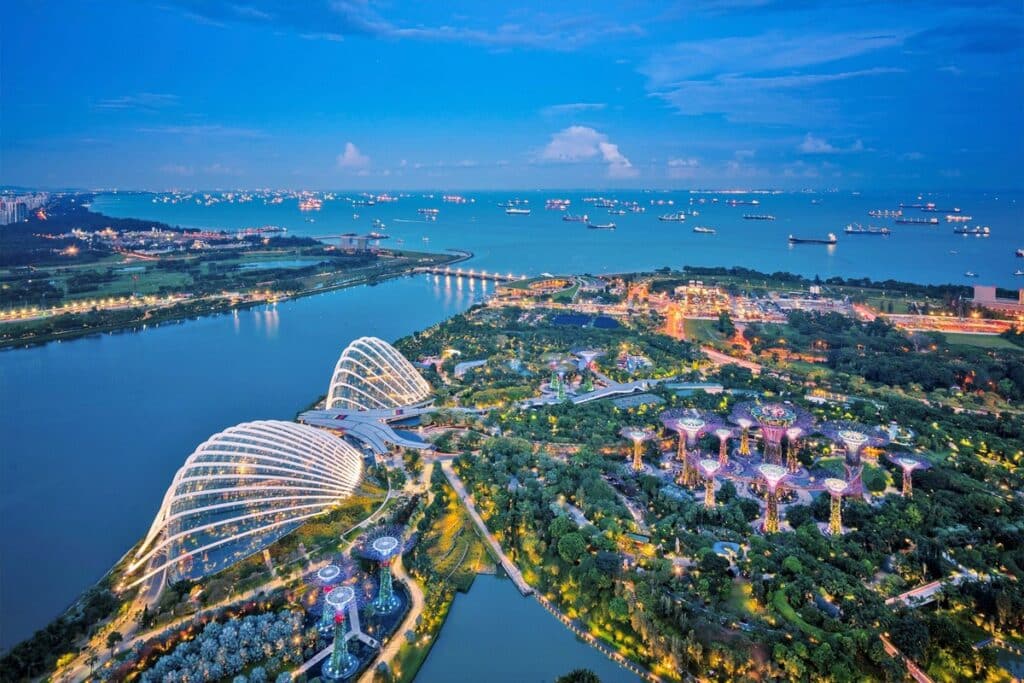 Gardens by the Bay is a nature park and popular tourist attraction that comprises three waterfront gardens – Bay East, Bay South, and Bay Central. The Bay South is the largest and most popular of the three, with two cooled conservatories – the Flower Dome and Cloud Forest. These conservatories house unique and exotic plant species from around the world. Gardens by the Bay also has several walking trails and outdoor gardens. It offers a unique and immersive experience, showcasing the beauty of nature and sustainability in an urban environment.
Sentosa Island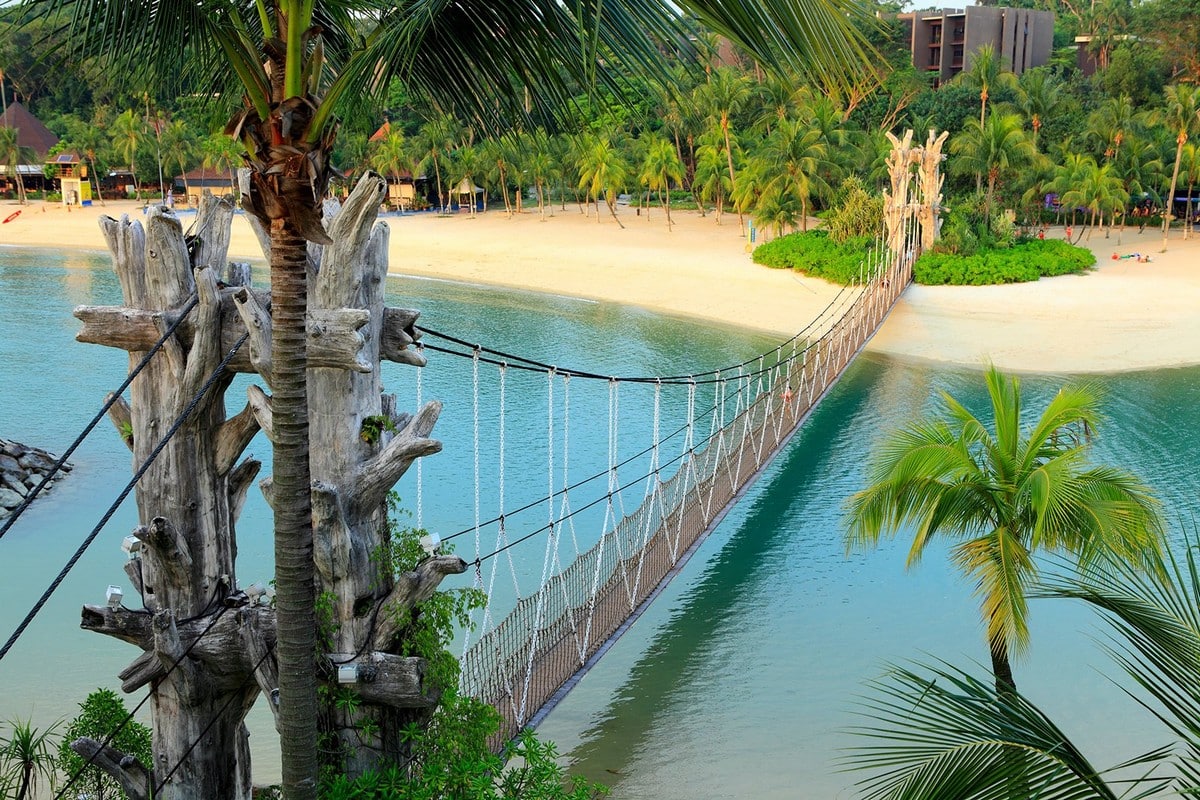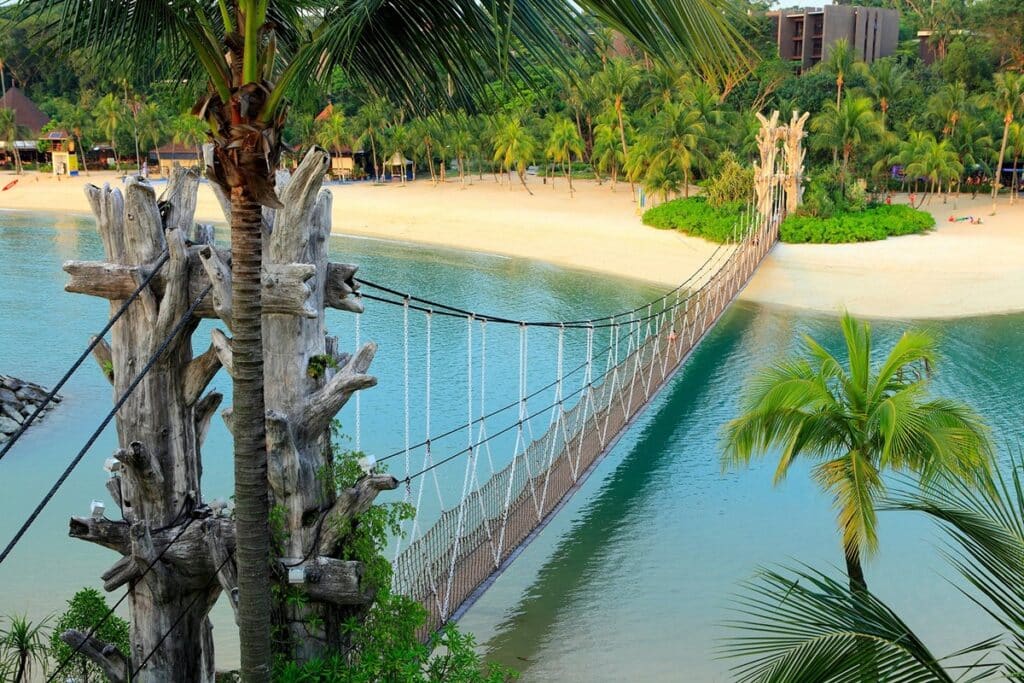 Sentosa Island is a popular resort and recreation destination known for its beautiful beaches, themed attractions, and outdoor activities. Popular attractions on the island include Universal Studios Singapore, Adventure Cove Waterpark, SEA Aquarium, and the Merlion statue. Sentosa Island is also home to several historic sites, including Fort Siloso, which provides a glimpse into the country's colonial past. Visitors can also explore the island's lush tropical rainforests and natural landscapes. In addition, Sentosa Island offers a wide range of dining, shopping, and entertainment options, as well as luxury hotels and resorts.
Shopping at Orchard Road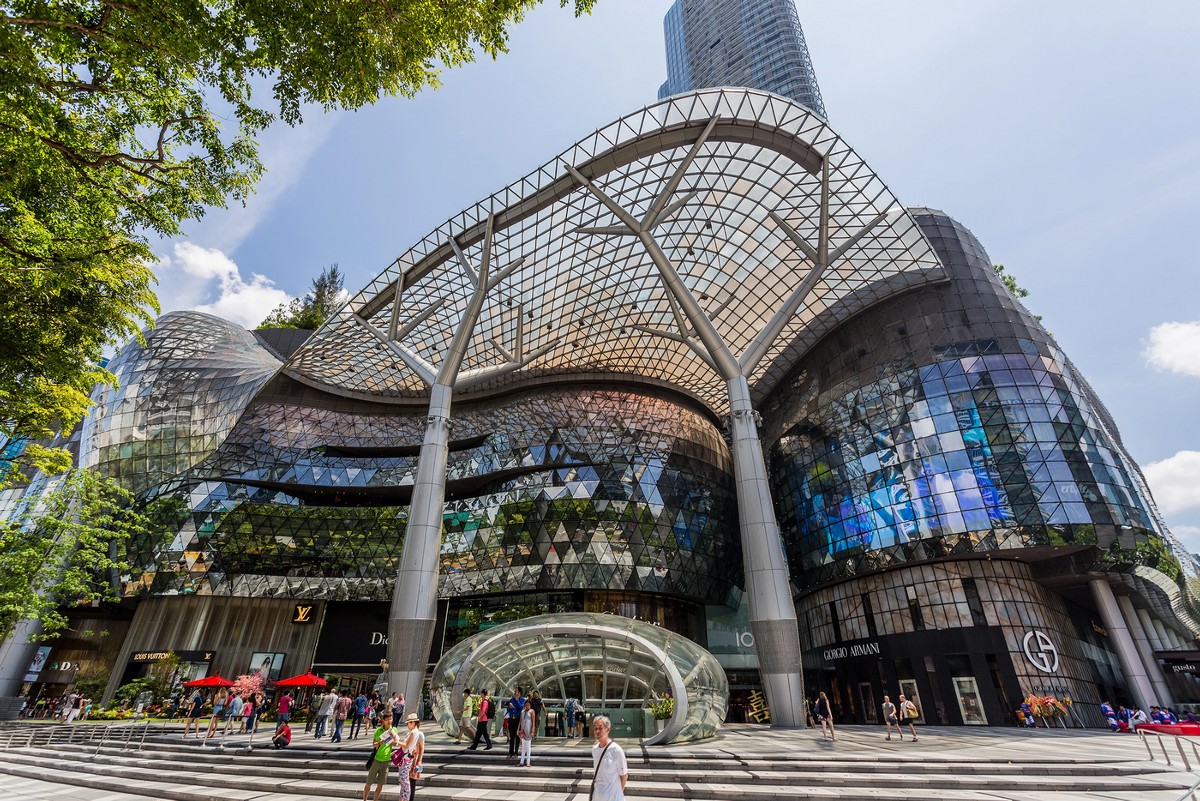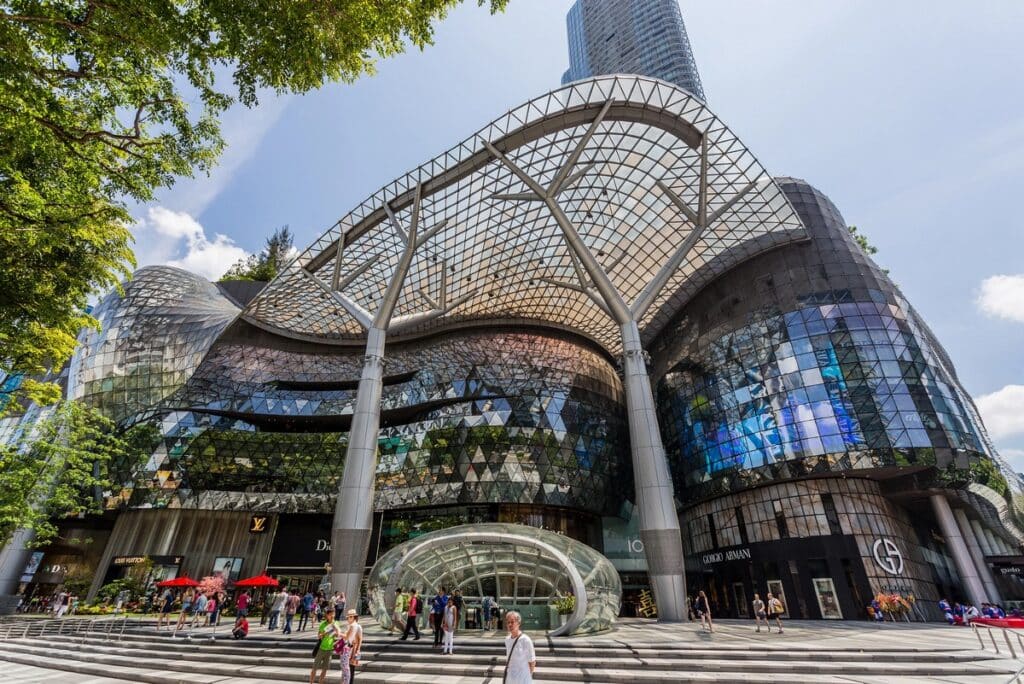 Orchard Road is a major shopping street known for its wide range of shopping options. It has everything from high-end designer brands to budget-friendly shopping centers. The street is lined with malls, department stores, and boutique shops offering various products, including fashion, electronics, jewelry, and more. Some popular shopping centers on Orchard Road include ION Orchard, Ngee Ann City, and The Paragon. In addition to shopping, visitors can also find various dining and entertainment options.
The Merlion Statue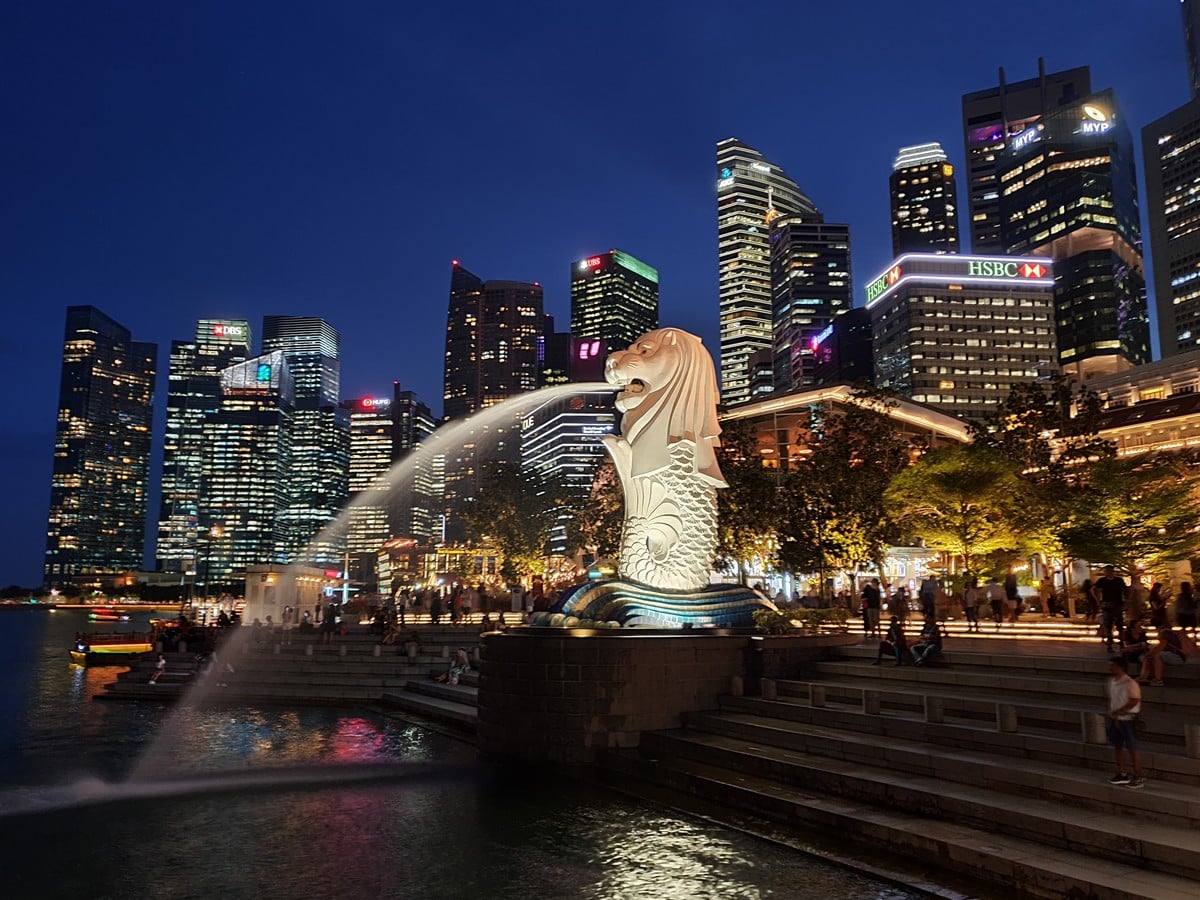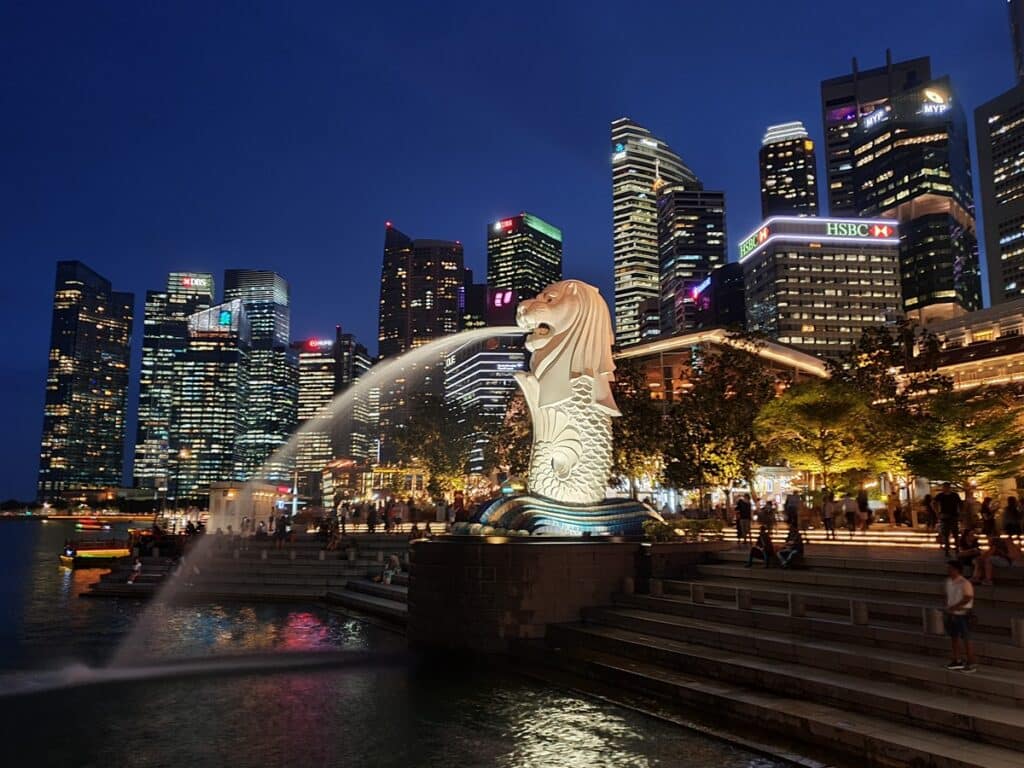 The Merlion Statue is a landmark symbol of Singapore, located at Marina Bay. It is a half-lion, half-fish statue that stands 8.6 meters tall and weighs 70 tonnes. The statue symbolizes the city-state's historical connection to the sea and its original name, "Singapura," which means "Lion City" in Malay. The Merlion Statue has become one of the most recognizable tourist attractions in Singapore, and visitors come from all over the world to take photos and admire its beauty. As a result, the statue has become a popular backdrop for photographs and is one of the most iconic images of Singapore.
Universal Studios Singapore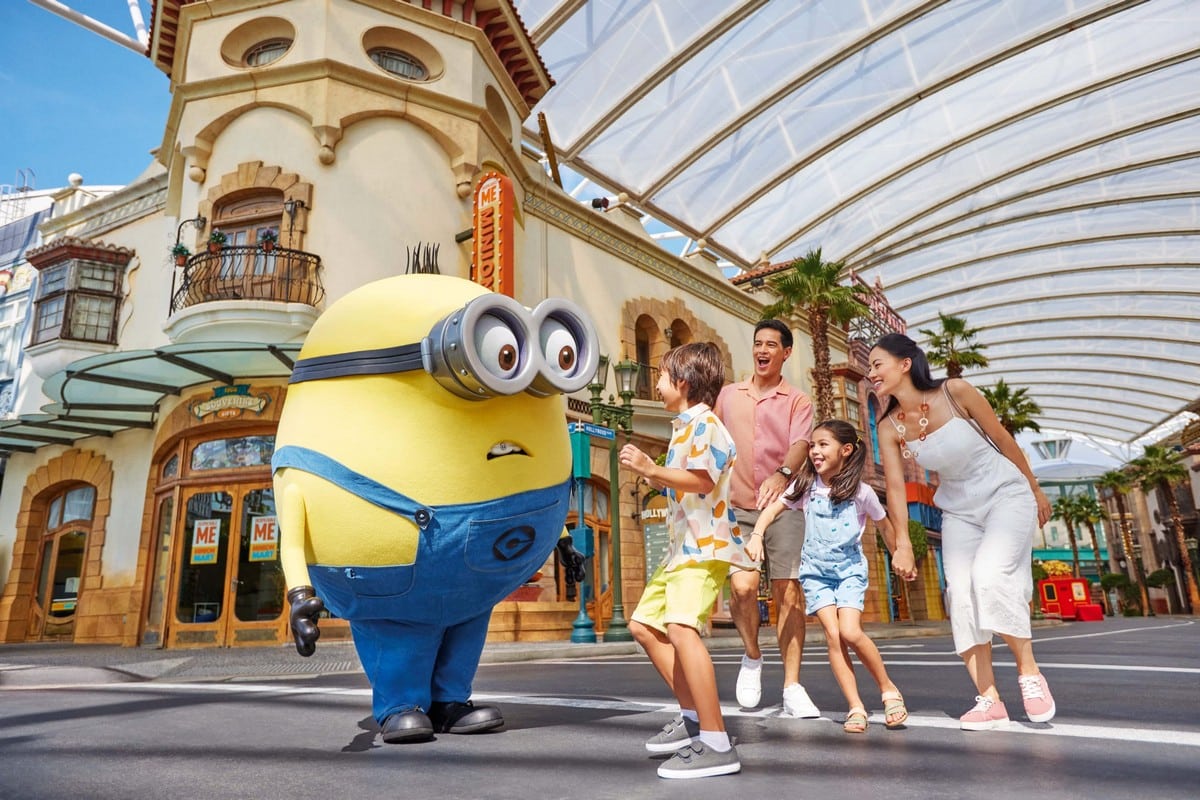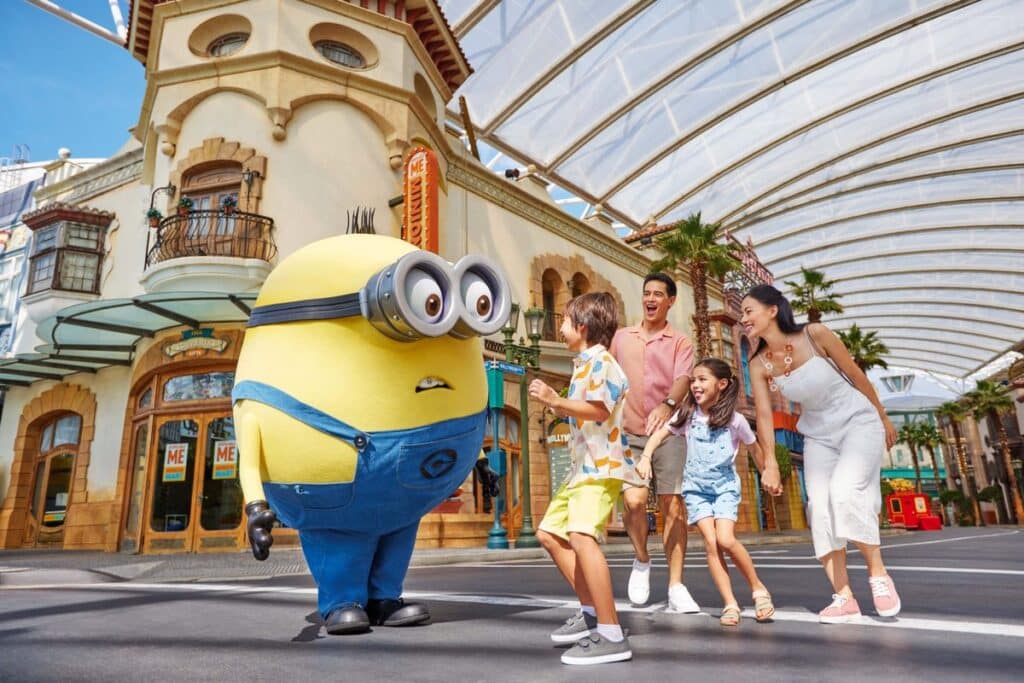 Universal Studios Singapore is the first and only Universal Studios theme park in Southeast Asia. The park features 28 rides and attractions across seven themed zones, including Hollywood, New York, Sci-Fi City, Ancient Egypt, Lost World, Far Far Away, and Madagascar. Visitors can experience thrilling roller coasters, meet their favorite movie characters, and enjoy live shows. The park also offers a variety of dining and shopping options, including food stalls, restaurants, and souvenir shops. Universal Studios Singapore is a fun and exciting destination for families, thrill-seekers, and fans of movies and theme parks.
Marina Bay Sands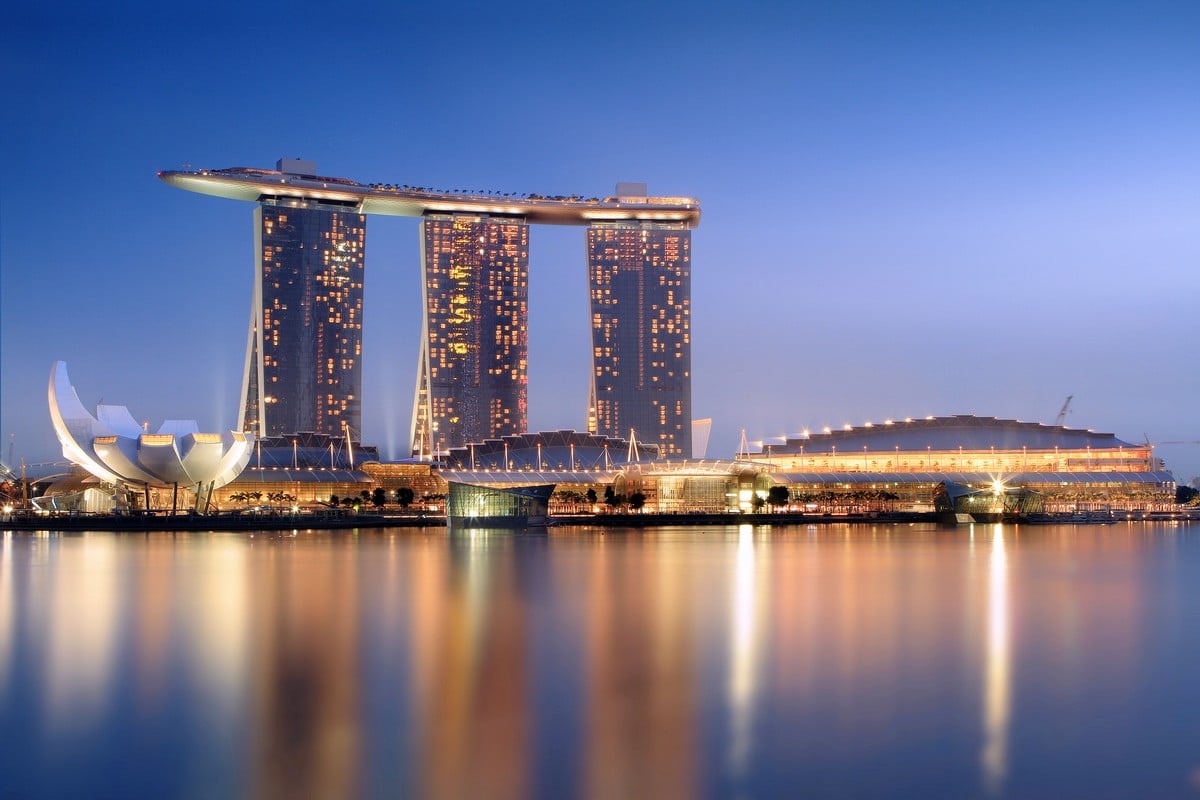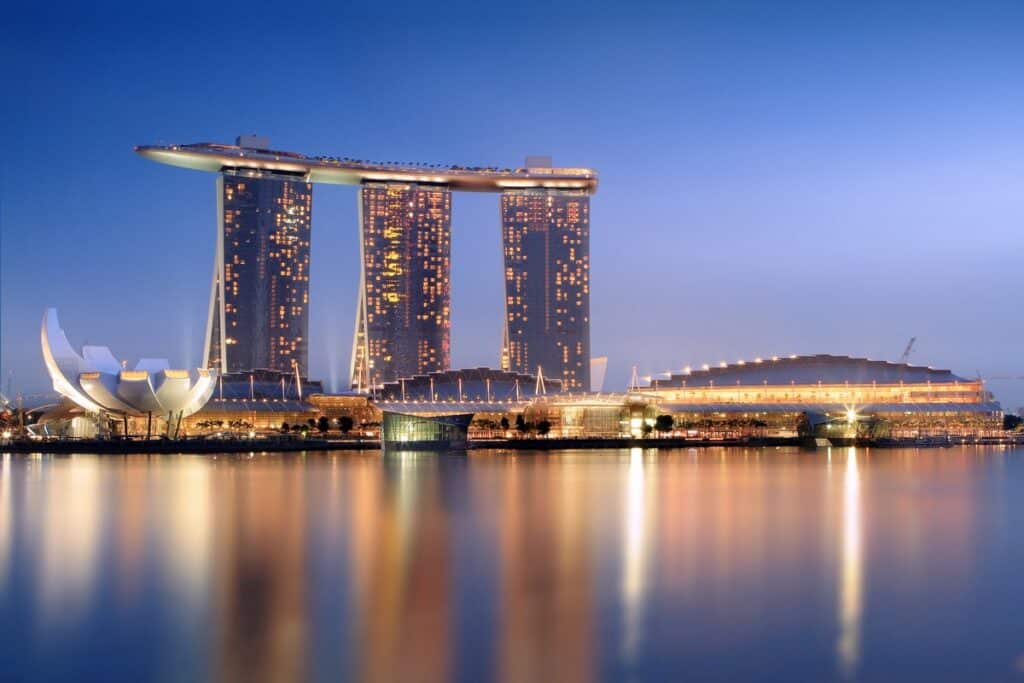 Marina Bay Sands is an integrated resort located in Marina Bay. It features a luxury hotel, a shopping mall, a convention center, a theater, and an observation deck with a rooftop infinity pool. The hotel has 2,561 rooms, suites and sky terraces, and is known for its iconic architecture, shaped like a ship perched on three 55-story towers. The mall, The Shoppes at Marina Bay Sands, has over 800 shops and dining options. The observation deck, called Sands SkyPark, offers panoramic views of the city and is one of Singapore's most popular tourist attractions.
The Clarke Quay Area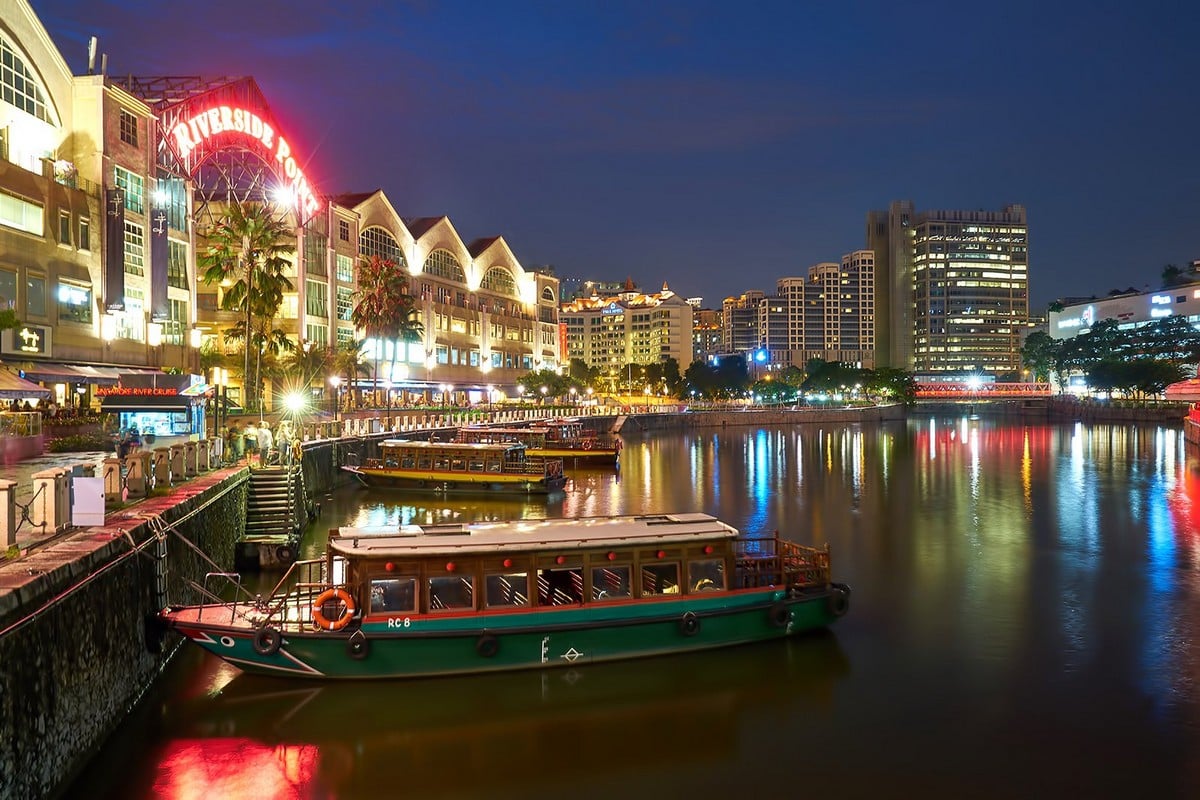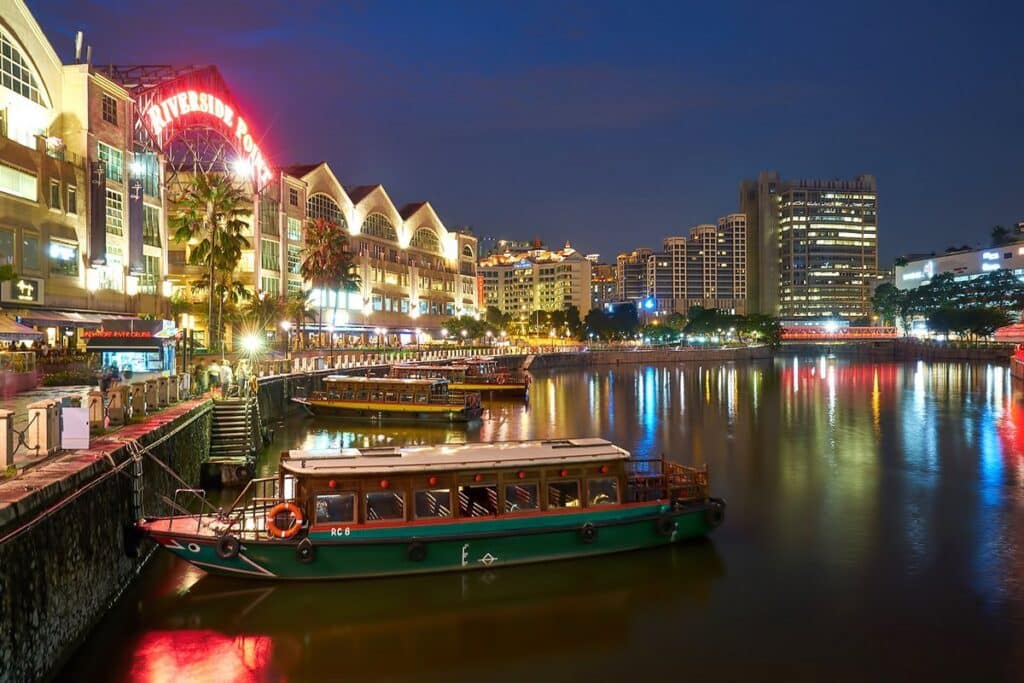 Clark Quay is a historical riverside quay located in the central region of Singapore. It was once a bustling center of trade and commerce, and today it is a popular destination for dining, entertainment, and nightlife. The area is filled with restored colonial-era buildings transformed into restaurants, bars, and nightclubs. Clarke Quay is a great place to experience the vibrant nightlife of Singapore and is a must-visit destination for anyone looking to enjoy an evening out on the town.
Singapore Zoo and Night Safari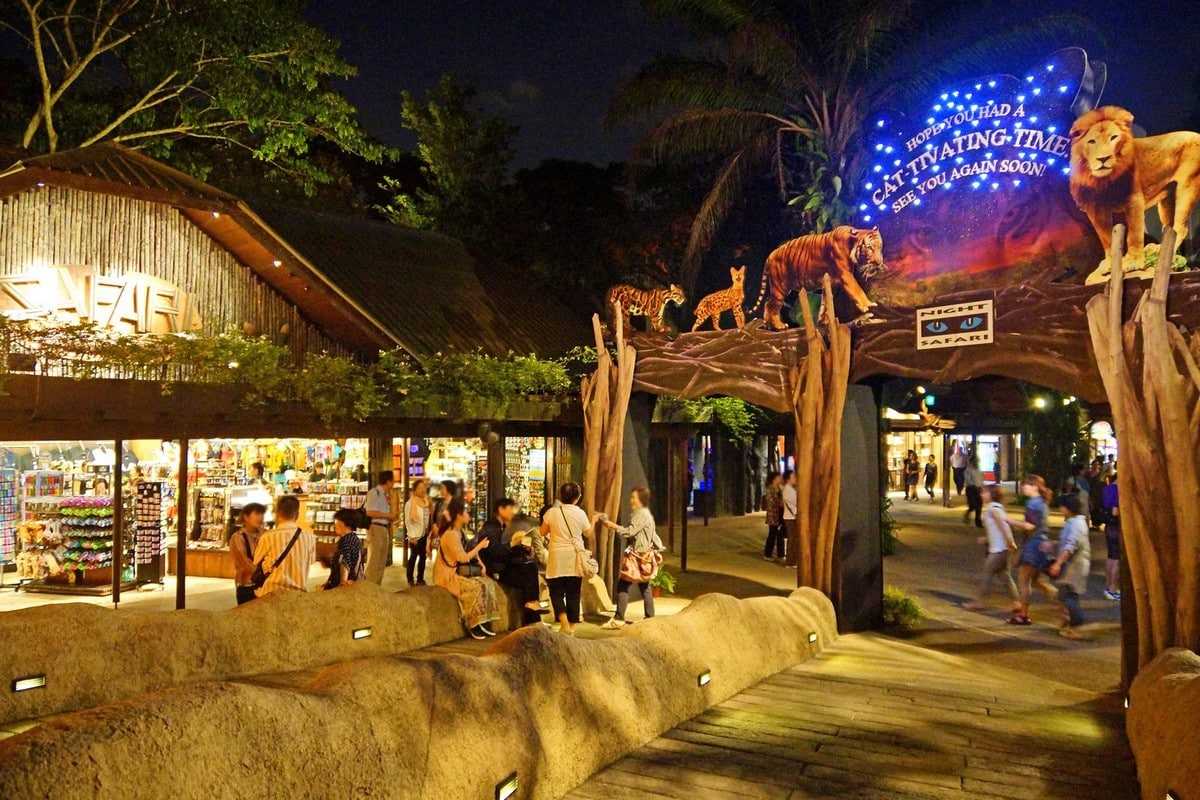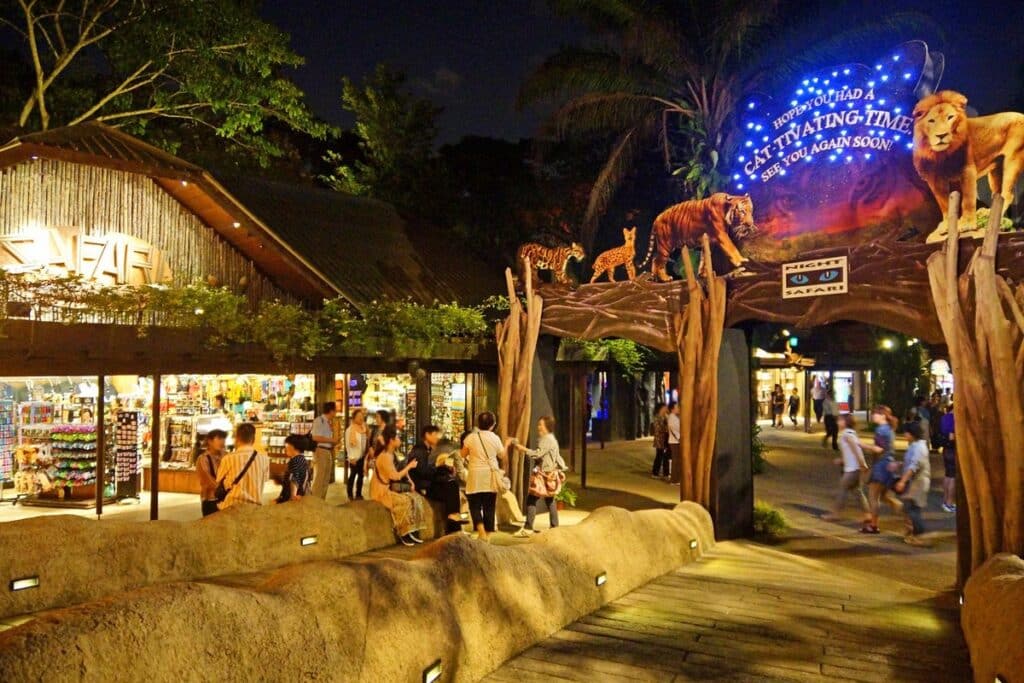 The Singapore Zoo and Night Safari are popular attractions in the city-state of Singapore. The Singapore Zoo is a 76-hectare park that is home to over 300 species of animals. It is known for its innovative animal habitats, designed to mimic the animals' natural environments, and its focus on conservation and education. The Night Safari is the world's first nocturnal wildlife park located within the same grounds as the Singapore Zoo. It offers a unique opportunity to see animals in their nighttime habitats, including predators like the Asiatic lion, Bengal tiger, and African wild dog.
Singapore Botanic Gardens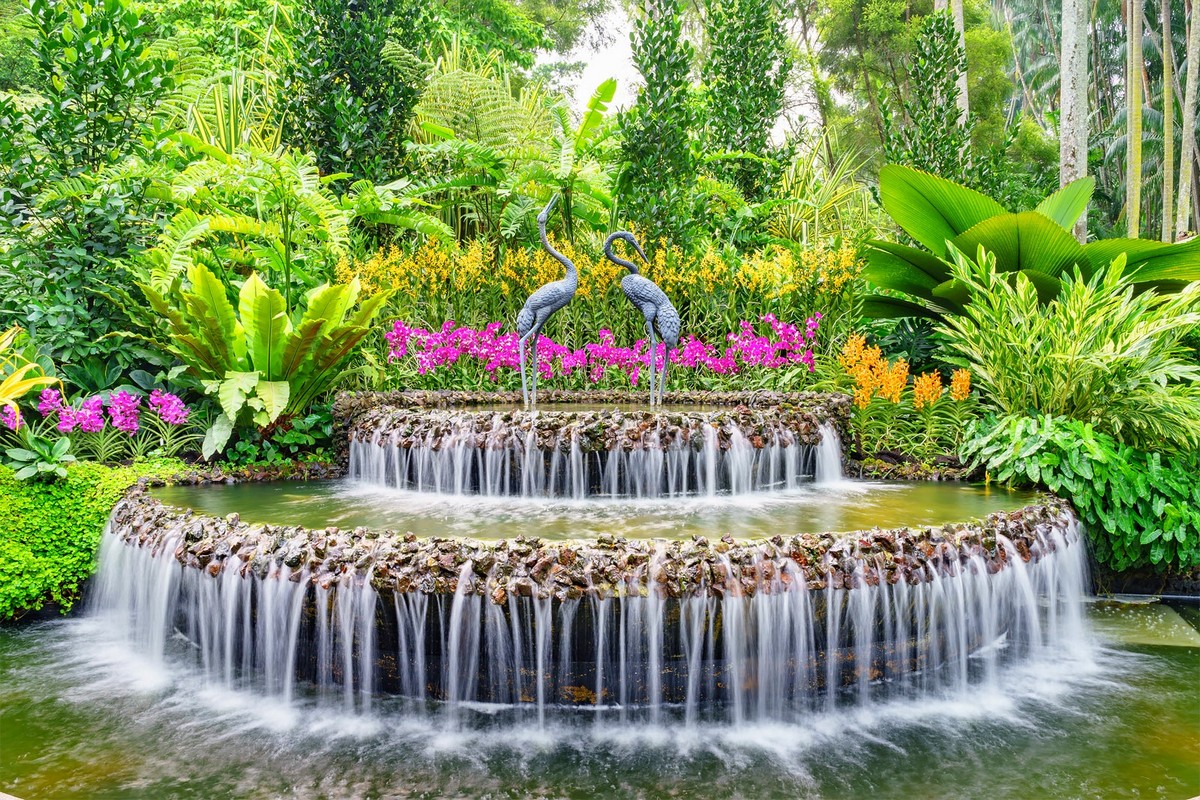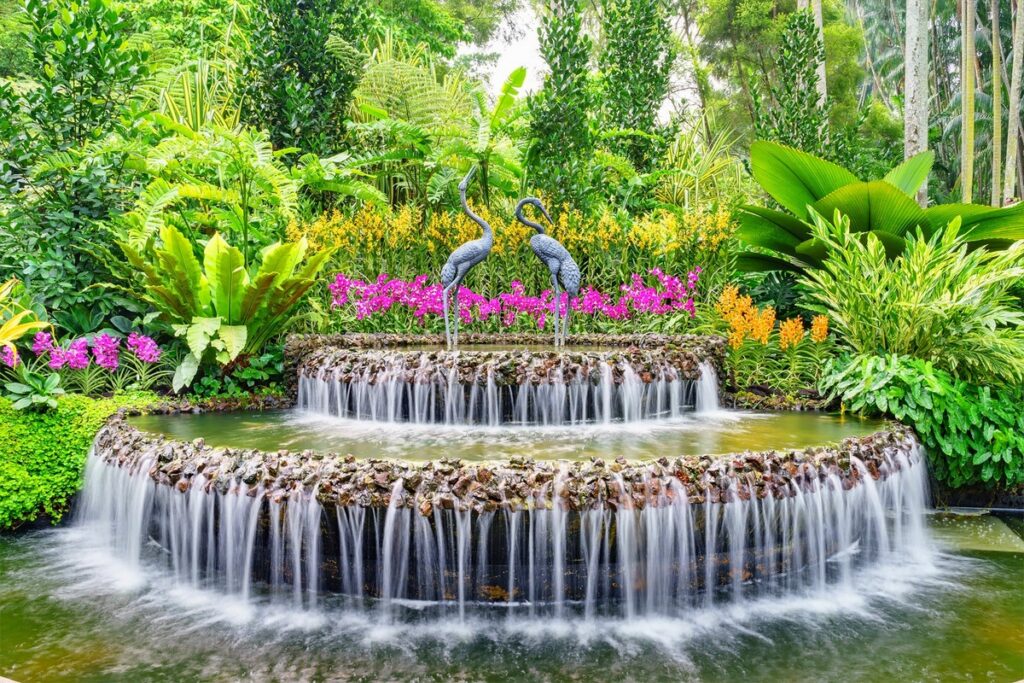 The Singapore Botanic Gardens is a 157-year-old tropical garden and a UNESCO World Heritage Site. Spanning over 74 hectares, the garden features a diverse range of flora and fauna, including the National Orchid Garden, the Rainforest, and the Evolution Garden. The Gardens also house several lakes, lawns, and historic buildings. Visitors can stroll through the gardens, picnic, or join guided tours. The Gardens also host concerts, exhibitions, and other events throughout the year.
No Gum Allowed!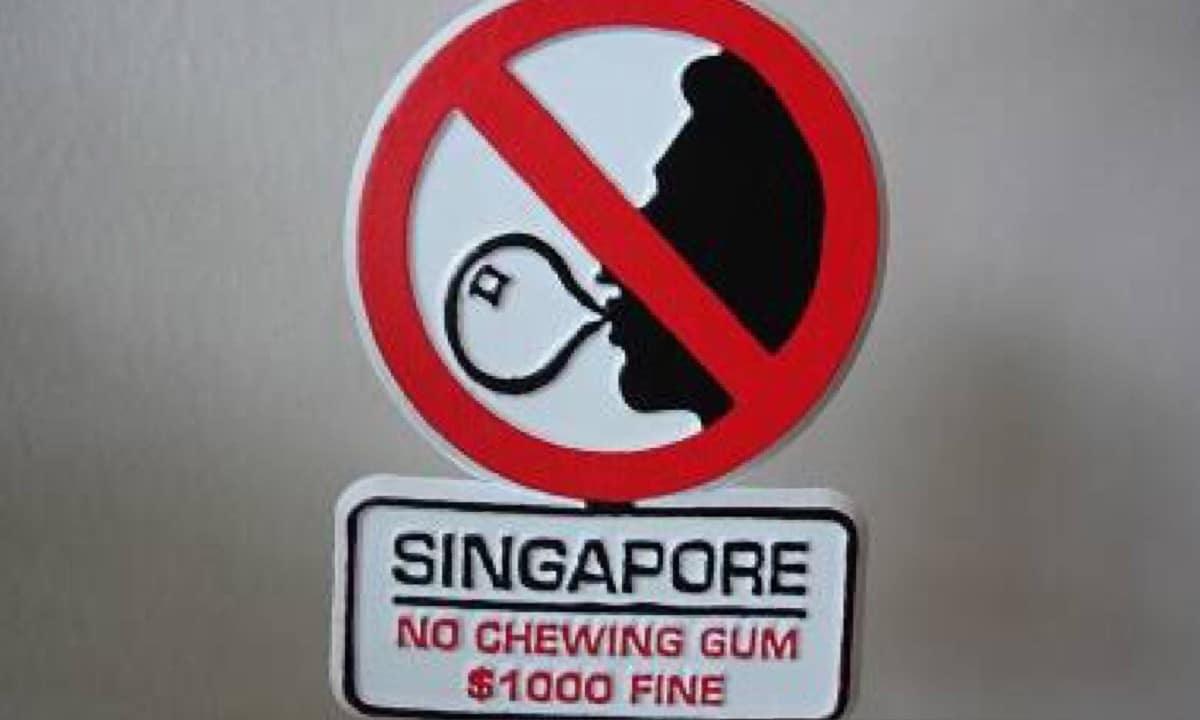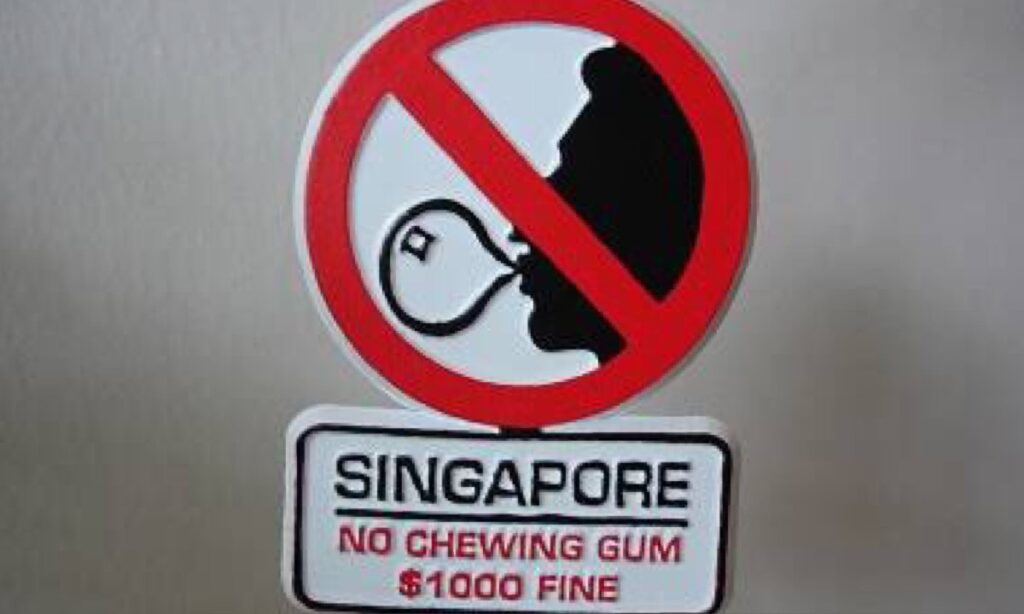 Singapore has strict laws and regulations for littering, chewing gum, smoking in public places, and vandalism. The country has a reputation for maintaining a clean and safe environment, and the government enforces these laws rigorously. While some may view these laws as restrictive, they have helped to shape Singapore into one of the world's cleanest and most orderly cities. However, it's worth noting that these laws are applied fairly and intend to preserve the quality of life for all citizens and visitors in Singapore
Buddha Tooth Relic Temple and Museum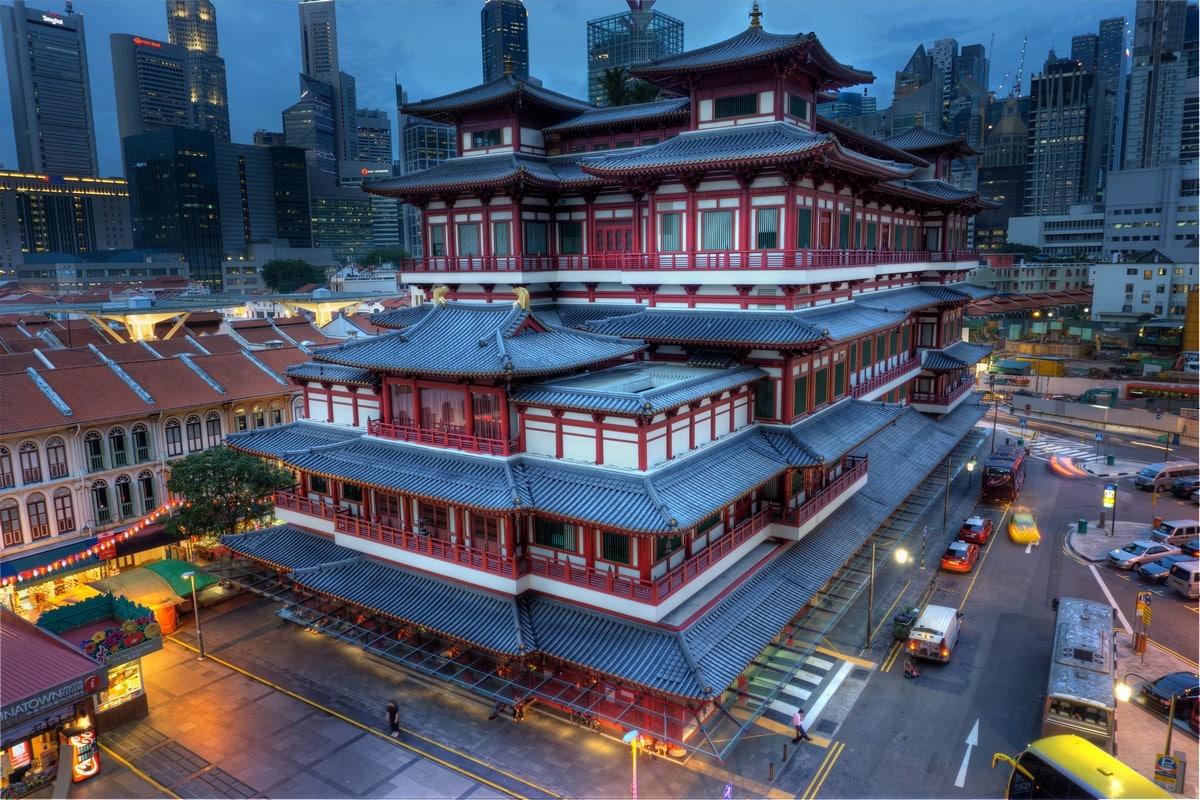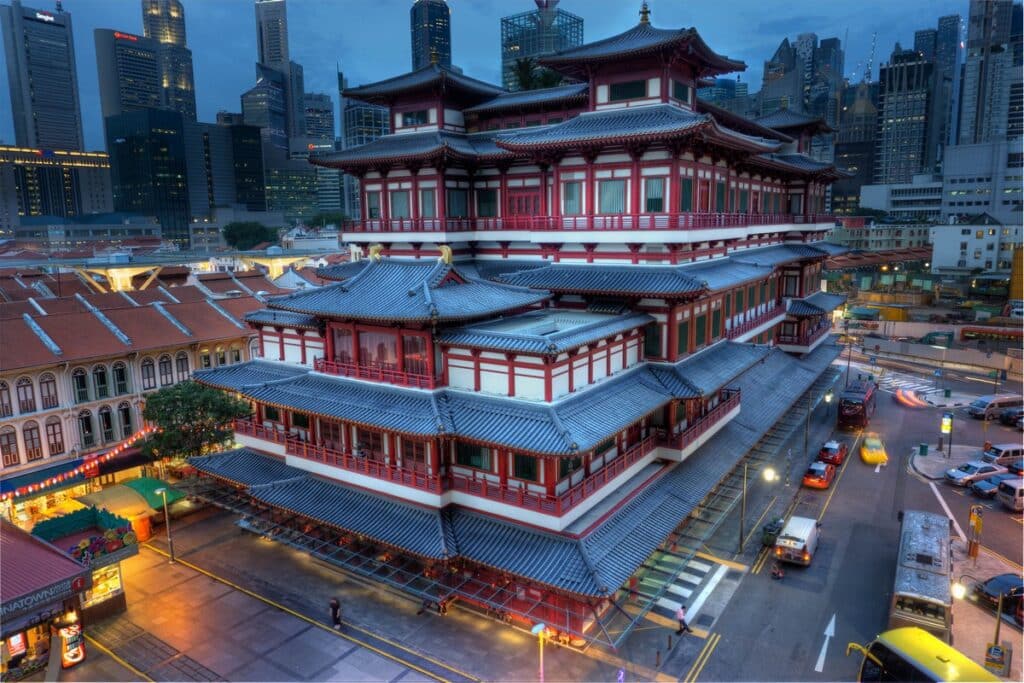 This is a Buddhist temple located in the heart of Chinatown in Singapore. It was built to house what is said to be the historical Buddha's left canine tooth. Its architecture is a fusion of traditional Chinese and Buddhist styles, and its main attraction is the four-story pagoda housing the relic. The temple also features several Buddhist prayer halls, galleries, and cultural exhibits that showcase the rich heritage of Buddhism.
Singapore's Unique Cuisine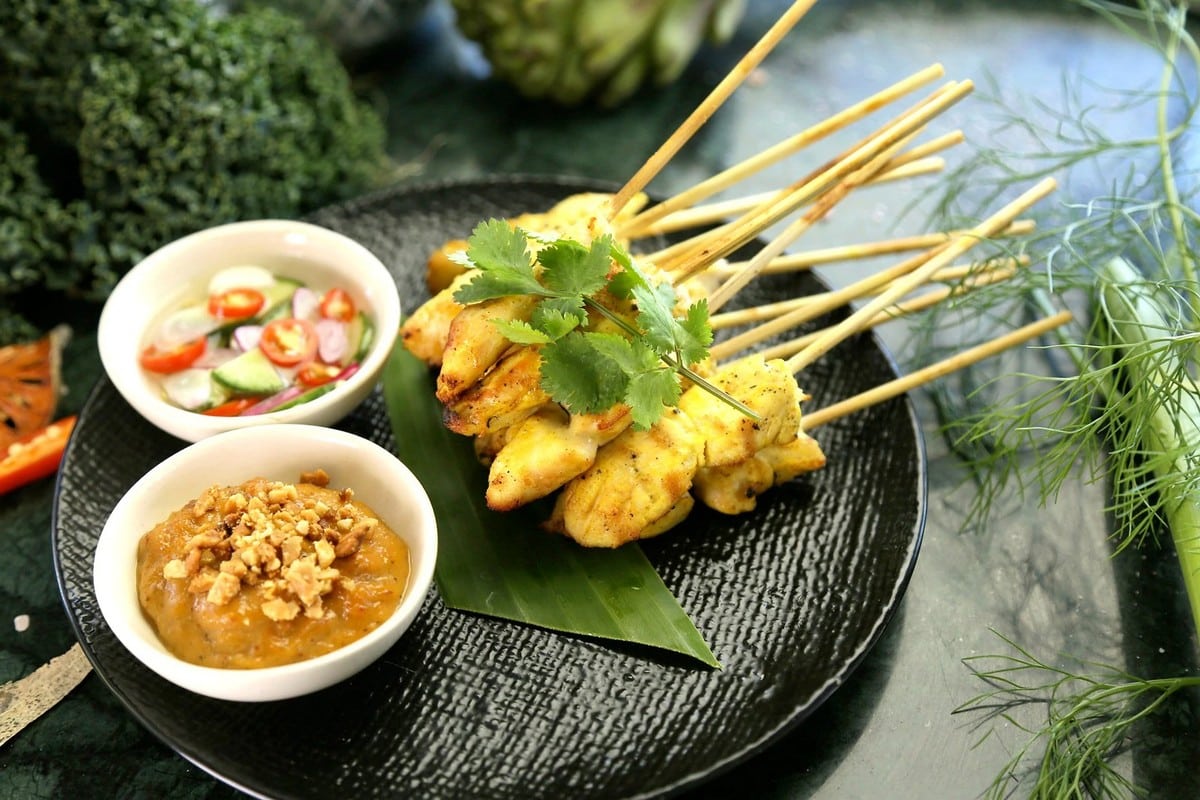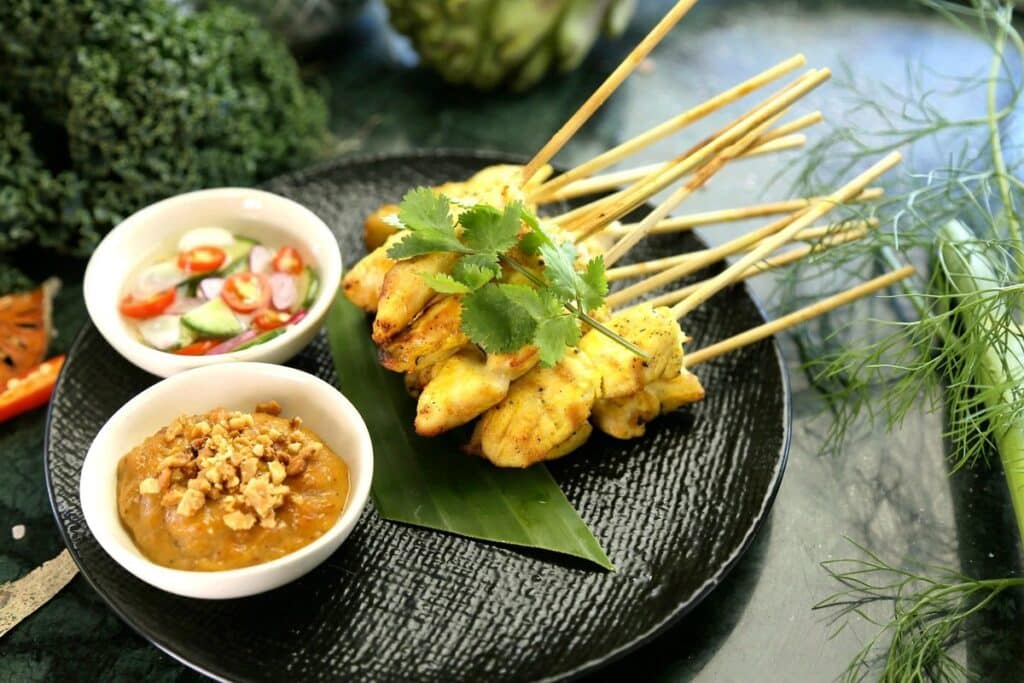 Singaporean cuisine is a melting pot of flavors, reflecting the country's diverse ethnic makeup. It offers a unique blend of Chinese, Malay, Indian, and Peranakan dishes. Popular dishes include chicken rice, laksa, chili crab, satay, roti prata, and noodles like mee goreng and hokkien mee. Singapore is also famous for its street food, with hawker centers serving various affordable and delicious dishes. Singaporean cuisine also showcases a variety of tropical fruits, such as durian, mango, and rambutan. The cuisine is known for its bold flavors and mix of sweet, salty, and spicy tastes.
The Helix Bridge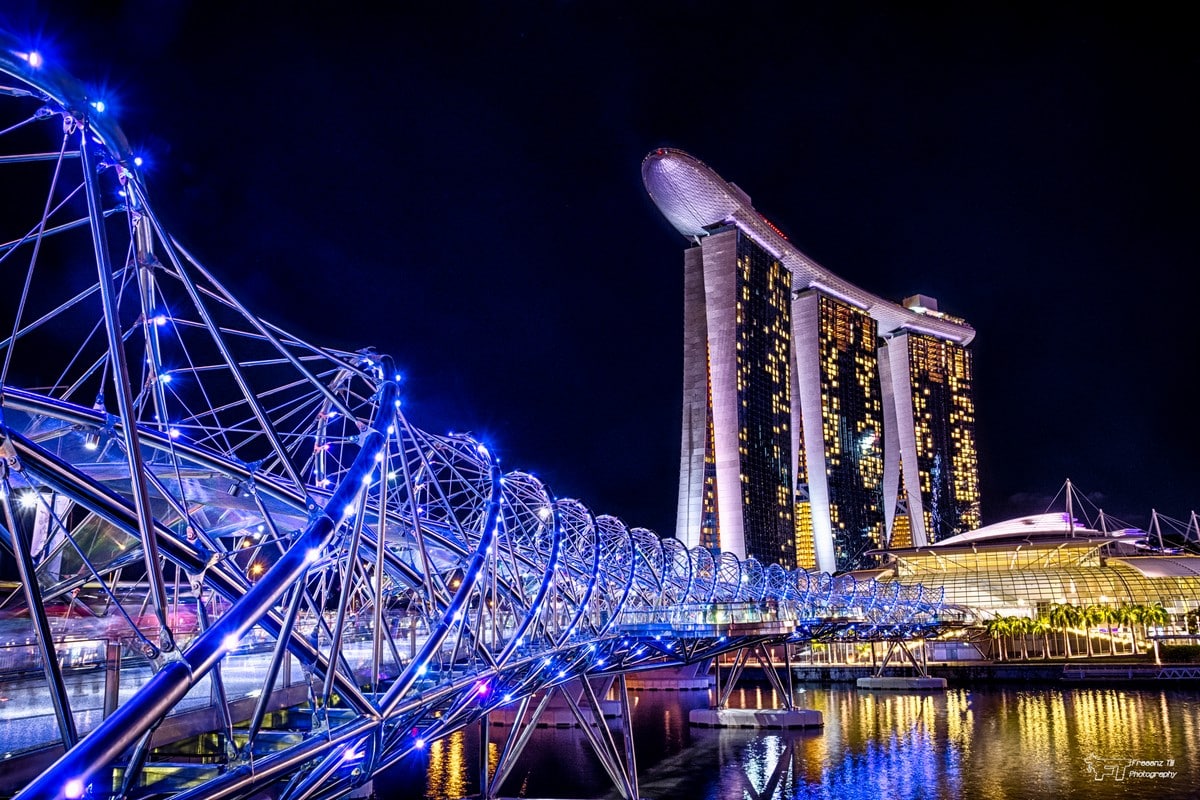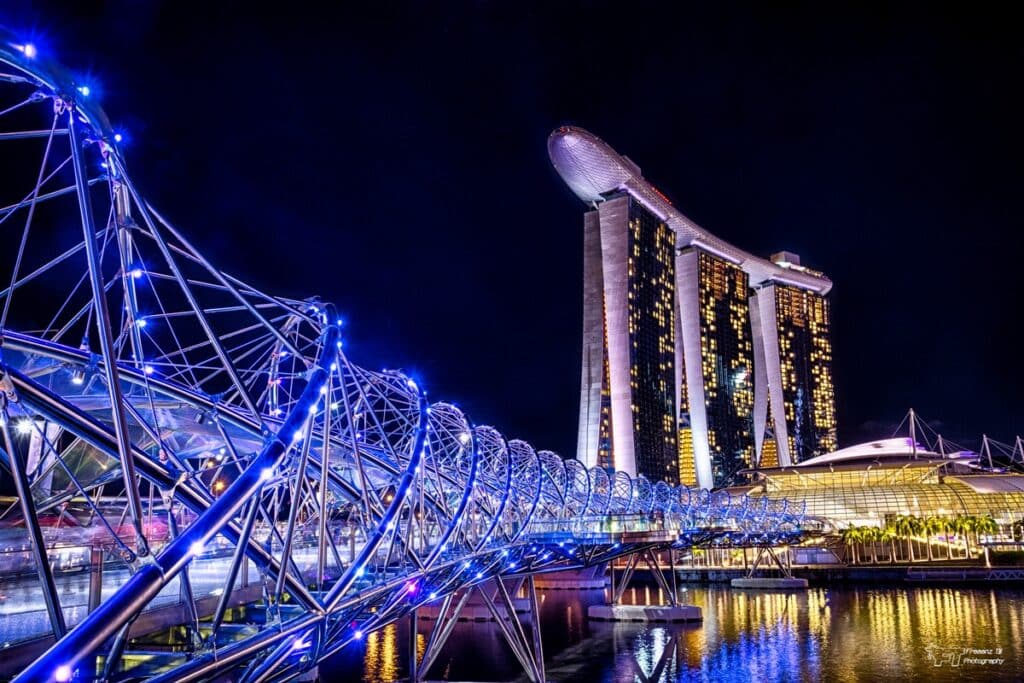 The Helix Bridge is a pedestrian bridge located in Marina Bay. It is a unique and iconic landmark known for its distinctive design inspired by the double helix structure of DNA. The bridge is made of steel and glass and offers breathtaking views of the surrounding cityscape. The Helix Bridge connects the Marina Bay Sands area with the Marina Centre, making it a convenient and scenic route for walkers and cyclists. The bridge is also illuminated at night, adding to its beauty and making it a popular destination for evening walks.
The City State Has Four Official Languages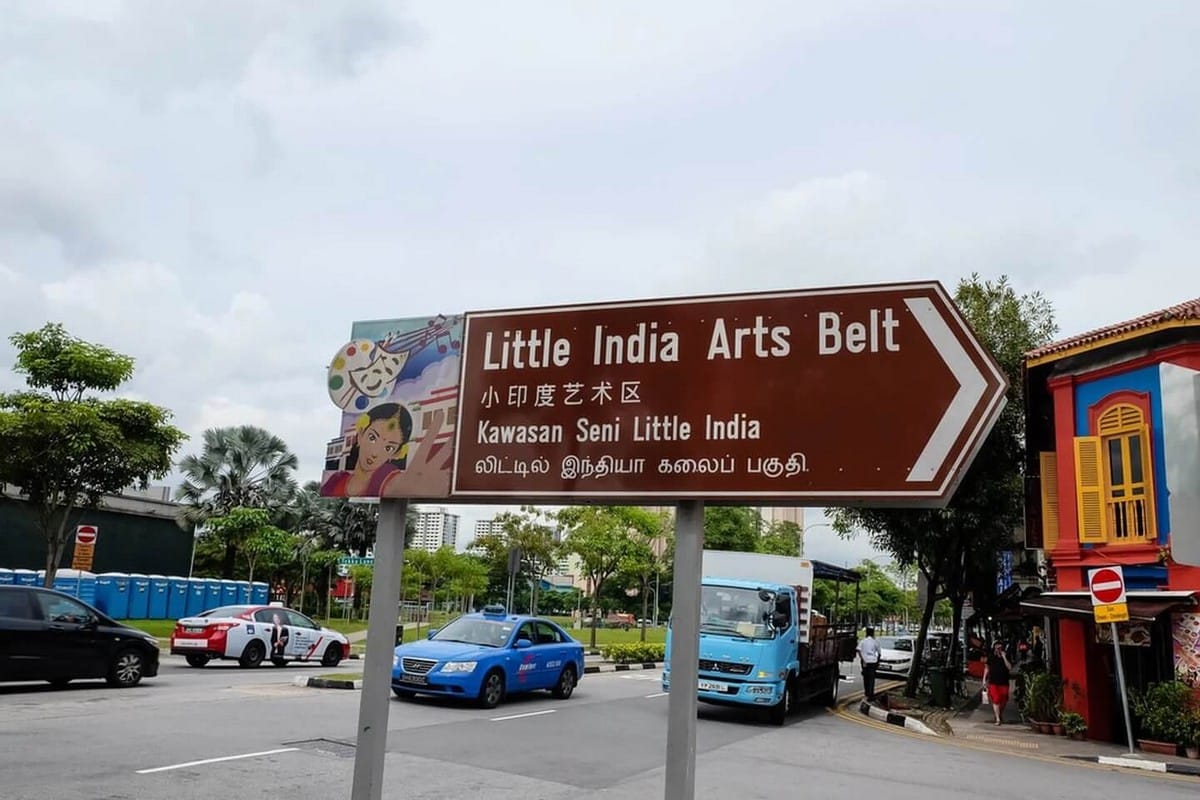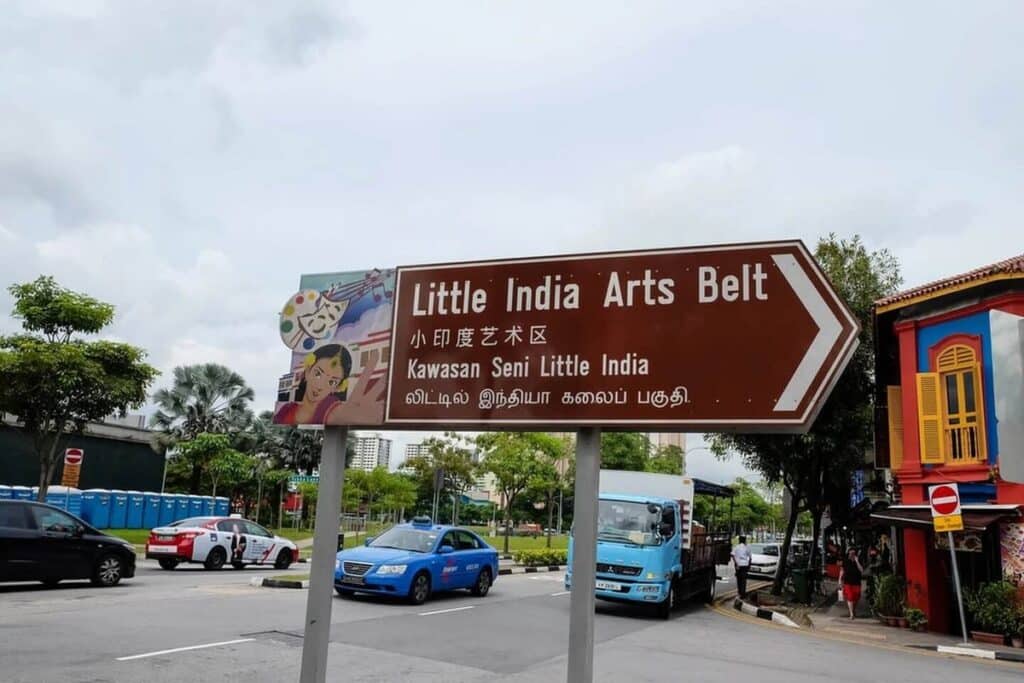 Singapore has four official languages – English, Mandarin, Malay, and Tamil. These languages reflect the country's diverse ethnic and cultural heritage, with English serving as the common language for administration and business. At the same time, the other three are used in certain official and cultural contexts. The use of multiple languages in Singapore helps to promote linguistic and cultural diversity, and the government encourages its citizens to learn and maintain their mother tongues. This multilingual approach has helped to create a harmonious and inclusive society where different cultures and traditions are celebrated and respected.
Yachting Experience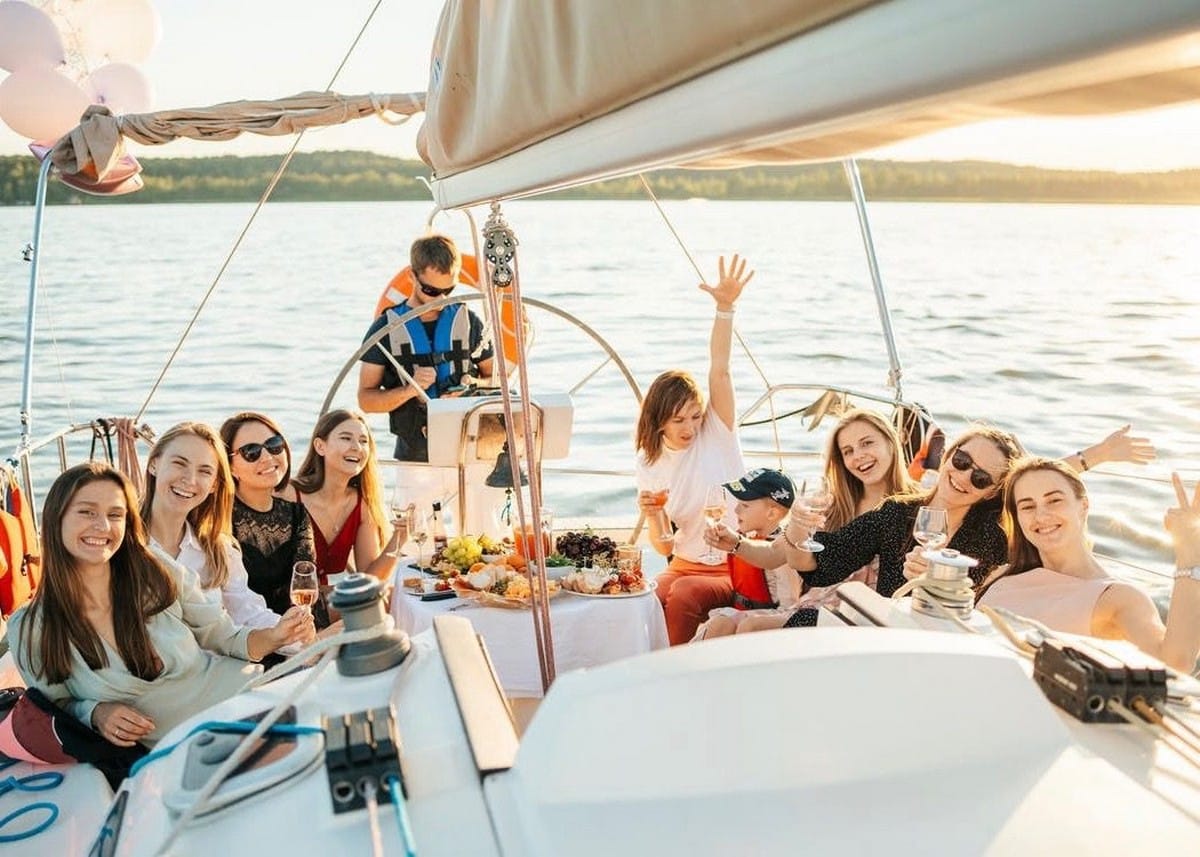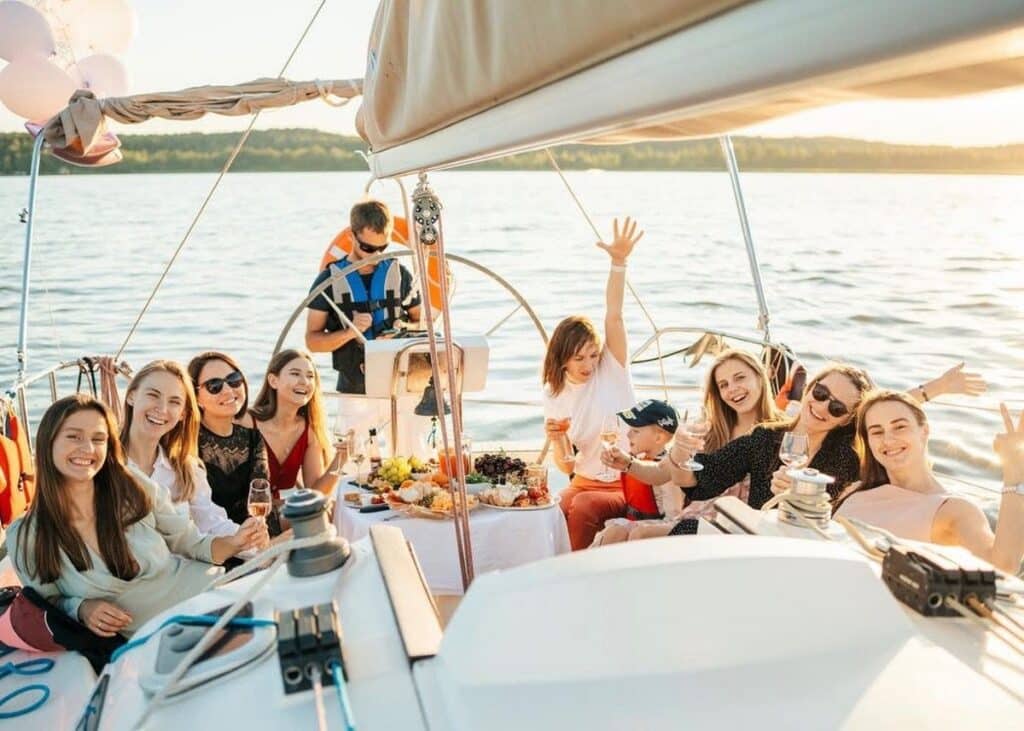 The yachting experience in Singapore is known for its scenic beauty and tranquil waters, making it a popular activity for tourists and locals alike. There are several companies and marinas that offer yacht rental services, catering to various budgets and preferences. The yachts available for rent range from small sailboats to luxury motor yachts, and some companies also offer skippered or bareboat options. The popular destinations for yacht trips from Singapore include the nearby islands of Indonesia, Malaysia, and Thailand.
Little India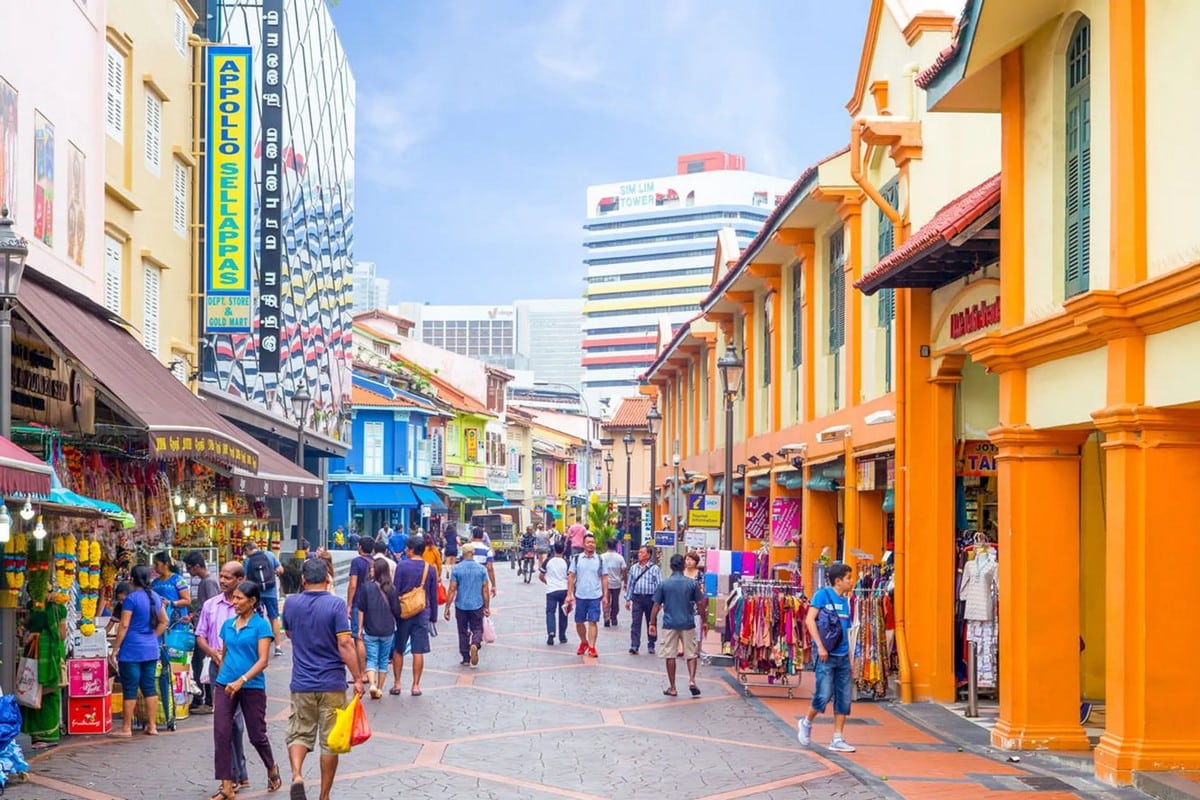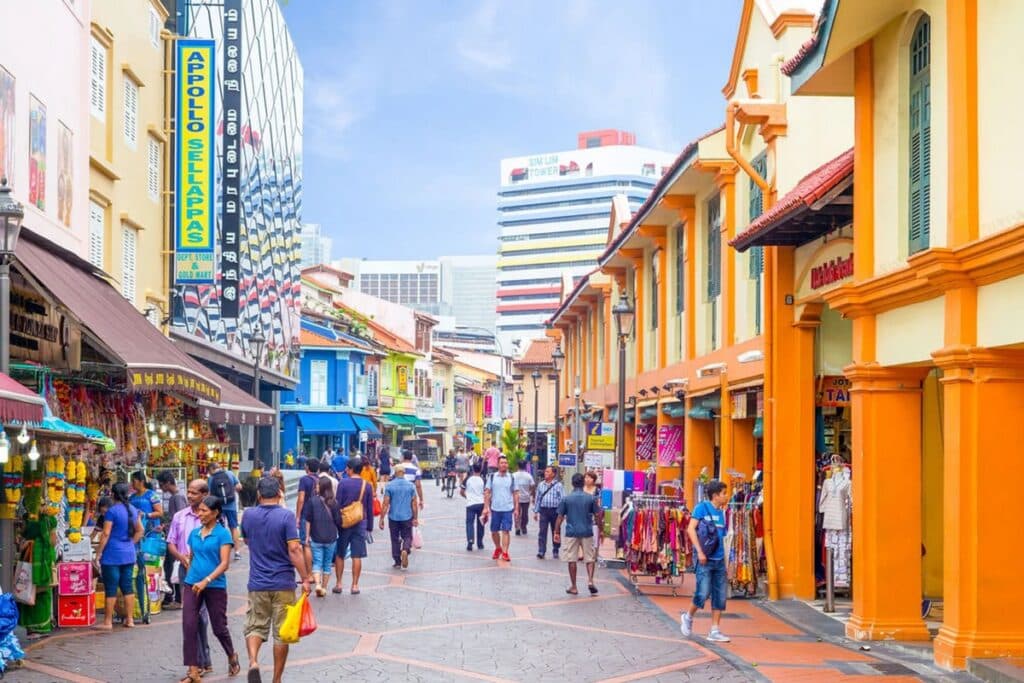 Little India is a neighborhood located in the eastern part of Singapore, known for its vibrant Indian culture and heritage. It is a bustling and colorful area filled with shops selling traditional Indian goods, such as saris, jewelry, and spices. The streets are lined with street vendors selling Indian street food, and the area is a popular destination for food lovers. The neighborhood is also home to several Hindu temples. During the Hindu festival of Deepavali, Little India comes alive with colorful decorations, lights, and lively music, making it a must-visit destination for anyone interested in experiencing Indian culture.
Light Show at the Supertree Grove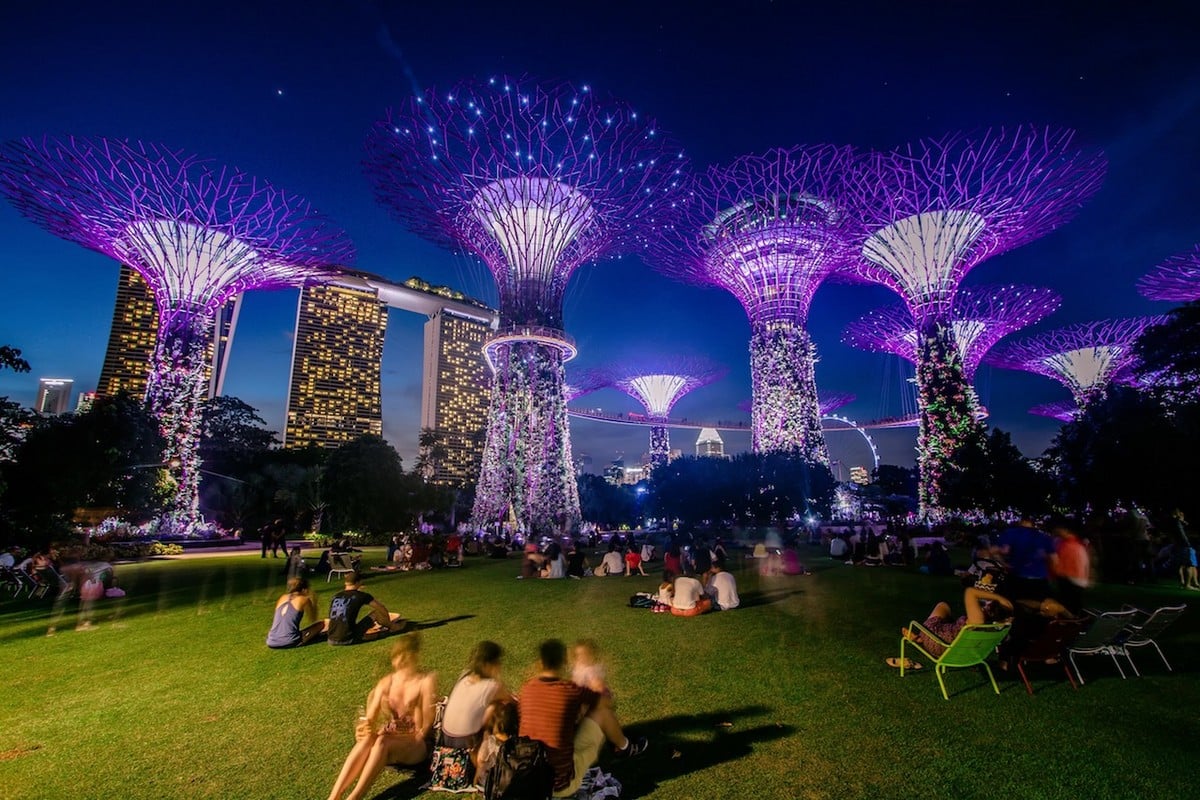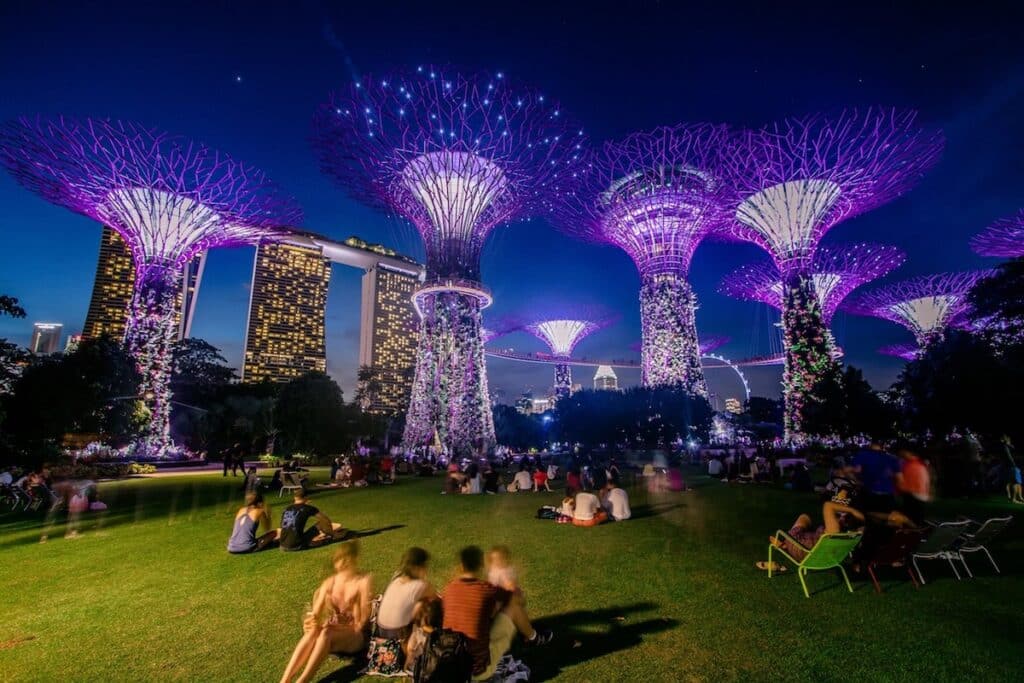 The Light Show at the Supertree Grove is a nightly multimedia light and sound show in Marina Bay Sands. The show takes place at the Supertree Grove, a cluster of towering, artificial trees that serve as an iconic landmark of the city. The Supertree Grove is illuminated with a mesmerizing display of lights, accompanied by music and sound effects. The show is a spectacle of light and color, showcasing Singapore's beauty and technological advancements. Visitors can enjoy the light show from various viewpoints around Supertree Grove, including the nearby Marina Bay Sands Observation Deck.